Buy Solaray At Discount Prices Of 43% Off And Up!


Hazards


Messages 1-8 from 8 matching the search criteria.
---
How Does Holy Basil Extract Help with Pain


Date: May 19, 2011 01:52 PM
Author:
Darrell Miller (dm@vitanetonline.com)
Subject: How Does Holy Basil Extract Help with Pain

Holy Basil And Pain Management.
Holy basil extract is an herbal remedy that originated from India. It is best known as an adaptogen, and as such has become an increasingly popular herbal supplement in the past few years. It is effective in the management of stress, and anecdotal evidence is very positive. More importantly, recent studies have compared its analgesic properties to commonly used pain relievers in the market.
Pain Perception
Many different factors are involved in the perception of pain, but most painful conditions are tied to the process of inflammation. Pain is in fact a mechanism of the human body in response to situations that are potentially harmful or even life-threatening. For example, signals are sent to the brain from the body part exposed to extreme temperatures, allowing us to move away from the harmful stimulus.
Pain is of course an undesirable condition, though it is helpful in certain situations. The thought of pain alone brings about disagreeable feelings, such as fear. No wonder people are always seeking for remedies for physical pain, which can be caused by open wounds or physical trauma. More often than not, it is linked to routine activities, such as bad sleeping positions and sitting for long periods of time.
Common Factors
Modern lifestyle renders the human body more susceptible to pain, brought on by injuries and wounds as well as physical inactivity. There are countless working conditions that doctors and medical professionals have pointed out to be real occupational Hazards. We often do not care so much about the way we work because the repercussions are not immediately felt, not while we are young. Two major factors lead to chronic pain later in life: wear and tear of tissues and limited physical exertion.
We become increasingly sensitive to pain as we age. We keep a wrong position during sleep sometimes, and the next morning we feel all sorts of muscle pain, such as neck pain. Similar pains take place every time we lean into our computer at work. In general, these kinds of pain are due to poor posture, which can easily be remedied. However, this can take a turn for the worse in the next couple of years as we continually subject our body to muscle strain and physical immobility.
Inflammatory Mediators
This is when natural remedies can help us. Holy basil has an age-old association with the relief of pain due to muscle strain. The chemical compounds that occur naturally in the plant species Ocimum tenuiflorum have been discovered to interact with mediators of inflammation. Researchers have learned that holy basil extracts are not only relieves pain but also contributes to holistic health.
More importantly, holy basil extracts appear to inhibit an enzyme called COX-2, which facilitates the biosynthesis of pain chemicals. Its role is to get our attention and tell us that there is something wrong with our body. This enzyme is responsible for the sensitizing arthritic joints to pain. It is also implicated in severe headaches, migraine attacks, muscle cramps, and related symptoms.
If you experience chronic pain, give holy basil a try!
(http://vitanetonline.com/forums/Index.cfm?CFApp=1&Message_ID=2297)
---
Did You Know Lecithin is More than a Brain Food



Date: February 15, 2011 04:16 PM
Author:
Darrell Miller (dm@vitanetonline.com)
Subject: Did You Know Lecithin is More than a Brain Food

Lecithin, first discovered as the yellow substance in egg yolk, is now associated with a wide array of health benefits. It is in fact made up of a number of naturally occurring substances that all play an important role in promoting overall health at the right amounts. Today lecithin is made available as over-the-counter supplements and utilized for many different purposes in the food industry.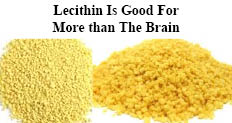 Lowers Cholesterol
Lecithin has been proven to reduce cholesterol serum levels. For one, it has a direct effect on the digestion of triglycerides and cholesterol from the foods we eat, blocking the pathway that breaks down fats into smaller particles and their consequent absorption by intestinal walls. Also, lecithin has been observed to attract free fatty acids in the bloodstream and move them away from arterial walls. More importantly, it inhibits the release of bad cholesterol and instead raises good cholesterol levels.
Induces Weight Loss
There are dietary supplements that make use of lecithin to assist weight loss. Since the amount of lecithin present in our diet contributes to the ability of the intestinal walls to break down fats, notably cholesterol, it practically flushes away unwanted calories. Lecithin is a part of a class of compounds called lipids, and, as a lipid, it is readily utilized by the cells to burn fats and power cellular functions.
Supplies Energy
Phosphatidylcholine, a major constituent of lecithin, is in the employ of every cell in the body as a form of protection and in cellular communication. It is one of the compounds that make up the lipid bilayer of cell membranes. Unfortunately, our systems use up more lecithin as a dynamic source of energy than what we supply our body, and this explains why we become more susceptible to stress.
Protects the Liver
Lecithin has always shown to be one of the compounds that promote liver health, and has been in use against certain diseases of the liver such as cirrhosis. This compound is responsible for speeding up the metabolism of lipids in the liver, and produce them only when needed, thereby removing the Hazards associated with the buildup of fatty tissues that interferes with the functions of the liver.
Helps during Pregnancy
Choline is one of the most important compounds during pregnancy. It is in itself an essential nutrient with established daily value, being required to support healthy body functions, and lecithin is its best known precursor. Intake of lecithin before getting pregnant is recommendable as choline must be produced at sufficient amounts prior to conception to ensure healthy fetal development.
Enhances Memory
Lecithin, being a precursor of choline, is involved in improving brain function. There are neuronal processes that rely entirely on choline, whose absence in the nervous system results in decreased activity of these processes. In addition, it has long been postulated that the functional decline tied to aging is due to the depleting levels of choline in the body. Hence, it is prudent to replenish our choline reserves by eating foods rich in lecithin.
(http://vitanetonline.com/forums/Index.cfm?CFApp=1&Message_ID=2236)
---
How to deal with Stress and Cortisol...



Date: August 30, 2006 09:36 AM
Author:
Darrell Miller (dm@vitanetonline.com)
Subject: How to deal with Stress and Cortisol...

Beating the Aging Odds
All of us grow older, but aging is a choice. You have it in your power to retain much of the health, vitality and beauty of your youth. It boils down to a simple fact – retard oxidative stress and you'll retard the aging process. The 70 million people who make up the "boomer" generation and are getting ready for an active retirement welcome this news.
Stress and Cortisol
The early twentieth century "stress doctor" Hans Selye, M.D. was renowned for his work on the human adaptive response and the effects of stress on aging. He taught that every stress leanves an indelible scar, and the organism pays for its survival after a stressful situation by becoming a little older. That's because stress raises levels of the adrenal hormone cortisol. It increases internal generation of free radicals, disrupts normal metabolism and leads to aging conditions. Because of this, cortisol has been dubbed the age-accelerating hormone.
The more stressful our lifestyle and the level of environmental Hazards we are exposed to, the higher cortisol levels will climb in an effort to jump-start our adaptive response. Coupled with a poor diet, this is a recipe for pre-mature aging. At least eleven major aging factors are related to high cortisol levels:
Breakdown of collagen and elastin in muscles, joints, and bone
Memory loss and reduced cognitive function
Increased cardiovascular risk
Hypertension and fluid retention
Disordered lipid metabolism (total cholesterol, triglycerides, HDL to LDL ratio)
Decreased immune function
Increased inflammation (vascular network, allergies, asthma, acne and hair loss)
Hormone imbalances
Disordered sugar metabolism
Skin problems (wrinkling, psoriasis, seborrhea, acne and hair loss)
Nerve system damage
So, there you have it. Now let's see how to tame cortisol and reduce oxidative stress.
Reducing Cortisol and Oxidative Stress
Be in the moment – stress reducing techniques such as meditation, prayer, visualization, yoga, chi gong, and listening to inspirational tapes induce calmness and a sense of balance.
Eat right for your genes – as we get older, we don't digest animal protein as efficiently as when younger. Shifting to plant source proteins that are easier to digest and contain the full complement of vitamins and minerals is most desirable. We are accustomed to thinking of dairy, meat, poultry, and fish as "protein." All vegetables are good sources of protein. Along with legumes, whole grains, and nuts, daily protein needs are easily fulfilled. Meals that combine a variety of tastes from plant foods also require less salt for flavor enhancement and this helps keep hypertension at bay. So, explore just how good meals can be that either do not contain meat or use it as a condiment. If you do need some salt, try substituting table salt with NOW Vitamins Potassium Chloride crystals.
Enzymes Increase Digestion
Use digestive enzymes such as Optimal Digestive System to insure that you are absorbing all the nutrients in your food. This product has been clinically tested for its digestive effectiveness helping to digest fats, carbs, proteins and even gas producing beans and cruciferous vegetables. Other enzymes, Serrazimes is a systemic enzyme that will help keep lymphatic's clear of debris, support immune function, and boost your adaptive response to stress.
Tame Cortisol
As many people reach middle age they have a tendency to gain weight around the navel. High stress amps up levels of cortisol that results in increased girth. Middle body fat is considered a significant risk factor for impaired glucose metabolism and cardiovascular disease. Check your waist to hip ratio by dividing your waist measurement in inches by your hip measurement. If you have a ratio of 0.85 or below, you have lower risk of insulin resistance and cardiovascular disease. This measurement is one of the best indicators of cortisol induced metabolic syndrome and weight gain.
Super cortisol support with Relora is an herbal, vitamin and mineral formula that's designed to fight mid-body fat by taming cortisol. Its key ingredient is Relora which is a blend of the herbal extract of Phellodendron amurense and Magnolia officinalis. A small double blind clinical trial found that pre-menopausal obese women – half of whom took Relora – lost a significant amount of weight. These were women who eat in response to stress. Thus the researchers proposed that Relora appeared to reduce cortisol and perceived stress, resulting in weight loss. Super cortisol support also contains Ashwagandha and Rhodiola, herbs traditionally use for increasing adaptive response and reducing stress. You can read about these herbs and other nutritional products in the book 7-syndrome healing: supplement essentials for mind and body. Written by myself and coauthor Jayson Kroner. This book can be ordered from Now Foods.
Additionally, Chinese scientists found that the active components in Relora called honokiol and magnolol delayed gastric emptying, which would make you feel full longer. An additional anti-aging benefit was observed by another group of Chinese scientists. They reported that honokiol is a potent arterial thrombosis inhibitor because it inhibits prostacyclin release; a promoter of platelet adhesion. Platelet stickiness increases stroke risk. Phellodendron and Magnolia have been used in Chinese medicine for centuries.
Quell Free Radicals
Health and longevity essentially rests on the body balance between free radical load and antioxidant reserves. Toxic exposure depletes some of your antioxidant reserves. Eating a diet rich in antioxidant fruits, vegetables, legumes and grains, helps you rebound. Continued toxic exposure will challenge your antioxidant status and may overwhelm your reserves. VitaBerry Plus+ is a powerful antioxidant formula that contains a range of high ORAC fruits that naturally augment the diet. ORAC stands for oxygen radical absorbance capacity. It is a measure of the ability of a food to quell oxygen free radicals, the most dangerous kind. VitaBerry Plus+ is a product after my own heart. In my book The Anti-Aging Solution, I wrote about how different color foods protect DNA and prevent aging. VitaBerry Plus+ contains the important colors described in my bood. You can order your copy from Now Vitamins.
True-E Bio Complex rounds out the antioxidant colors. It contains all eight tocopherols and eight tocotrienols in the natural ratio found in "tan" foods such as whole grains and legumes. It is the only natural vitamin E that is produced from soy that has not been genetically modified.
The best anti-aging advice I can pass on is from my friend and food columnist Joan Jackson. "Take Pleasure in Your Life TODAY and Enjoy What You Eat"


--
Buy Now Vitamins, minerals and herbs at Vitanet


(http://vitanetonline.com/forums/Index.cfm?CFApp=1&Message_ID=1362)
---
Fighting fat with fat makes sense with conjugated linoleic acid.



Date: April 03, 2006 04:57 PM
Author:
Darrell Miller (dm@vitanetonline.com)
Subject: Fighting fat with fat makes sense with conjugated linoleic acid.

Trimming flab away with CLA
Fighting fat with fat makes sense with conjugated linoleic acid.
Substances that enhance human health and well being can be discovered in all sorts of odd places. Take conjugated linoleic acid (CLA), for example. This unique fatty acid currently under intense study as an aid to help dieters reduce body fat—was first isolated from grilled ground beef in the early 1980's by researchers at the University of Wisconsin. (CLA is also found in hamburger that ma actually help you slim down? Who knew?
What's more, CLA (now generally derived from plant sources like safflower oil) also shows promise in two important areas. First, evidence suggests it can slow down some of the steps in cancer's complex progression. In addition, CLA may help tame excess inflammation.
Fat City
When you take in more calories through food than you burn off through exercise, all those extra energy units have to go somewhere and if you're like a lot of folks, they wind up being deposited into your fat cells. Not only are jam-packed fat cells responsible for the dreaded disappearing waistline effect, but they also promote unhealthy changes in blood pressure, cholesterol levels and other makers of possible Hazards to your continued well-being.
CLA helps make life miserable for fat cells in several ways. First, it inhibits an enzyme called lipoprotein lipase that shuttles fat molecules from the blood stream into the cells. It encourages lipolysis, or the breakdown of fat that's already in storage. Finally, in some studies CLA has shown an ability to actually encourage fat cells to commit a form of cellular suicide call apoptosis—which results in fewer places for fat to hide. At the same time, CLA promotes the transport of fat into exercising muscle cells, helping them to both burn off calories and become more toned (and shapely).
CLA Comments: What is it: a special form of linoleic acid, an essential fat: CLA is found naturally in diary foods.
What it does: CLA has shown an ability to help reduce body fat and increase muscle mass (When used as part of a healthy diet and exercise plan); it has also demonstrated cancer-fighting and immune enhancing effects.
While CLA is the subject of ongoing research, early human trials have produced promising results. In Norway, for example, scientists from five separate institutions teamed up for a study involving people who were healthy but over weight. For the first year some of the individuals took CLA while the others took placebo (look-alike) softgels that contained olive oil instead; in the second year, everyone took CLA. At the end of two years, all the people in this study showed significant reductions in body fat, body mass index (BMI), a standard measure of obesity, and weight(Journal of nutrition 4/05).
Extra Helpings
While battling the bulge is a major goal for many people, fending off cancer may just be America's number one health concern. And here, too, CLA has come up big in a number of studies, such as a Swedish investigation that shows a link between high CLA intake and reduced colorectal cancer risk (American Journal of Clinical nutrition 10/05). In various lab studies CLA has been shown to interfere with tumor development and keep cancerous cells from spreading to nearby organs.
What's more, CLA appears to regulate immunity by helping to strengthen the body's natural defenses while protecting against the inflammatory damage the immune response can cause. That's important because low-level inflammation has been linked to an ever-growing list of disorders, including cancer, cardiovascular disease and arthritis.
If you want to fight off both fat and cancer without eating a mountain of cheeseburgers, don't have a cow. Turn to CLA instead.
--Lisa James.
(http://vitanetonline.com/forums/Index.cfm?CFApp=1&Message_ID=1247)
---
NATURAL VS. PHARMACEUTICAL PROGESTERONE



Date: July 25, 2005 09:53 PM
Author:
Darrell Miller (dm@vitanetonline.com)
Subject: NATURAL VS. PHARMACEUTICAL PROGESTERONE

NATURAL VS. PHARMACEUTICAL PROGESTERONE
Due to its marketability, pharmaceutical companies looked to patentable progesterone analogues which were chemically synthesized from the progesterone derived from the wild yam. This new class of drugs were called progestins or prestrogens and while they may have originated from the wild yam, they differed profoundly in their overall biological action as well as their toxicity. These enhanced and chemically synthesized versions of wild yam progesterone did not offer the total and synergistic effects wild yam provided in its natural state. Furthermore, they posed significant health risks which many women are not completely aware of. While synthetic progestin drugs pose health Hazards, natural progesterone does not.5
(http://vitanetonline.com/forums/Index.cfm?CFApp=1&Message_ID=659)
---
FEARING FATS: There's Plenty of Cause Overview



Date: June 25, 2005 07:34 PM
Author:
Darrell Miller (dm@vitanetonline.com)
Subject: FEARING FATS: There's Plenty of Cause Overview

FEARING FATS: There's Plenty of Cause Overview
A wealth of scientific evidence now exists which should have turned each and everyone of us into a fat "phobic."1a-e In other words, virtually every health expert agrees that a high fat diet is directly linked to cardiovascular disease, various types of cancer and premature death. It's no secret that excess dietary fat poses a tremendous health risk. The United States National Institutes of Health, the World Health Organization and many other scientific institutes have confirmed the frightening Hazards of fat. Health proponents generally concur that excess fat can significantly shorten one's lifespan. More than 10,000 medical papers are published every year dealing with obesity and cardiovascular disease, two of the most insidious killers of Americans. Western eating habits, which promote fatty, salty, sugary foods, have created massive widespread disease and tremendous suffering. Studies have shown that fat is the macronutrient associated with overeating -
------------------------------------

• BACON CHEESEBURGER/HARDEE'S 39
• BURRITO SUPREME/TACO BELL 22
• HAMBURGER DELUXE/WENDY'S 21
• QUARTER POUNDER WITH CHEESE/MCDONALD'S 28
• SAUSAGE BISCUIT WITH EGG/MCDONALD'S 33
• POPCORN CHICKEN/KFC 45
• WHOPPER/BURGER KING 36

TABLE 1. Total fat grams in single servings.4

and obesity.2 In spite of this finding we are eating more fat and becoming fatter. The average absolute fat intake has increased from 81 to 83 grams per day over the last ten years.3 Our obsession with fatty foods has exacted an enormous toll in the form of rampant obesity, clogged arteries, hypertension, heart attack, stroke, breast cancer, etc. Many of us remain oblivious to the fat gram count of foods we routinely pop into our mouths, unaware that one fast food entree may contain more fat grams than one should consume in one given day. Take a good look at the following list of foods which have been assessed for fat content. Fast food has become a 20th-century sensation which continues to boom and expand throughout our society. Many of us literally exist on fast food, which is frequently also "fat" food. It's no wonder so many of us "battle the bulge", and have skyrocketing cholesterol counts. Our love affair with greasy, fried, rich, creamy foods has burdened our bodies with the dilemma of excess fat "baggage," resulting in phenomenal amounts of money being spent on weight loss programs. Worse still, thousands of Americans are dying before their time or living extremely compromised lives only because they ingest too much fat. Why is this? The bottom line is that fats taste good!5 Many of us were raised on seemingly innocuous foods that are loaded with fat. Some of these include:

macaroni and cheese battered fish sticks hot dogs cheese-filled casseroles pepperoni pizza burritos pancakes, waffles doughnuts pies and pastries ice cream candy bars ramen soup

Fat is also a major ingredient in most of the snack food we constantly nibble on, including chips, crackers, cookies, and nuts. Check ingredient labels to find the fat gram content of most snack foods. You'll be surprised to find out just how fatty these foods are. Even a healthy sounding food like a "bran muffin" can contain 36 grams of fat! No wonder they stay so "moist". In addition to the above foods, fat can add wonderful flavor to breads, vegetables and the like, and is usually used liberally in the form of butter, sour cream, whipping cream, melted cheese, cream cheese spreads, dips, cream sauces, and gravies. Fruits can also be high in fats. Did you know that one avocado has 30 grams of fat? One half cup of peanuts contains 35 grams of fat and only one glazed doughnut has 13 grams of fat. The majority of research points to fat as a much more dangerous culprit than anyone might have imagined. Saturated fats such as lard, palm, coconut oil, and beef tallow are particularly menacing. Research scientists have found over and over again that fats can contribute to the growth of tumors in animal studies.6 The National Research Council of the National Academy of Sciences reported that even a relatively small amount of extra body fat increases the risk of certain diseases for women and may compromise their longevity.7 Even being mildly overweight may be much more risky than anyone previously assumed.8

The Relat ionship between Breast Cancer, Fat s, Fiber And Indoles

Dr. Leonard Cohen, of the Dana Institute of the American Health Foundation at Naylor, believes that pre-cancerous lesions found in breast tissue will develop into cancer only if they are stimulated by certain agents such as fat.9 Women increase their risk of developing breast cancer when they consume a diet high in fat and animal protein and low in fiber, vegetables and fruits. When women put on weight, they have a tendency to create more estrogen since adipose tissue produces estrogen. Certain forms of estrogen, the so-called "bad estrogens" can act as carcinogens and are anything but desirable.10 High or unbalanced estrogen levels stimulate concerous tissue in the breast. Obesity is also associated with increased breast cancer mortality.11 The three most important ways to inhibit "bad" estrogen from inducing breast cancer are:
1. Maintain an ideal body weight.
2. Eat a diet high in fiber and low in fat (fiber helps to sweep excess estrogen from the bowel so it does not "recycle").
3. Consume enough cruciferous vegetables (broccoli, cabbage, cauliflower, Brussels sprouts, kale, radishes, watercress etc.) so that adequate amounts of dietary indole-3-carbinol enter the system.12 Indoles are phytonutrients which help us balance our estrogen levels and reduce the levels of "bad estrogen" present. When combined with a low-fat, high-fiber diet, indoles can provide the body with significant metabolic protection against breast cancer.

(http://vitanetonline.com/forums/Index.cfm?CFApp=1&Message_ID=490)
---
Vision Quest - help fight eye problems.



Date: June 18, 2005 08:34 AM
Author:
Darrell Miller (dm@vitanetonline.com)
Subject: Vision Quest - help fight eye problems.

Vision Quest by Phyllis D. Light, RH Energy Times, February 11, 2004
Since your eyes are in constant use every day, exposed to the damaging energy of sunlight and pollutants that waft through the air, these delicate orbs are often in danger of wearing out.
To keep this vital part of your anatomy functioning as you age, you have to feed and care for your eyes properly. Otherwise, you are in real danger of losing your vision and independence.
Your vision may be in danger. Experts estimate that 8 million Americans over the age of 55 are at serious risk of blindness linked to a condition called age-related macular degeneration (AMD). AMD can wipe out your central vision and is the primary cause of blindness in Western society.
While AMD causes no pain, it blurs the sharp, central vision necessary for driving, reading and other activities where you need to see either up close or straight ahead. During AMD, the macula, the part of the eye that allows you to pick out fine detail, is destroyed. The macula sits at the center of your retina, the nerve center at the back of your eye that senses light and sends optic signals to the brain.
Age is not the only risk factor for AMD. Scientists have isolated a genetic defect that can lead to some forms of macular degeneration (Nature Genetics 2001; 27:89-93). Smoking and excessive exposure to sunlight are other Hazards best avoided if you want to save your sight.
In many cases, AMD progresses so slowly that victims of this condition don't even notice that their vision is deteriorating until much of it is irrevocably gone.
Dry and Wet AMD
Wet AMD occurs when blood vessels in back of the retina start to overgrow and leak blood. As this occurs, blood and other fluids push on the macula and quickly damage its sensitive nerve endings. When wet AMD occurs, you lose your central vision rapidly. If straight lines appear wavy to you, you may be suffering from wet AMD. If you notice this or other unusual vision changes, contact an eye care specialist as soon as possible. You need what is called a comprehensive dilated eye exam that can uncover signs of AMD.
Dry AMD strikes the eye when light-sensitive cells in the macula slowly deteriorate, gradually blurring central vision in the affected eye. As dry AMD progresses, a blurry spot in the center of your vision may appear. Eventually, as more of the macula becomes dysfunctional, the central vision in the eye can gradually disappear.
The most common sign of dry AMD is slightly blurry vision. This can make it hard to recognize faces and also make it harder to read without very bright light. Dry AMD generally attacks both eyes, but vision can be lost in one eye while the other eye stays normal. In the early stages of dry AMD, drusen, yellow deposits that gather under the retina, may form. Dry AMD progresses in three stages:
• Early AMD: Small drusen form but vision is unaffected.
• Intermediate AMD: Many medium drusen appear or, alternately, one large drusen occurs. Center vision is often blurred and reading requires bright lights.
• Advanced Dry AMD: Drusen formation is accompanied by deterioration of tissue in the macula. Blurs in central vision expand, eventually destroying most vision. Note: Because of the fast destruction it causes, wet AMD is an advanced form of this disorder that is considered more severe than the dry version.

Vitamins and Minerals for AMD

Fortunately, scientists have found ways to combat AMD: An analysis of a study called the national Age-Related Eye Disease Study (AREDS) shows that more than 300,000 Americans could avoid losing their sight to AMD if they took daily supplements of antioxidant nutrients and zinc.

This conclusion, reached by scientists at Johns Hopkins' Wilmer Eye Institute, is based on research involving more than 4,500 adults suffering various stages of AMD. The study demonstrated that people who already had some AMD could lower their risk of the more advanced form of this condition by 25% when they took vitamin C, natural vitamin E and beta carotene along with zinc. Those suffering from advanced AMD lowered their chances of losing vision by about 19%. (Supplements did not affect the risk of cataracts or the chances of some vision loss for people in the early stages of AMD.)

" Without treatment to reduce their risk, we estimate that 1.3 million adults would develop the advanced stage of AMD," says Neil M. Bressler, MD, professor of ophthalmology at Johns Hopkins and author of the current study, published in Archives of Ophthalmology (11/03).

According to Dr. Bressler and the other researchers, people who now have intermediate AMD (some vision loss) in one eye have about a 1 in 16 chance of having their vision deteriorate until they have advanced AMD. They also calculate that about 1 in 4 of those with intermediate AMD in both eyes and 43% of those with advanced AMD in one eye will develop advanced AMD in five years without treatment.

In their view, older people at risk of AMD blindness should take daily supplements of 500 milligrams of vitamin C, 400 milligrams of natural vitamin E, 15 milligrams of beta carotene, 80 milligrams of zinc as zinc oxide and 2 milligrams of copper as cupric oxide. Evidence also exists that a diet which is high in fat can cause AMD to progress to an advanced stage. The exceptions: The healthy fats found in fish and nuts (Archives of Ophthalmology 2003; 121:1728-37).

Lutein Protection

Oddly enough, some of the same pigments that color vegetables and other foods also color your eyes. And scientists believe that those pigments, which are classified as carotenoids, help protect the eyes by helping them fight off the negative effects of caustic molecules called free radicals. Free radicals are formed when the energy from sunlight strikes the eyes and disrupts the composition of natural chemicals found there.

When scientists compared healthy eyes with eyes suffering from AMD, they found that AMD eyes contained lower levels of lutein and zeaxanthin, carotenoid pigments contained in egg yolk, spinach, broccoli and other dark green vegetables (Ophthalmology 2003; 109:1780). Furthermore, they found that levels of these chemicals generally decline as you grow older.

" This research is a major step toward large-scale clinical studies to prove the extent to which lutein and zeaxanthin protect against age-related macular degeneration," says Paul S. Bernstein, MD, PhD, at the University of Utah School of Medicine at Salt Lake. "We know that these carotenoids are specifically concentrated in the macula of the human eye."

Dr. Bernstein adds that, as you age, taking supplements containing lutein and other antioxidants may lower your AMD risk. In his investigation, people with AMD who did not take lutein had one-third less lutein in their eyes than older people whose vision was normal.

Avoiding Cataracts

Another eyesight hazard is cataracts, in which the eye's lens-the part that focuses incoming light onto the retina-becomes cloudy. Cataracts form when the proteins found in the normally clear lens become damaged; signs include progressively blurred vision (especially outdoors), focusing problems, seeing streaks of light from headlights and stoplights, and colors that look faded.

Cataract is the leading cause of blindness worldwide, according to the World Health Organization. One of every six Americans 40 and older suffers from some degree of cataract; it affects half of all Americans who reach age 80. Nuclear cataracts, the most common form of this disorder, develop in the center of the lens and tend to grow slowly. Cataracts may also develop at the back of the lens; this form is linked to eye trauma and long-term use of certain medications, including steroids.

Like AMD, cataracts become more common as people age. Up to 40% of individuals between the ages of 75 and 85 have them, compared with only 5% to 10% of those folks under the age of 65. And like AMD, sunlight exposure and smoking increase the risk of developing cataracts, as does the presence of diabetes.

Lutein and zeaxanthin, the carotenoids that are so plentiful in the macula, are also found in the lens (although in lower concentrations), leading many researchers to believe that these nutrients may help drop your risk of cataract development. Early studies indicate that an increased intake of lutein and zeaxanthin reduces one's chances of needing cataract surgery, the most common surgery in the United States (American Journal of Clinical Nutrition 1999; 70(4):509-16; 517-24).

Antioxidants and the Lens

Scientists believe that free-radical damage is a leading cause of cataracts, and so it isn't surprising that antioxidants have proved useful in preventing this problem.

Almost 500 women filled out diet questionnaires as part of a very large research effort called the Nurses' Health Study; those who had taken vitamin C supplements for 10 years or longer enjoyed the lowest rates of nuclear cataracts (Archives of Ophthalmology 2001; 119:1009-19).

So the answer to lowering your risk of eye problems is clear, whether you are already in your mature years or plan to be someday: Lead a healthy, eye-friendly lifestyle, eating a diet filled with colorful fruits and vegetables. Take frequent walks and jogs around the block.

And yes, when you kick back and take your just-as-frequent doses of antioxidant supplements, you're allowed to take your sunglasses off and see the world clearly.



--
Vitanet &reg



Solaray - Ultimate Nutrition - Actipet Pet supplements - Action Labs - Sunny Greens - Thompson nutritional - Natural Sport - Veg Life Vegan Line - Premier One - NaturalMax - Kal

(http://vitanetonline.com/forums/Index.cfm?CFApp=1&Message_ID=374)
---
Catch Your Breath



Date: June 14, 2005 05:56 PM
Author:
Darrell Miller (dm@vitanetonline.com)
Subject: Catch Your Breath

Catch Your Breath
by Carl Lowe Energy Times, October 10, 2004
Asthma is on the rise. This serious breathing problem already afflicts 300 million people around the world and is expected to hinder the lung function of 400 million people in 20 years (Annual World Asthma Meeting, 2/17/04).
In the US, asthma continues to strike our kids. According to the US Environmental Protection Agency (2/24/03), the rate at which kids developed asthma doubled between 1980 and 1995. By 2001, 6.3 million American kids had asthma. The cost of treating all these kids: more than $3 billion a year.
Few researchers are prepared to state definitively why asthma rates have continued to climb during the past two decades. However, many investigators point to factors that seem inextricably linked to this disorder, which is marked by wheezing, shortness of breath and coughing spells.
CO2 Buildup
A report from the American Public Health Association and researchers at Harvard puts a lot of the blame for the high rate of asthma on global warming, smog and the atmosphere's growing burden of carbon dioxide. These are linked to industries and car exhaust that release pollution.
In this increasing burden of toxins released into the atmosphere, the rate of asthma among toddlers has grown to be particularly worrisome. Their rate of asthma has climbed more than twice the national average: by 160% between 1980 and 1994. According to these researchers (Inside the Greenhouse: The Impacts of CO2 (Carbon Dioxide) and Climate Change on Public Health in the Inner City), global warming-which involves large increases in atmospheric carbon dioxide released by internal combustion engines and and industrial processes-has fomented the asthma epidemic in several ways:
• Extra heat in the atmosphere has stimulated rapid plant growth that results in more fungus, pollen and spores; this causes allergies that often lead to asthma. Weeds like ragweed, which release allergenic particles, have greatly increased during the past few years. • Extreme weather has caused more floods and damp houses, leading to more indoor air pollution from molds. • Diesel pollutants are now combining with pollen and mold to irritate lungs, causing troublesome allergic reactions.
Bus Fume Hazards
The report notes that in neighborhoods like Harlem, in New York City, 25% of all children suffer asthma. Rates are particularly high in children who live in apartments that are located along bus routes.
A finding that surprised the scientists is the fact that carbon dioxide released by city traffic and the burning of coal and natural gas persists over urban areas, causing a dome of CO2 pollution.
Research on air quality in New York City, Phoenix and Baltimore shows that these lingering CO2 domes contain from 400 parts per million (ppm) of carbon dioxide to 600 ppm. Those levels are significantly above the global average of 379 ppm. Over the course of the earth's history, going back more than 400,000 years before the Industrial Age, research shows the atmosphere has averaged only 180 to 280 ppm.
Nighttime Distress
Breathing difficulties that increase at night can point to asthma, according to Robert Fink, MD: "Asthma can be a nocturnal disease, at its worst between 10 pm and 4 am, when cortisol [a hormone that regulates many bodily functions] levels are lowest" (Pediatric Asthma: Diagnosis and Treatment Goals, Medscape).
Dr. Fink says that if problems with breathing are bad enough to interfere with sleep, a health practitioner should be consulted to analyze the difficulty.
Diet and Asthma
Although nobody can guarantee protection against asthma, research suggests that eating plenty of fruits and vegetables can significantly reduce your risk. For instance, a study in Australia found that people who ate the most apples and pears reduced their chances of suffering from this breath-robbing disorder.
In research involving about 1,600 people, aged 20 to 44, they found that those who consumed the largest quantity of these fruits enjoyed the lowest rate of asthma (AJCN 2003; 78:414).
This is the latest study to confirm the fact that apples and other fruits help to keep lungs healthy. " There is extensive evidence from studies over the last 10 to 15 years that a diet rich in fruits and vegetables is beneficial to lung health," observes Carol Trenga, PhD, a research scientist at the University of Washington in Seattle. "The most compelling evidence is linked to fruits high in vitamin C, which are associated with improved lung function in the general population of adults and children."
Produce for Smokers
Quitting smoking represents one of the best ways to reduce lung disease. But even if you smoke, research on smokers has found that those who ate a moderate amount of fruits and vegetables have fewer lung problems (American Thoracic Society 97th International Conference 5/2001).
And you don't have to change your diet very much to make a difference: In that research, merely eating one and half pieces of fruit a day or eating about a tablespoon of vegetables daily significantly dropped smokers' chances of serious lung disease.
Fruits and Veggies to the Rescue
In a study at the University of Nottingham, United Kingdom, scientists looking at the diets of more than 2,500 people found that eating five or more apples or three tomatoes a week increased lung function. Eating apples and tomatoes also reduced the risk of wheezing.
" The likelihood is that any effect is due to the concerted action of all the nutrients in apples and tomatoes, especially the antioxidants that are particularly rich in the peel of apples and contribute to the coloring of tomatoes," says researcher Sarah Lewis, PhD.
" Antioxidants may work by protecting the airways against the insult of tobacco smoke and other atmospheric pollutants," she adds. Dr. Trenga recommends that everyone eat at least five servings of fruits and vegetables a day. She also notes, "[I]t is reasonable to suggest modest supplementation with for example, vitamin C (250-500 mg twice/day) and vitamin E (up to 400 IU per day), in at-risk populations as a complementary therapy after considering the specific needs of the individual...These levels are very safe and have other health benefits (such as vitamin E and heart disease) in addition to potentially improving lung health."
Herbal Relief
Since asthma is linked to allergies, herbs that help to quell respiratory allergies can possibly lower your risk of asthma. A blend of standardized herbal extracts that contains Phyllanthus emblica (Indian gooseberry or amla), Terminalia chebula (Harda or Haritaki), Terminalia bellerica (bedda nut tree), Albizia lebbeck (Indian walnut), Zingiber officinale (ginger root), Piper longum (Indian long pepper), and Piper nigrum (black pepper) has been found to improve breathing and reduce the effect of allergies (FASEB J 2004; Vol II:A912, Abs. 600.8). Other studies have shown that these herbs can relieve nasal congestion, ease sneezing and clear bothersome mucus (J Am Coll Nutr 22(5): Abs 46, 2003).
Antibiotic Avoidance
Avoiding antibiotics may also lower the risk of asthma. " Over the past four decades there has been an explosive increase in allergy and asthma in westernized countries, says Mairi Noverr, PhD, a researcher who has looked at the lin between antibiotic use with asthma and allergies. " We propose that the link between antibiotic use and dysregulated pulmonary immunity is through antibiotic-induced long term alterations in the bacterial and fungal GI microflora."
In other words, Dr. Noverr's research shows that beneficial bacteria in people's intestines, which take part in strengthening immunity and regulating the immune response to pollen, may have been harmed by the overprescription of antibiotics by physicians. Dr. Noverr and his fellow researchers gave lab animals antibiotics before exposing them to candida albicans (a yeast infection). They then exposed the animals to mold spores. The result: a greater sensitivity to inhaling the spores and breathing problems similar to what people experience during hay fever season (104th General Meeting American Society of Microbiology).
" The studies presented here are the first direct demonstration that antibiotic therapy can promote the development of an allergic airway response," says Dr. Noverr. On a global scale, the outlook for asthma is worrisome. As other countries continue their industrial growth, the burden on the earth's atmosphere will grow. Meanwhile, few serious measures are being taken to reduce global warming, and the national diet frequently neglects lung-friendly vegetables and fruits. But within that uncertain scenario, you can boost your chances of healthy lungs: Eat more apples. Stay away from smoky buses. Hope for clear skies.


--
Vitanet &reg


(http://vitanetonline.com/forums/Index.cfm?CFApp=1&Message_ID=355)