Ultimate nutrition Manufacture Listing.
The Ultimate Nutrition® brand offers scientifically designed formulas in a variety of products for Sports Nutrition, Weight Management, Longevity, Performance and General Nutrition. Available in 45 countries, Ultimate Nutrition is a number one choice of health conscious people around the world.

Ultimate Nutrition, Inc. was established in 1979 in Farmington, Connecticut, and has been manufacturing nutritional products ever since. With a reputation for high quality sports nutrition products, ranging from Amino Acids, Creatine Products, Whey Protein, Weight Gainers, Thermogenics and more, this brand continues to excel due to a powerful corporate commitment to excellence in state-of-the-art nutritional supplements.

Ultimate Nutrition uses only the purest ingredients and scientifically efficient ratios of these ingredients to create bodybuilding supplements with quality that never wavers. From container to container, Ultimate Nutrition's product line boasts a consistency other companies can only dream about. You can be sure that what you see on the label is what you get. That's the Ultimate Nutrition promise.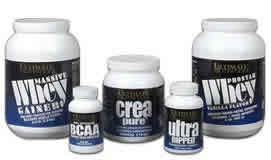 Ultimate nutrition Product List
New articles