Goldenseal Root Can Boost The Immune System And More
---



Date: October 06, 2009 01:22 PM
Author: Darrell Miller (dm@vitanetonline.com)
Subject: Goldenseal Root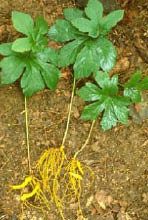 Goldenseal was used by the Native Americans as a tonic, for sore throats, eye infections, ulcers, and even arrow wounds. It was also used as an insect repellant and pesticide for crops. When boiled in water, it was used externally for skin conditions. The dried root of the goldenseal plant was official in the U.S. Pharmacopoeia from 1831 to 1842 and was readmitted in 1863 to 1936.
Traditionally, goldenseal has been used for many different conditions. Among these are boosting the glandular system, hormone imbalance, congestion, inflammation, female problems, infection, bronchitis, menstrual problems, catarrh of the bladder, gastritis, ulcers, bowel stimulation, antiseptic, and as an immune system builder. Those with low blood sugar or pregnant women should not use this herb.
Recent studies have determined that goldenseal is beneficial in fighting viruses and infections. This herb contains the alkaloids hyrastine and hyrastinine, which possess strong astringent and antiseptic benefits on the mucous membranes. The berberine that is found in goldenseal, and can also be found in barberry, Oregon grape, and goldthread, is effective in fighting infections of the mucous membranes, which includes the mouth, throat, and sinuses. It has also been found to kill toxic bacteria in the intestinal tract like giardiasis, which is found in streams of North America. Goldenseal can help to relieve diarrhea in cases of giardiasis, amoebiasis, or other gastrointestinal infections.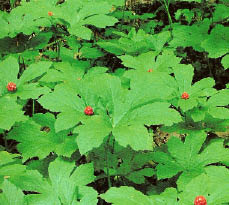 The alkaloid content of goldenseal gives it its antibiotic properties. Goldenseal has a long history of use for fighting both colds and flu viruses. The berbine content is effective as a natural antibiotic and immune stimulant. The herb may also help to prevent candida infection which is the result of antibiotic use. Goldenseal is thought to help strengthen the immune system and may work by increasing the blood supply to the spleen. This enables the spleen to function and release compounds which are known to improve immune function. Some herbalists in England consider goldenseal to be the wonder remedy for digestive problems. This herb is recommended for use after the onset of a cold instead of as preventative action. For this reason, it is often found in cold remedy combinations.
The rhizome and root of the goldenseal plant are used to provide adaptogen, alterative, anthelmintic, antibiotic, antiperiodic, antiseptic, cholagogue, emmenagoggue, hepatic, nephritic, stomachic,, and mild purgative properties. The primary nutrients found in this herb are calcium, copper, iron, manganese, phosphorus, potassium sodium, vitamins A, B-complex, C, E, and F, and zinc. Primarily, this herb is extremely helpful in treating bronchitis, poor circulation, colds, colitis, colon problems, coughs, diarrhea, eye infections, gonorrhea, gum disease, hemorrhages, hemorrhoids, infection, inflammation, intestinal problems, kidney problems, liver disorders, excessive menstruation, membrane infections, mouth sores, nosebleeds, and sore throat.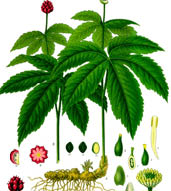 Additionally, this herb is very helpful in dealing with allergies, hay fever, asthma, Bright's disease, burns, chicken pox, constipation, earaches, eczema, fever, flu, gallbladder problems, gastric disorders, gastritis, glandular problems, heart conditions, herpes, membrane irritation, nausea, nervous disorders, ringworm, skin disorders, spleen ailments, tonsitilits, and urinary problems. For more information on the many beneficial effects provided by goldenseal, please feel free to contact a representative from your local health food store.
Our Price: - $ 33.99 ...






Our Price: - $ 19.99 ...






Guarantee:
VitaNet® LLC Offers a 100% Satisfaction Guaranteed!