Boost Your Health With Natural Cinnamon Bark
---



Date: October 15, 2009 10:44 AM
Author: Darrell Miller (dm@vitanetonline.com)
Subject: Cinnamon Bark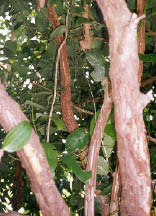 The cinnamon plant is a small evergreen tree that grows between thirty two and forty nine feet tall. This plant belongs to the Lauraceae family and is native to Sri Lanka. The leaves of the plant are ovate oblong in shape and approximately two to seven inches in length, while the flowers, which have a distinct odor, are greenish in color. The fruit is a purple berry about one-centimeter and contain a single seed. The flavor of cinnamon is the result of an essential oil which makes up about 1/2% to 1% of its composition. This oil can be prepared by roughly pounding the bark, macerating it in seawater, and quickly distilling the whole. The oil is of a golden-yellow color, with the characteristic odor of cinnamon and a very hot aromatic taste.
Cinnamon has been known from ancient times, with the first mention of particular spice in the Old Testament being of cinnamon. In this, Moses commanded the use of sweet cinnamon and cassia in the holy anointing oil. Additionally, cinnamon is also mentioned elsewhere in the bible. This herb was so highly prized among ancient nations that it was often looked upon as a gift fit for even God. Cinnamon was imported to Egypt as early as 2000 B.C. The herb is also alluded to by Herodotus and other classical writers. Cinnamon was too expensive to be commonly used in funerals of ancient Rome. However, the Emperor Nero is said to have burned a year's worth of the city's supply at the funeral for his wife in 65 A.D.
Cinnamon can be harvested by growing the tree for two years and then coppicing it. About a dozen shoots will form from the roots in the next year. These shoots are then stripped of their bark and left to dry. Only the thin inner bark is used, while the outer woody portion is removed. Each dried strip of cinnamon are then cut into lengths of about five to ten centimeters for sale.
Cinnamon has been around for thousands of years. It is revered as a spice and also as a healing agent. Cinnamon was included in embalming oils by the Egyptians. This herb was used in China to treat fever, diarrhea, and menstrual problems dating as far back as 2000 BC. Cinnamon was a major trade commodity during the ancient times. Cinnamon grew in the southern regions of Asia originally.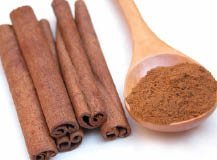 This herb is used to help relieve upset stomachs, reduce milk flow, stop excessive menstrual flow, and alleviate back pain. Research has also determined that cinnamon contains components that possess antifungal and antibacterial capabilities. This herb is found in some toothpaste, which allows it to help some decay-causing bacteria. Cinnamon is also helpful for promoting healthy blood sugar levels.
The dried bark of the cinnamon plant is used to provide alterative, analgesic, antibacterial, antifungal, antiseptic, astringent, carminative, diaphoretic, emmenagogue, febrifuge, sedative, stimulant, and stomachic properties. Primarily, cinnamon is beneficial in treating abdominal pain, candida, diarrhea, gas, gastric disorders, and indigestion.
Additionally, this herb is also extremely helpful in dealing with arthritis, asthma, backaches, bloating, bronchitis, cholera, coronary problems, fevers, excessive menstruation, nausea, nephritis, parasites, psoriasis, rheumatism, upset stomach, vomiting, and warts. For more information on the many beneficial effects provided by cinnamon, please contact a representative from your local health food store with questions.
Our Price: - $ 8.99 ...






Our Price: - $ 8.80 ...






Guarantee:
VitaNet® LLC Offers a 100% Satisfaction Guaranteed!