New - Elderberry Lozenges 1.2 mg Zinc per Lozenge from NOW FOODS
---



Date: December 18, 2009 01:24 PM
Author: Darrell Miller (dm@vitanetonline.com)
Subject: Elderberry Lozenges With Zinc 1.2mgs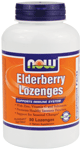 The immune support benefits of Zinc and Elderberry, on their own or when united, are supported by scores of welldocumented research. Numerous studies have demonstrated the ability of these two natural compounds to help support the body's ability to more effectively identify, target, and eliminate foreign particles, as part of the immune system's innate defense mechanism. In lozenge form, they help coat the lining of the throat and esophageal surface — a region where airborne particles, many of which can be harmful, tend to thrive. The presence of zinc has been shown on countless occasions to support a healthy immune response.* Simple enough, right? It would be, if such a strong percentage of the population wasn't so sensitive to zinc. On an empty stomach (and in some cases, even when food has been consumed), zinc can result in almost unbearable feelings of nausea.
This innovative new low-dose Zinc-Elderberry lozenge from NOW® provides enough zinc to provide effective immune system support, without the gut-wrenching nausea that leaves many would-be users apprehensive of even considering supplementation. Each tasty lozenge delivers a modest 1.2 mg of zinc, along with additional vitamin C, Elderberry extract, Echinacea purpurea root extract, and Slippery Elm extract. If there was ever a time to be extra mindful of one's immune system maintenance,* this is definitely it. Stock up on this promising new immune supplement and save throughout December!
Guarantee:
VitaNet® LLC Offers a 100% Satisfaction Guaranteed!