New Source Naturals PEA PROTEIN POWDER
---



Date: January 19, 2010 03:42 PM
Author: Darrell Miller (dm@vitanetonline.com)
Subject: Pea Protein Powder And Your Health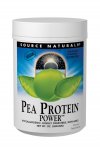 Combining proteins from plant sources can be difficult, especially for people who are stressed for time and for those who avoid not only meats but dairy products, soy and eggs. Vegans and vegetarians often struggle to consume optimum levels of protein. And many other people search for ways to include the right amounts and types of protein in their diets.
Source Naturals Pea Protein Powder is a natural vegetable protein powder made from yellow peas (Pisum sativum), the peas used in split pea soup. This highly digestible, highly bioavailable protein source is a great way to supplement a vegetarian diet for those who have problems eating beans and soy. Suitable for children and adults, it increases carbohydrate metabolism for heart health, weight management and healthy glucose levels.
Pea Protein Powder is a non-GMO, hypo-allergic protein source that is 100% gluten and cholesterol free. The concentrated powder is 84% protein, and compliments that content of other protein sources. Its protein profile includes a high content of lysine, and essential amino acid that is often limited in other vegetable proteins.
Pea Protein Powder is easily incorporated into drinks, smoothies, shakes, crackers, chips, snacks, soups, and other dishes. It can be added to soups or stews or sprinkled on past dishes instead of parmesan cheese. It has a neutral taste and good solubility. Source Naturals Pea Protein Powder is a great way for your to boost the protein in your diet. Available in both 16 oz and 32 oz powder cans.
Guarantee:
VitaNet® LLC Offers a 100% Satisfaction Guaranteed!