Sinusitis, Sinus Infections, Herbs, and Serrapeptase
---



Date: February 18, 2010 04:26 PM
Author: Darrell Miller (dm@vitanetonline.com)
Subject: Herbs, Serrapeptase, and your Sinus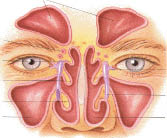 Sinusitis occurs when the nasal sinuses become inflamed. There are sinuses that are located above the eyes (frontal sinuses), inside the cheekbones (maxillary sinuses), behind the bridge of the nose (sphenoid sinuses), and in the upper nose (ethmoid sinuses). Sinuses are air-filled pockets in the skull that are connected to the nose and throat by passages designed to drain away mucous. The sinuses are the first line of defense to protect the lungs from infection. The majority of sinusitis cases affect the frontal and/or maxillary sinuses. However, any or all of the sinuses may be involved, with each individual tending to have problems with a particular set of sinuses. If the sinuses are too small or happen to be poorly position to handle the volume of mucous produced, they can become clogged. This causes pressure in the sinuses to increase, which causes pain. Those sinuses that are clogged for a long time are extremely prone to infection.
Sinusitis can be either acute or chronic. Acute sinusitis is usually caused by bacterial or viral infections of the nose, throat, and upper respiratory tract, like the common cold. Over 50 percent of all cases of sinusitis are caused by bacteria. Air travel can also lead to acute inflammation of the sinuses, due to the changes in air pressure. Chronic sinusitis problems, on the other hand, may be caused by small growths in the nose, injury of the nasal bones, air pollution, dental complications, emotional stress, smoking, and exposure to irritant fumes and smells. Allergic sinusitis may be the result of hay fever of food allergies, especially those allergies to milk and dairy products. People who have compromised immune systems are susceptible to fungal sinusitis, which is a potentially dangerous condition that requires aggressive treatment.
Sinusitis is characterized by symptoms such as fever which is usually low-grade but can be higher in some cases, cough, headache, earache, toothache, facial pain, cranial pressure, difficulty breathing through the nose, loss of the sense of smell, and tenderness over the forehead and cheekbones. If pain results from tapping the forehead just over the eyes, the cheekbones, or the area around the bridge of the nose, the sinuses may be infected. Sinusitis occasionally produces facial swelling which can be followed by a stuffy nose and a thick discharge of mucous. Those who suffer from sinusitis can have other unpleasant symptoms as a result of previous symptoms. Postnasal drip can cause a sore throat, nausea, and bad breath, while difficulty breathing can cause snoring and loss of sleep.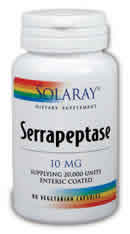 The following nutrients are considered to be helpful in dealing with and preventing sinusitis: acidophilus, bee pollen, flaxseed oil, a multivitamin and mineral complex, Quercetin, raw thymus glandular, vitamin A with mixed carotenoids, vitamin B complex, vitamin C with bioflavonoids, vitamin E, coenzyme Q10, colloidal silver, DMSO, garlic, MSM, proteolytic enzymes, Pycnogenol, sea mussel, serrapeptase, and zinc lozenges.
Additionally, the following herbs may be helpful in preventing and treating sinusitis: anise, fenugreek, marshmallow, red clover, bayberry, bitter orange oil, cat's claw, ginger root, goldenseal, horehound, mullein, nettle, olive leaf extract, and rose hips. Serrapeptase is an enzyme that is able to help keep sinus fluid thin and flowing properly. Serrapeptase also possesses anti-inflammatory properties and can help reduce sinus inflammation which will ease pain and speed healing of the sinus cavity.
Our Price: - $ 15.49 ...






Guarantee:
VitaNet® LLC Offers a 100% Satisfaction Guaranteed!