New by Now Foods - OralBiotic For Ear, Nose, and Throat Health
---



Date: May 28, 2010 01:29 PM
Author: Darrell Miller (dm@vitanetonline.com)
Subject: OralBiotic for Ear, Nose, and Throat Health

OralBiotic™ For Ear, Nose & Throat Health
NEW IN JUNE 2010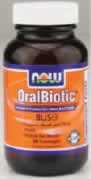 Many people, even some of the most nutritionally well-versed health enthusiasts, are unaware that the body's immune system activity actually begins in the mouth. In addition to Amylase, saliva contains an important enzyme, called lysozyme, which functions as a first line of defense against potentially harmful constituents. This simple aspect of human health speaks volumes about what's happening inside our mouths. The short version is that the mouth offers a near perfect environment for the growth and fortitude of various bacteria; some good, and some clearly not so good. No one is immune to this, including those who are meticulous in their oral care practices.
The food we eat, the environmental particles we inadvertently inhale, and a wide range of additional factors can all contribute to the residual presence of undesirable oral bacteria. For the most part, these particles are harmless and can be washed away by saliva or enzyme activity. Some bacterium, however, can lead to acute halitosis (bad breath) when left behind, as well as a potentially-increased affinity towards various infections resulting from bacterial imbalance. For individuals striving to support on a head-to-toe good health, it is important to take this into consideration when developing or augmenting one's nutritional program. NOW® Foods new OralBiotic™ is a completely innovative natural supplement developed specifically to help promote healthy oral bacteria, and therefore, a desirable state of overall health and wellness.
OralBiotic™ contains the naturally-occurring probiotic organism Streptococcus salivarius BLIS K12®, which has been shown in clinical studies to support both oral and throat health. OralBiotic™ BLIS K12® is not an antibiotic, but it can successfully colonize the oral cavity at the expense of other bacteria, thereby encouraging oral health.1 For greater support, we've included Fructooligosaccharides (FOS), a prebiotic that provides nutritional support for the growth and preservation of S. salivarius. OralBiotic™ can also promote fresh breath when used in conjunction with proper oral hygiene, such as NOW® XyliWhite™ products. To help your customers get the most out of this exciting new formula, we recommend taking it in conjunction with one of
NOW® Foods' various high-potency natural Probiotic supplements.*
BLIS K12® Advantages:
• The strength of the scientific and clinical data behind BLIS K12®
• A unique probiotic clinically-demonstrated to benefit the mouth and throat*
• Strong IP position (13 patents granted worldwide and 15 patent applications pending)
• Stability/shelf life (Two years shelf life at ambient temperatures)
• Demonstrated efficacy of various delivery formats
• An extensive safety record and comprehensive safety data
† Used with permission from the BLIS K12® website
Guarantee:
VitaNet® LLC Offers a 100% Satisfaction Guaranteed!