Botanical Immune Support from Planetary Herbals
---



Date: June 02, 2010 04:39 PM
Author: Darrell Miller (dm@vitanetonline.com)
Subject: Fight Inflammation With Herbs from Planetary Herbals

Our modern lives have untold benefits, as well as challenges. Our dependence on man-made toxic chemicals, junk food, nutrient imbalanced diets, and our stressful, sedentary lifestyles can alter our biochemical metabolism and affect our health.
These lifestyles and environmental change can challenge immune health, so that the various components of the immune system are not able to carry out their protective functions. Or our immune systems can go into overdrive, often leading to a state called metabolic inflammation.
A Powerful Herbal Blend
Inflamma-Care is a potent, herbal response to the metabolic inflammation that can result from inappropriate immune response. The main component of inflama-care is the rhizome of the curcuma spicies, long used as a spice in India. Known worldwide as turmeric (curcuma longa), it acts as an anti-inflammatory by inhibiting the activities of cytokines – inflammation messengers.
This world-renowned spice is supported by boswellia, which inhibits pro-inflammatory enzymes, and ginger an antioxidant that inhibits prostaglandin and leukotriene biosynthesis. Other herbs in the formula that inhibit inflammatory action include willow bark, Chinese skullcap, corydalis, holy basil, and hops.
Inflama-care also contains systemic enzymes to clear and protect the arteries and circulatory system. Systemic enzymes like bromelain and papain cleanse the bloodstream and enable the blood to flow smoothly. A free-flowing bloodstream helps the body by circulating important nutrients to the cells while clearing the body of wastes.
Immune Activating Mushroom
Planetary Herbals also offers you new Full Spectrum Chaga in 1000mg tablets and a 1:4 liquid extract. Preliminary studies suggest that chaga triggers immune responses and protects the cells with antioxidant activity.
Chaga is a mushroom that is found attached to trees like birch, alder, beach, and other hardwoods, throughout the northern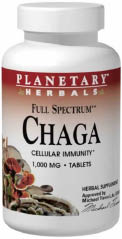 latitudes. A polyphore, the mushroom looks somewhat like coal – a brownish black mass often seen in tree trunks. In China, Siberia, Finland, Japan, Poland and North America, ancient and native peoples have long known the benefits of chaga. In an acient treaties, the Chinese monk shen nog declared in 100 BC that chaga is "a precious gift of nature."
In modern research, chaga has been shown to have 215 phytonutrients, including 29 beta-glucans. Chaga also absorbs a nutrient from the outer birch tree bark: betulin, a natural anti-inflammatory. Among the components in chaga are triterpenes, sterols, beta-glucans, flavonoids, melanins, polyphenols, saponins, lignin, amino acids, vitamins, minerals, and fiber. This fascinating combination of nutrients is being studied worldwide.
The PhytoDynamic Difference
Both inflama-care and full spectrum chaga are formulated with a profound understanding of the ways in which plant compounds interact with human physiology. Planetary Herbals phytodynamic principles draw on herbal tradition, scientific research, and a level of clinical expertise unmatched in the natural products industry. The result: herbal products unsurpassed for quality and consumer satisfaction.
Guarantee:
VitaNet® LLC Offers a 100% Satisfaction Guaranteed!