What are probiotics and how do you choose the Best Probiotic Supplements ?
---



Date: December 09, 2010 05:27 PM
Author: Darrell Miller (dm@vitanetonline.com)
Subject: Best Probiotic Supplements For A Healthy Intestinal Tract

Best Protiotic Supplements
It is very important to find the best probiotic supplements, but before you know how to choose the best probiotics, it is important to know what probiotics actually are. Probiotics are bacteria molecules that are beneficial and can also be in the form of yeast. These molecules are live and have been said to

act beneficially by some one who uses them in moderation. The word "probiotics" comes from the word pro (for) and bios (life) so this gives the impression that they are increasingly important supplements that can be used in everyday life, which is true.
Probiotic supplements have been known to help with lactose intolerance, the prevention of colon cancer, lowering cholesterol, lowering blood pressure, improving the immune system and preventing harmful bacteria growth under stress, among other beneficial factors.
You may associate yourself with one of the above conditions and are therefore wondering what the best probiotic supplements are for you to use. Everybody's needs are different so doses vary from person to person. In persons affected with lactose intolerance, the lactic acid bacteria can be digested to convert lactose into acid and then it is easier to digest. This is just a small example of the hundreds of probiotics out there that deal with many conditions.
When it comes to choosing a probiotic there are a few guidelines to follow. Keep in mind that it varies for different conditions and the best probiotic supplements may not be suitable for every person.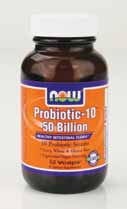 Before you turn to probiotics, it is important to know that you are getting enough bacteria. If you are getting less than 10 million live bacteria then you probably want to increase your bacteria intake so that it meets this standard.
It is also important, when looking for the best probiotic supplement, that you look at the ingredients. Generally, it is good if a probiotic contains bacteria from the Lactobacillus family, otherwise there are obviously different bacteria's that help with different conditions. Before you purchase a probiotic, be sure to do research on what you are specifically looking for or ask your doctor to recommend a good probiotic.
In addition to the probiotic supplement having bacteria, it should also house FOS, the preferred food for friendly bacteria. This ensures that the probiotic will operate on an optimum level, as FOS nutrition helps probiotics grow stronger and function better. This is especially important with probiotics that are taken for irritable bowel syndrome and chronic diarrhea.
Those who have been on antibiotics need probiotic friendly bacteria. Antibiotics destroy friendly bacteria. Probiotics can be used by people and children who want to maintain a healthy lifestyle and want to have a strong immune system and healthy well balanced intestinal tract.
Have you had your Probiotics Today?
Guarantee:
VitaNet® LLC Offers a 100% Satisfaction Guaranteed!