Keep Smelling Fresh With a Parsley Supplement! (Health benefits)
---




Date: January 07, 2011 12:34 PM
Author: Darrell Miller (dm@vitanetonline.com)
Subject: Freshen Your Breath And Stay Healthy With Parsley

Keep Smelling Fresh with a Parsley Supplement
Eating parsley is known to help reduce the unpleasant odor caused by bacterial action on body sweat. Although sweat is a natural coolant and can include the pheromones that are responsible for the attraction of one person to another, it is subject to bacterial degradation which occurs with the release of foul-smelling sulfurous gases. Anaerobic bacteria deep within the pores of the skin also release these gases, with the results that a body that has not been washed for a while will tend to offer an odor offensive to the nose.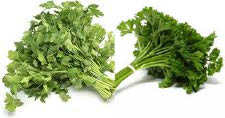 In the past, such body odor could be reduced by rubbing herbs over the body, and while this tended by and large to mask the smell to a greater or lesser degree, it was believed that parsley actually absorbed the odor. This is likely due to the large quantities of chlorophyll that parsley contains, and also many of the other components of this plant used more as a garnish than as a vegetable.
While it is not known what mechanism enables parsley and chlorophyll to work this way, a supplement of parsley will go a long way towards improving your social life and acceptance within groups of people - so eat that parsley garnish! That's what it's there for.
Parsley: The Healthy Way to Smell Sweet
Parsley is used by many people as a deodorant, and is a healthy way to mask the odor of stale sweat or bad breath. Many people prefer to use roll-on or spray deodorants and anti-perspirants but in doing so they could be compromising their health. The reason for this is that while most sweating is your body's way of cooling itself when hot (the heat needed to evaporate the sweat from your body cools the skin), part of it is intended to attract members of the opposite sex and another important part is intended to excrete toxins from your body.
Not all toxic substances are excreted in the urine or feces, but also in sweat, particularly the armpits. What that means is that by taking an antiperspirant, formulated to act as an astringent, and prevent the pores in your armpits from sweating you are in effect preventing the toxins from being removed from inside your body to outside. How is your body supposed to eliminate toxins if you are preventing it from doing so by closing your pores and preventing the sweat containing these toxins from escaping to the outside world.
By forgetting the antiperspirant and using a parsley supplement that masks or absorbs the odor caused by the bacterial action on your perspiration, you will be able to smell good while allowing your natural body functions to take place.
Our Price: - $ 8.99 ...






Our Price: - $ 10.50 ...






Guarantee:
VitaNet® LLC Offers a 100% Satisfaction Guaranteed!
---




Date: January 07, 2011 12:40 PM
Author: Darrell Miller (dm@vitanetonline.com)
Subject: Using Parley for Halitosis

Using Parley for Bad Breath
Parsley is often used to treat halitosis because it appears to absorb the foul odors that emanate from the mouth due to poor digestion, tooth decal and gum disease, and also from the anaerobic bacteria living deep in the crevices of the tongue and the inside of the cheek. The mechanism by which parsley does this is not yet known, although many believe it to be due its chlorophyll content.
Chlorophyll is known to mask or neutralize bad mouth odors, and many chew parsley to achieve this. Chlorophyll is used in toothpastes, mouthwashes and chewing gum, but not nearly as much today as it was when it first became popular for this use in the 1950s.
Available in capsule form that often also contains garlic, parsley supplements are very popular. It is not sure whether it is present in garlic supplement to enhance its health-giving properties or to mask the typical garlic odor, although it does appear to work in freshening the breath while also offering a number of other health benefits including the highly antioxidant properties of parsleys' particularly high Vitamin C content.