If You Are Having Trouble With Night Driving, Bilberry Extract Could Help
---



Date: February 02, 2011 10:06 PM
Author: Darrell Miller (dm@vitanetonline.com)
Subject: If You Are Having Trouble With Night Driving, Bilberry Extract Could Help

Night blindness is very common nowadays. According to statistics, a lack of vitamin A is the primary cause of night blindness or inability to see at night or in dim light. The treatment of this eye condition will depend upon the cause. Treatment may be as simple as getting a new eye glasses prescription. But invasive procedures may also be required most especially those that are caused by cataracts. Fortunately, Bilberry extracts may help night blindness.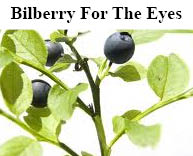 Bilberry is a low – growing perrenial shrub growing approximately 15 to 20 inches in height. It is a member of the family Ericaceae in the genus Vaccinium. Its branches are green with sharp edges. It bears edible berr that is seemingly wrinkled and black. Bilberry is a comparative to the common berries known as blueberry and cranberry. The active compounds in bilberry fruit are known as anthocyanosides. Bilberry extract has a deep bluish purple tone which contains the majority of the active substance of the fruit known as anthocyanidin. Anthocyanidin is a component of anthocyanosides. It can help increase the formation of rhodopsin. According to studies, rhodopsin is formed from an aldehyde form of vitamin A called retinaldehyde, or retinal as commonly used. It is then bound to the protein opsin. This compound consisting of retinal and opsin is stored in photoreceptors of the retina of the eye known as rods and cones. Rhodopsin is the compound in the eye that is responsible for adjusting eye perception to light variations.
This plant extract is also commonly used for treating eye problems like cataracts and retinal disorders particularly retinopathy. Scientists found out that anthocyanosides help protect the retina. Since bilberry improves the formation of rhodopsin, adequate levels of rhodopsin can significantly improve night vision and reduce visual fatigue. This eye pigment could help those individuals who are having trouble driving at night because of its rhodopsin regenerating property.
Aside from supporting a healthy eye function, bilberry has many other health benefits. It has an antioxidant, anti – inflammatory, collagen stabilizing and vasoprotective properties. Generally, anthocyanosides are considerably beneficial to the overall health of the body. It can improve circulation by preventing blood clumping by reducing platelet aggregation. It can also prevent or reduce the amount and extent of damage to cells caused by free radicals.
Further clinical studies are being done to be able to get concrete evidence on the fruit's benefits especially to the eyes. Preliminary results show that bilberry decreases eyestrain after an excessive use of computers, protects against glaucoma by improving blood vessel integrity in the eyes, reduces the occurrence of cataracts by maintaining the integrity of connective tissues in the eyes and lessens the risk of retinopathy among diabetic patients. Preparations of bilberry extracts include teas, capsules or tablets.
Guarantee:
VitaNet® LLC Offers a 100% Satisfaction Guaranteed!