How Does the Herb Holy Basil Help with My Health?
---



Date: March 10, 2011 02:04 PM
Author: Darrell Miller (dm@vitanetonline.com)
Subject: How Does the Herb Holy Basil Help with My Health?

Holy Basil And Cholesterol, Inflammation, and more
Ocimum tenuiflorum, known as Holy Basil in the vernacular, is an herbal plant indigenous to South Asia, where it is called Tulsi. It is widely distributed across the subcontinent of India and surrounding countries and is primarily cultivated for its age-old medicinal benefits in addition to its religious significance to Vaishnavite practices of Hinduism. It has earned popularity as a health tonic over the centuries, and recent studies have supported its positive effects on human health. Today it is often associated with lowering cholesterol and glucose, acting as an antioxidant, and regulating inflammatory intermediaries.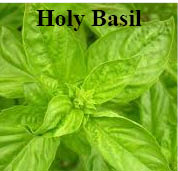 Counteracts Stress Factors
The juice of holy basil has long been reputed to display adaptogenic properties. There have been countless accounts of its effectiveness in combating stress. In fact, the most compelling of all anecdotal evidence has something to do with its ability to create a feeling of wellness right after ingestion, the same tonic benefits attributed to ginseng. To date studies point to its homeostatic effects on the stress hormone cortisol, creating homeostatic effects on its metabolites and their interactions with compounds released in response to stress.
Neutralizes Free Radicals
Holy basil has been observed to show antioxidant activities, and this is one of its mechanisms in allaying symptoms brought on by fatigue. Free radicals are released by the body to dispose of pathogens, but are in turn disposed of by endogenous antioxidants. Oxidative stress ensues when there is an imbalance between the production of free radicals and the ability of the body to neutralize them. The polyphenols found in holy basil helps the body quench excesses of free radicals.
Lowers Bad Cholesterol
There has been a growing body of literature devoted to the lipid-lowering properties of holy basil. The phytochemicals found in holy basil have been cited to affect the metabolic pathway that produces very-low-density lipoproteins, which is a precursor to low-density lipoproteins, or bad cholesterol, and bring about an increase in high-density lipoproteins, dubbed good cholesterol. Also, it has been associated to the overall decrease of lipids present in the bloodstream, notably free fatty acids.
Reduces Blood Glucose
One of the earliest observations on the health effects of holy basil is its properties that counter the progression of diabetes. It has been reported many times to have helped patients of type 2 diabetes mellitus, which results from the compromised ability of cells to respond to the hormone insulin. The use of holy basil extracts has yielded promising results on promoting the glucose uptake of cells, and, of course, the consequent decrease in glucose present in the blood.
Influences Inflammation
Holy basil has been extensively studied for its anti-inflammatory benefits. The most recent research has pointed out that organic compounds found in holy basil may inhibit the enzyme called COX-2, which facilitates the synthesis of inflammatory mediators. Eicosanoids are endogenous substances produced by local tissues during inflammation, and a special group called prostanoids is responsible for the pain tied to inflammation. By targeting COX-2, holy basil greatly aids against inflammatory diseases such as arthritis.
What is stopping you from giving holy basil a try today?
Guarantee:
VitaNet® LLC Offers a 100% Satisfaction Guaranteed!