Phosphatidyl choline, Aging, And Intelligence What You Must Know
---



Date: May 24, 2011 10:52 AM
Author: Darrell Miller (dm@vitanetonline.com)
Subject: Phosphatidyl choline, Aging, And Intelligence What You Must Know

If you are aging and wish to maintain your intelligence, experts are turning to the belief that a supplement of phosphatidylcholine could enable you to do this. For a long time, lecithin supplements have been recommended to people seeking a way to maintain their faculties as they age, and in a number of cases it appears to have been effective. Now it is phosphatidylcholine that is being recommended, and it is certainly no coincidence that this phospholipid/choline combination constitutes the bulk of lecithin.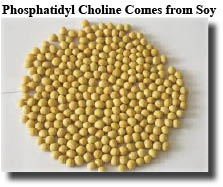 Nor is it any coincidence that the cell membranes of the brain and everywhere else in your body contains large quantities of phosphatidylcholine, or at least should do for maximum effectiveness. The membranes of the brain cells of a young infant consist of around 90% of this phospholipid, while those of the brain cells of a 60 -70 year old contain only around 10%. This figure will naturally vary with each person, and some individuals could have a considerably higher amount and others less, but that is a rough average.
It follows, then, and many experts agree, that by taking a supplement of phosphatidylcholine you can slow down the natural loss of cognitive ability, memory and overall brain function. If taken according to the recommended doses there are no significant side effects, so what do you have to lose? Certainly not your memory and your ability to make that decision because you are going to lose that in any case - unless these experts are correct in their thinking and you take their advice.
Guarantee:
VitaNet® LLC Offers a 100% Satisfaction Guaranteed!