How Does Holy Basil Extract Help With Pain?
---



Date: June 06, 2011 02:43 PM
Author: Darrell Miller (dm@vitanetonline.com)
Subject: How Does Holy Basil Extract Help With Pain

Holy Basil And Your Health.
Holy Basil, technically known as Ocimum tenuiflorum, is a perennial plant which is a member of the family Lamiaceae. This kind of plant is commonly cultivated in the tropics region but can also be seen as an escape weeds. Holy Basil plant is an upright shrub with many hairy branches that can grow up to 30 to 60 centimeters in height. It has an aromatic leaves in green color that are slightly toothed. It also bears flowers which are purple in color and also has a strong scent. Holy Basil has many medicinal uses. In fact, in South Asian regions, Holy Basil is commonly utilized as an herbal tea.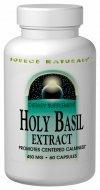 Holy Basil claimed to be an effective pain treatment. Clinical studies show that this plant contains high amounts of Eugenol which mimics the actions of COX – 2 Inhibitor drugs. COX – 2 Inhibitors is a pain killer which is classified as Non – Steroidal Anti – Inflammatory Drug or NSAID. This type of drug is directly targets the enzyme Cyclooxygenase – 2 which is responsible for inflammatory response. Inflammation is associated with swelling which further cause pain. If an area is swollen, the nerve endings are compressed therefore pain is felt.
Aside from its potent pain alleviating property, Holy Basil is also useful in reducing blood sugar levels. This is the reason why it is utilized as an effective treatment for diabetes mellitus. Holy Basil also has an antioxidant effect. As we know for a fact, antioxidants are useful in eliminating harmful toxins in the body known as free radicals. Free radicals can damage cells and even tamper DNA formation during cellular division. Other benefit of Holy Basil includes its anti – stress property. Holy Basil leaves are considered to be an adaptogen or anti – stress agent which protects an individual against various stressors. Experts recommend that an individual can consume a dozen of Holy Basil leaves two times daily to prevent stress. Holy Basil leaves are thought to purify blood thus improving blood circulation and tissue oxygenation.
Aside from Eugenol, Holy Basil also contains the compound Carvacrol which has a strong antibacterial property. Carvacrol has the capacity to inhibit the growth of certain bacteria such as E. coli and Bacillus cereus. Carvacrol is also an effective digestive aid. Research reveals that Carvacrol is can alleviate gastric upset and improve digestion of food and absorption of nutrients.
Holy Basil extracts are reported to be safe and effective in helping alleviate pain and treating other health conditions. Experts suggest that Holy Basil is not for long – term use. It must be used only for a maximum of four weeks. Pregnant women and breastfeeding mothers must not use this supplement to be completely safe. Holy Basil is discovered to slow blood clotting therefore it must not be used within two weeks before and after any type of surgery. Finally, though Holy Basil extracts are relatively safe, it would still be best to consult a qualified healthcare provider and discuss with him or her your health status and history.
Get some today and reap the benefits of this wonderful herb for yourself!
Our Price: - $ 12.10 ...






Our Price: - $ 10.00 ...






Our Price: - $ 18.88 ...






Guarantee:
VitaNet® LLC Offers a 100% Satisfaction Guaranteed!