The Benefits of GLA to Women
---



Date: June 15, 2011 11:10 AM
Author: Darrell Miller (dm@vitanetonline.com)
Subject: The Benefits of GLA to Women

GLA, otherwise known as gamma linolenic acid or Omega-6 fatty acid, has been found to benefit women's health in a number of ways. For example, supplements of GLA have been found to reduce many symptoms of PMS, such as irritability, depression and breast pain. The reason for this may be due to the fact that at this time the metabolism of women is less able to convert dietary linoleic acid to GLA, the normal biochemical pathway for its production.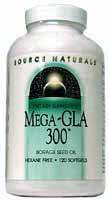 GLA is also of benefit to menopausal women, for whom it has been found to reduce the number of night flushes. GLA also helps to maintain fetal development in terms of new tissue grown and organ development, and in fact fetus development involves fairly high essential fatty acid consumption. Many women take one or two capsules of evening primrose oil intravaginally to soften the cervix in preparation for childbirth.
However, a small number of sources state that taking GLA in the latter stages of pregnancy should be avoided, so you should seek the advice of your doctor or physician on this question.
Essential fatty acids are essential for proper hormone production in women and men.
Make sure you are getting enough essential fatty acids daily!
Our Price: - $ 13.32 ...






Our Price: - $ 25.16 ...






Our Price: - $ 48.84 ...






Guarantee:
VitaNet® LLC Offers a 100% Satisfaction Guaranteed!