How Does Lycopene Help Improve Prostate Health?
---



Date: August 18, 2011 10:16 AM
Author: Darrell Miller (dm@vitanetonline.com)
Subject: How Does Lycopene Help Improve Prostate Health?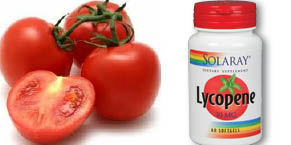 Lycopene is a bright red carotenoid pigment and phytochemical found in tomatoes and other red fruits and veggies, like red carrots, watermelons and papayas however not strawberries. Although most chemical carotenes has vitamin A activity, lycopene does not. Lycopene is an essential intermediate in the biosynthesis of many carotenoids and in algae, plants, and other photosynthetic organisms.
An Anti-Oxidant?
A term that describes a large range of more about 600 pigments which give plants their red, orange or yellow colouring is carotenoid. Some of the most commonly known in a regular Western region diets are alpha-carotene, beta-carotene, lutein, zeaxanthin, and lycopene.
Attention has been paid most to alpha-carotene and beta-carotene since these are the ones that can be synthesized by our body to form vitamin A, one of the body's very powerful antioxidants.
Lycopene, in particular, is has even been credited with some of the many anti-oxidant functions previously credited to beta-carotene.
Prostate Health
Prostate cancer is most common among men over the age of 50. The cause of this type of cancer, like almost all other cancers, is unknown, but some studies indicate alteration in testosterone metabolism possibly plays a role in its development. Prostate cancer generally grows slowly and can be undetected until late in the stage of the decease since it does not show any symptoms in the early stages. Symptoms can include painful urination, a feeling of incomplete emptying of the bladder, or blood showing with the urine. According to some studies prostate cancer patients that supplement with lycopene in addition to surgical procedures to remove the testicles may experience, less bone pain, and live longer than those who does not supplement.
It has also shown that groups of patient that were tested with lycopene supplementation has a higher survival rate after a time frame of two years and no adverse side effects were observed in these men as well. This is achieved through lycopenes proven role in keeping the pathways open between cells which is vital in allowing the immune system to hold off cancer cells in its early stages. Although more research is still required to iron out what exact amount of lycopene will be most effective, the current results are already encouraging. However eating a moderately sized tomato a day can approximately provide 4 mg of lycopene and other tomato products, like an 8-ounce tomato juice or tomato paste provides up to 15 mg of lycopene just to give all the men out there an estimate. These are small portions of the diet that could easily be added without any major adverse effect to weight or health and seems too small to ignore given the possible benefits and minimal negative effects if any.
Additional Lycopene Benefits
It also has been found that lycopene can possibly as important as beta-carotene in protecting against the process of oxidation of Low Density Lipids (LDLs), also known as the "bad cholesterol", which is now held to be the main cause of atherosclerosis, or hardening of the arteries which leads to cardio-vascular diseases like stroke or heart attack.
Grab Some Lycopene today and experience the benefits for yourself!
Our Price: - $ 28.99 ...






Our Price: - $ 24.20 ...






Our Price: - $ 13.20 ...






Guarantee:
VitaNet® LLC Offers a 100% Satisfaction Guaranteed!