Your Diet May Be What's Causing Your Acne
---



Date: September 19, 2011 06:05 PM
Author: Darrell Miller (dm@vitanetonline.com)
Subject: Your Diet May Be What's Causing Your Acne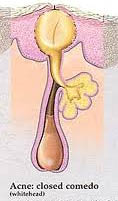 Although dieticians and physicians maintain that diet does not cause acne, this is not strictly true. Even dermatologists argue the point, but while it is generally agreed that eating fatty foods or excessive quantities of chocolate will not in itself lead to acne, there are certain valid arguments that diet has a role to play. Recent research has shed new light on dietary factors that can help to promote acne symptoms, if not being the sole cause of them.
Before discussing that, it is important to understand why acne gives rise to the symptoms that it does: lesions in the form of whiteheads and blackheads, pustules and cysts. While not necessary to discuss the biochemical details, the part that your diet has to play will not be understood without considering the effect of hormones on acne.
The reason that teenagers in particular appear to be more prone to acne is that an increased production of hormones has an effect on the condition that causes the symptoms of acne. Fundamentally, acne is characterized by the infection and inflammation of a mass of oil and dead skin cells within the pores of the skin, particularly on the face, neck, chest buttocks and back. If we discuss each of these elements first, and how they are created, then the relationship between diet and acne will become clear.
At a certain time in their lives, people experience a spurt of growth and develop sexually. This is initiated by the secretion of hormones, particularly of male sex hormones collectively known as androgens, and by various hormonal 'Growth Factors'. This stage of human development is known as puberty, although there is also an increase in androgen secretion by the adrenal glands just before menstruation and during pregnancy and menopause. Androgens such as testosterone are reserved not only for the male of the species!
An effect of androgens is to increase the rate of secretion of sebum from the sebaceous glands in the skin. The reason for this is unknown, though it has been hypothesized that its purpose is to waterproof the additional hair that is grown on the body at this time. Another suggested reason is as an olfactory warning to others to deter from sexual activity, in teenagers until their sexual development is complete, and in pre-menstrual, pregnant and menopausal women for obvious reasons. There is no substantial proof for any of these hypotheses, though the latter appears to make more sense than the former.
Irrespective of this, androgens also interfere with desquamation, and the dead skin cells within the pores tend to fall off irregularly and in clumps. This mix of dead skin cells and excess sebum clogs up the pores of the sebaceous follicles. Once this plug becomes infected with bacteria, the immune system is activated, inflammation occurs, and leukocyte action leads to pus formation. That is what is known as acne.
In order to determine how diet and acne are connected, it would be necessary to determine what components of our diet can either stimulate sebum production, or stimulate androgen secretion. If no such link could be found, then it would be fair to descry any connection between acne and the food you eat. However, there is a connection, and it is a positive one.
In addition to their main function, insulin and a hormone known as IGF-1 (Insulin-like Growth Factor 1 that helps promote growth in children) promote the secretion of testosterone, a male hormone or androgen. Knowing, as we now do, that androgens promote the secretion of sebum, then anything that increases the levels of insulin or IGF-1 within the body will also lead to sebum production and hence to acne. What that infers is that any foodstuffs that increase the insulin levels in the blood can also lead to acne.
This inference is supported in many ways. For example, it has been found that while drinking milk promotes a greater risk of acne, eating yoghurt does not. Why is this? It is known that milk can increase insulin levels because of its high sugar content. The effect of bacterial activity to produce yoghurt reduces the amount of sugars in the milk it is made from because the bacteria live on the lactose. The same argument applies to cheese, which promotes lower insulin levels than milk, if not as low as yoghurt.
This being the case, then a diet low in sugars and carbohydrates should reduce the incidence of acne generally. Recent research has indicated that a diet high in refined carbohydrates and sugar increases both IGF-1 and insulin levels in the blood. This then creates a surge in male hormones which in turn leads to excessive sebum secretion and intermittent shedding of skin cells and so on to the growth of bacteria and acne. It is a logical progression, supported both by theory and by observation.
So how should a person with a propensity for acne change their diet? Switch to fruits, vegetables and grains. Non-fatty meats are also acceptable, and .lots of fish and other seafood. Studies have concluded that diets rich in seafood lead to very low acne rates. The Japanese and coastal Chinese suffer very little acne in comparison with those taking a Western diet, particularly an American diet.
One of the reasons for this is that omega-3 fatty acids help to reduce both inflammation and sebum production. The same is true of green tea that contains antioxidants that reduce the blood levels of dihydotetosterone and hence of sebum secretion by the sebaceous glands. We could go on, and list supplement after supplement that contain antioxidants and other substances that can reduce the production of sebum and hence of the symptoms of acne.
Vegetable oils, on the other hand, with their high omega-6 fatty acid content, can drive up sebum production and the activity of the immune system and the inflammatory response. There are few doubts left that, while acne is not specifically caused by what you eat, diet can contribute to it and that acne and its severity can be eased by eating a diet low in carbohydrates and other sugar-promoting foods.
Our Price: - $ 11.80 ...






Guarantee:
VitaNet® LLC Offers a 100% Satisfaction Guaranteed!