What is Monk Fruit And Why Is It Healthy?
---



Date: July 24, 2013 10:24 AM
Author: Darrell Miller (dm@vitanetonline.com)
Subject: What is Monk Fruit And Why Is It Healthy?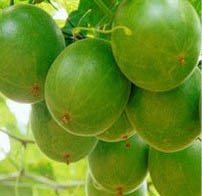 Monk fruit also known as luo han guo is a green melon cultivated in central Asia. It has been cultivated for many years by the Buddhist monks. The fruit contains an intensely sweet compound known as mogroside. It is a healthy, natural alternative to sugars and artificial sweeteners. The fruit is extracted in order to get mogroside which is many times sweeter than sugar. Monk fruit is crushed, combined with water, filtered and spray-dried to produce a sweet-zero-calorie powder known as fruit-sweetness. This sugar is used in several foods and beverages.
Health benefits
Ancient Chinese and Buddhist used monk fruit as treatment for various ailments, such as constipation, sunstroke and coughing. Modern research shows that mogroside can be used to treat diabetes since it contains a low glycemic index and can stimulate insulin secretion. In china, monk fruit was also used for many years to treat obesity and diabetes. The fruit contains antioxidants with anti- inflammatory benefits.
British Journal of Nutrition reported that use of monk fruit by animals showed a reduction in lipid peroxidation or cell damage as well as urinary albumin levels. This shows that it protects kidneys from diabetic damage.
Monk fruit strengthens the immune system, digestive tract, respiratory system as well as glands. This fruit is capable of eliminating and defending people against various health-related issues. The fruit reduces cholesterol, triglycerides and improve liver function. Furthermore, it increases good cholesterol while protecting the liver. It prevents cholesterol oxidization (due to its antioxidant potential) this results to reduced risk of heart diseases and strokes.
Monk fruit extract has an antihistamine effect. The extract tends to counter an allergic response by soothing the mast cells that produces chemicals such as histamine. This chemical is related to both allergies and asthma. It is considered one of the best non-sugar sweeteners. It is combined with supplements used to promote and maintain a healthy weight.
Reference
//www.thekitchen.com
//thescienceofeating.com
//www.tateandlyle.com/ingredientsandservices/chooseaningredientorservice/americas/pages/purefruit%E2%84%A2monkfruitextract.aspx
Our Price: - $ 13.49 ...






Our Price: - $ 19.99 ...






Our Price: - $ 21.99 ...






Guarantee:
VitaNet® LLC Offers a 100% Satisfaction Guaranteed!