A review of the adaptogenic properties of Eleutherococcus
---



Date: October 24, 2013 09:24 AM
Author: Darrell Miller (dm@vitanetonline.com)
Subject: A review of the adaptogenic properties of Eleutherococcus

What is elutherococcus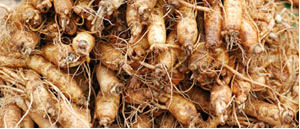 Eleutherococcus, also called Siberian ginseng, is a medicinal plant that belongs to the ginseng family. It is normally found in forests that are located at regions that lie about 800 meters above the sea level. Male Eleutherococcus plants are characterized by violet flowers while their female counterparts bear yellow flowers. The leaves and berries of this plant has medicinal values and in fact, it is considered a perfect substitute to ginseng.
How does it work?
Its functioning is similar to that of ginseng. It possesses various properties that are known to bring amazing effects on the health. Basically, the extracts from this plant are used as therapeutic products. The y are know to have adaptogenic effects. It is normally prescribed to individuals who are battling with cardiovascular and energy problems. It is also a mood enhancing product. //www.drugs.com/npc/eleutherococcus.html
Since it is a good adaptogen, the plant is normally used to treat physical and mental stress. According to medical practitioners, adaptogens are substances that helps in adjusting to situations and scenarios that are stressful. In order to facilitate this, the substance nourishes adrenal glands that are designed to regulate various hormones in the body. It also works by increasing the functioning of the white blood cells. It has been identified that regular use of this product will enable an individual to improve his/her endurance thus resulting in improved mood. //www.tasteforlife.com/nutrition-plus/medicinal-herbs/eleuthero-powerful-adaptogen
Other benefits of this product include:
There are several benefits that accrue to any one who uses this product. For instance, it promote metabolism in the body. In addition, it is a good bone-strengthening herb and that is why it is recommended for those with weak bones.
The bottom line
Provided that it is used as recommended, any user should expect nothing less than the best results. It is one of the safest herbs that you will ever find.
Guarantee:
VitaNet® LLC Offers a 100% Satisfaction Guaranteed!