---



Date: November 08, 2013 09:36 AM
Author: Darrell Miller (dm@vitanetonline.com)
Subject: Signs of Low Blood Sugar

Types of Low Blood Sugar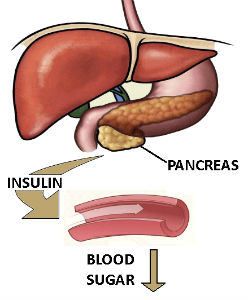 If you live with or know a type 1 or type 2 diabetic, then you should be aware of the signs of low blood sugar so that you are in a position to help if and when an emergency arises.

Diabetes
Diabetes is a chronic illness that affects nearly 8 percent of the United States population, according to the American Diabetes Association. The disease is characterized by the absence of insulin in the bloodstream (type 1 diabetes) or the body's inability to utilize insulin effectively (type 2 diabetes).
Since insulin is the mechanism that allows glucose in the bloodstream, known as blood sugar, to provide food for the brain and energy to the body's organs and cells, diabetics must inject insulin or take other oral medications to counteract any insulin deficiency. All diabetics must also follow a daily regimen that includes a heart-healthy diet and plenty of physical activity to help regulate blood sugar levels.
About Blood Sugar
Normal blood sugar levels are 70 mg/dl to 120 mg/dl. If a diabetic consumes too many carbohydrates or doesn't take enough insulin, blood sugar levels can run high, resulting in a condition known as hyperglycemia. Blood sugar levels below 70 mg/dl is considered hypoglycemia, a life-threatening condition. Fortunately, there are several initial signs of low blood sugar that help the diabetic and those around them know that a medical situation is arising.
Causes of Low Blood Sugar
Some causes of low blood sugar are under a diabetic's control, including: insufficient carbohydrate consumption. Consuming alcoholic beverages. Prolonged strenuous physical activity. Other causes of hypoglycemia can catch a diabetic by surprise: Mental or emotional stressSevere or prolonged illness
Signs and Symptoms of Hypoglycemia
Most diabetics are able to identify the signs of low blood sugar fairly quickly and treat it before the condition becomes serious -- but not always. If someone's blood sugar levels normally run between 100 mg/dl and 120 mg/dl they might feel the onset of low blood sugar symptoms when they near the 70 mg/dl mark. Diabetics whose blood sugar levels are usually on the lower end of the spectrum, like in the 70 mg/dl to 80 mg/dl range, may not begin to feel symptoms of hypoglycemia until their blood sugar levels are already dangerously low.
The onset of symptoms usually includes:
Shakiness or trembling. Hunger dizziness
If not treated quickly, signs of low blood sugar can develop into:
Headache extreme sweating. A feeling of being disoriented. Denial of any blood sugar level problems. Extreme anger or giddiness
If hypoglycemia is not treated at this point or is not responding to treatment, the person can quickly become unconscious, suffer seizures or even fall into a coma which can lead to brain damage or even death.
Not everyone will develop all of these symptoms and some people may develop signs that are not on this list. When with a diabetic, just be on the lookout for behavior that is not normal for them. They may resist checking their blood sugar levels. If they do, on the side of caution and continue on with treatment.
Guarantee:
VitaNet® LLC Offers a 100% Satisfaction Guaranteed!