Is Coconut Oil A Brain Food?
---



Date: January 26, 2014 09:34 AM
Author: Darrell Miller (dm@vitanetonline.com)
Subject: Is Coconut Oil A Brain Food?

It is amazing how coconut oil has been ascribed as a good brain food.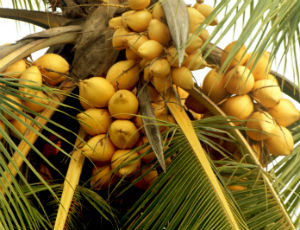 Since Dr. Mary Newport associated coconut oil with the ability to cure Alzheimer's disease, it has attracted the attention of researchers and other interested parties. However, her attractive explanation of how the oil helped her husband to improve her husband's Alzheimer's disease can be described from the observation of an Alzheimer patient's brain.
Taking into consideration Axona that is usually used by Alzheimer's patients, its active ingredients is the caprylic acid that is extracted from the oil. As a substitute, Dr. Newport used coconut food products such as oil and milk in her husband diet to achieve the same quantity of MCTs. This improved her husband's condition a clear indication that coconut oil has some medicinal value. From a scientific point of view, it is approved that the disease is caused by insulin resistant cells thus causing the brain to unsuccessfully use glucose to fuel their activity. In its place, ketone bodies are used as a substitute fuel supply. Coconut oil is a good supply of medium-chain triglycerides (MCTs), for instance caprylic acid that is simply transformed into ketone bodies in the liver when ingested. Then they act as an alternative of glucose which provides fuel for the brain. Neuroprotective effect of the coconut oil is attributed to the ketone bodies formed as a byproduct of coconut oil metabolism. Therefore, leading to an energy metabolism. The ketone bodies will then supply the compromised brain structure with the much-needed alternative fuel source from the Ketone bodies.
However, it is of the essence to state that coconut oil is only known for improving the condition. For this reason, there has been an increased call for more research, particularly human clinical trials. Since there is no any cure yet, coconut oil is going to remain a good brain food of choice for others who are experiencing Alzheimer.
References:
//www.greenmedinfo.com
//www.naturalnew.com/030373_cocnut_oil_alzheimers_disease.html
//www.naturalnews.com/028753_alzheimers_drugs_trials.html
Our Price: - $ 14.11 ...






Our Price: - $ 13.78 ...






Guarantee:
VitaNet® LLC Offers a 100% Satisfaction Guaranteed!