Check Out The Wonder Grain: Amaranth
---



Date: February 02, 2014 07:48 AM
Author: Darrell Miller (dm@vitanetonline.com)
Subject: Check Out The Wonder Grain: Amaranth

The wonder of amaranth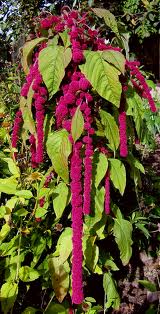 The wonder grain Amaranth has been known to humans for centuries. It was heralded as a staple in the diets of pre Columbian-Aztecs who heralded the plant is granting them special powers. Unfortunately, when the Spanish Conquistadors arrived in the region, they outlawed the crop and went to great lengths to push its existence far from common knowledge. It has only resurfaced on the market in recent decades.
Amaranth plant
A broad and bushy plant, amaranth can grow to around six feet in height. It sports a bright and colorful flower head which contains an immense amount of seeds. It is not uncommon for a single plant to produce seed quantities around the 60,000 mark. The seeds are typically used in the creation of amaranth cereal or flour.
The plant itself is not technically a grain, belonging instead to the same plant family as beets, spinach and quinoa. This classification is the reason it offers nutritional benefits that are closer to those offered by darker, greener plants with more foliage rather than those of true grains. Amaranth plays host to a myriad of different nutrients, including vitamins, minerals, and amino acids. One amino acid in particular, lysine, which is generally present in fairly low levels in other grains, appears in a noticeably higher concentration here. Compared to wheat, Amaranth also carries four times as much calcium and double the content of iron and magnesium. It also boasts an exceptionally high level of protein.
Uses of amaranth
This miracle plant can be prepared with a wide variety of techniques. It can be simmered to produce a consistency not unlike porridge. It can also be mixed with other grains to create a dish that resembles rice. Traditionalists can also toss the grains in a skillet to be cooked like popcorn, producing a crunchy, almost nutty experience. While still not yet immensely popular and therefor sometimes harder to find, amaranth can be an excellent addition to any healthy diet.
Sources:
//whfood.org/genpage.php?tname=dailytip&dbid=231
//en.wikipedia.org/wiki/Amaranth_gain
Our Price: - $ 4.37 ...






Our Price: - $ 26.25 ...






Our Price: - $ 30.00 ...






Guarantee:
VitaNet® LLC Offers a 100% Satisfaction Guaranteed!