WHAT YOU DIDN'T KNOW ABOUT COCONUT OIL
---



Date: February 06, 2014 07:56 AM
Author: Darrell Miller (dm@vitanetonline.com)
Subject: WHAT YOU DIDN'T KNOW ABOUT COCONUT OIL

Introduction to coconut oil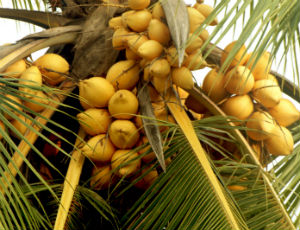 Coconuts have come under close scrutiny by health experts and enthusiasts alike. The popular nut that is favored by the climates at the tropics is slowly cementing its place in household shelves worldwide. The white fleshy part has given us a healthy oil with a diverse resourcefulness.
Benefits of Coconut oil
Coconut oil's reputation had been blemished by inconclusive studies that had suggested that due to its 90 percent concentration of saturated fats, it couldn't pass for a healthy oil. High saturated fat content is usually associated with artery clogs and this, in the case of coconut couldn't be any further from the truth. Coconut oil is arguable the richest source of saturated fat. Contrary to popular belief, during digestion, the fatty acids in the oil are sent to the liver where they are converted to energy or into ketone bodies that help counter brain disorders such as Alzheimer's.
Coconut oil has also wound its way to the breakfast table as a spread. It beats butter hands down as the healthy alternative when taken on toast.
It adds a remarkable nutty flavor to your food when used as a cooking fat. The fact that it does not exhibit any signs of rancidity under high temperatures as most cooking oils do, only underpins its reliability. Whether you use it to fry an egg or make a fuller meal, the health benefits it brings to the table are unparalleled.
Coconut oil has also crept into the snack world. Movie theatres have pioneered this trade by using it to prepare popcorn. Australian snack producers have also incorporated it into some of their beloved treats such as chocolate crackers. Bakers are opting for it as they also caught in this healthy food revolution.
We have also seen coconut oil used in massages, as an anti-dandruff and also as skin moisturizer.
The comprehensiveness of this oil makes it the ultimate everyday supplement to you as an individual and even your home.
Source
1. //www.swansonvitamins.com/blog/natural-health-tips/using-coconut-oil
2. //wellnessmama.com/2072/benefits-of-coconut-oil/
3. //en.wikipedia.org/wiki/Coconut_oil
4. //authoritynutrition.com/top-10-evidence-based-health-benefits-of-coconut-oil/




Our Price: - $ 25.82 ...






Our Price: - $ 17.92 ...






Guarantee:
VitaNet® LLC Offers a 100% Satisfaction Guaranteed!