Does The Red Raspberry Have Healing Properties?
---



Date: March 26, 2014 11:54 AM
Author: Darrell Miller (dm@vitanetonline.com)
Subject: Does The Red Raspberry Have Healing Properties?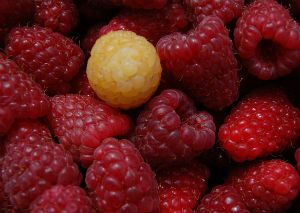 Red raspberry fruit
Raspberry provides some of the very best results when it comes to the medicinal values especially in herbal medicine. The usefulness of the plant delivered from roots, bark, leaves and the fruit. Due to the wide range of minerals that found in red raspberry, which includes vitamins, potassium, calcium, sulphites and phosphate. The leaves contain important acids like citric, malic, tartaric and citrate, which are very good for the body. Red raspberry used in many cases to treat and prevent certain digestive system related diseases like diarrhea and dysentery.
Health benefits of raspberry
In many cases, raspberry in form of vinegar is used to cure sore throats and different cough related complications. The flowers of red raspberry used for the treatment of pimples in adolescents as well as poultice for eye inflammation. The juice made from red raspberry used as laxatives or as a remedy for children with fever, as well as the treatment of cystitis.
Raspberry products are used worldwide by women who are pregnant or have menstrual complications. The underlying factor in this case is that raspberry used to stop or reduce mucous discharge from genitals hence reducing the pain experienced during menstruation. For pregnant women red raspberry products used to prevent postpartum depression and hypertension while boosting breast milk production during lactation. In other cases, the leaves of red raspberry used to promote fertility in both men and women and prevent the causes of miscarriages.
Raspberries mixed with other products to produce medicines that can cure diseases like malaria, gonorrheal, leukemia and other dangerous diseases. This achieved through the ability of raspberry fruits having constituents that act like anti-septic, anti-gonorrhea, anti-malaria and anti-leucorrhea.
Sources
https://www.jcrows.com/remarkableraspberry.html

//www.herballegacy.com/Corless_History.html
Our Price: - $ 10.50 ...






Guarantee:
VitaNet® LLC Offers a 100% Satisfaction Guaranteed!