Can Low Selenium Affect Thyroid Functions?
---



Date: August 08, 2014 10:01 PM
Author: Darrell Miller (dm@vitanetonline.com)
Subject: Can Low Selenium Affect Thyroid Functions?


What is thyroid glands

Human thyroid glands are small glands with a very important function. The major function of thyroid glands is to regulate body metabolism.

There are two main hormones produced by thyroid glands; thyroxin (T4) and triiodothyronine (T3). The secretion of these 2 hormones is based on the feedback mechanism of hypothalamus and pituitary glands. These hormones influence every body cells- they control the rate at which your body accumulates and uses fat, help to regulate body temperature and also heart rate. In addition, thyroid glands produce calcitonin, a very important hormone that regulates the amount of calcium in the body. There are the major types of thyroid diseases, Thyroid cancer, Hyperthyroidism, Hypothyroidism and Benign disease. But what is the role of selenium in thyroid functions?
Selenium deficiency

Selenium deficiency is not common in healthy adults, but it is common in people with digestive disorders causing low absorption, or those with severe inflammation arising from chronic infection. Research shows that low selenium does not cause illness by itself, but due to its role in immune functions, it makes a body susceptible to biochemical, nutritional and infectious diseases.
But this does not mean that selenium has no direct influence on thyroid functions. Adequate selenium supports the production of thyroid hormones, protects thyroid glands from the adverse effects of excess iodine in the body, and will also improve body metabolism.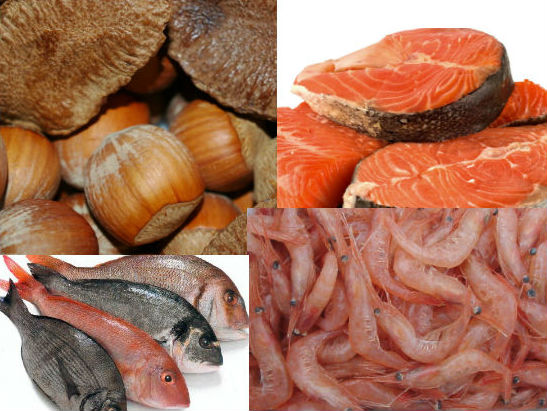 Importance of selenium

Selenium is very important and it is always healthy to ensure your normal selenium level. For example, selenium supplements are used to treat autoimmune thyroid condition. Studies have found that selenium supplementation lowers thyroid inflammation. These findings are backed by the fact that selenium increases thioredoxin reductase and glutathione peroxidase activity, and also lowers the toxic concentration of lipid hydro peroxides and hydrogen peroxides which results from the production of thyroid hormones.
Selenium prevents thyroid tissue damage. Selenium is very important because it lowers the level of thyroid peroxides in the blood. In addition, selenium is vital for conversion of T4 to T3. T3 is the active form of thyroid hormones. Low T3 causes hypothyroidism.
How to obtain selenium?

If you think your body is deficient of selenium, it is good to seek medical care immediately. Thyroid glands are very important for the body functions. Selenium supplement is a good solution to thyroid function. But long term use of selenium supplement would cause other complications such as white blotchy nails, hair loss, gastrointestinal upsets, fatigue, irritability, garlic breath odor, and mild nerve damage. In addition, very high selenium in the body may cause hyperthyroidism. In addition, clinical test for use of selenium supplements has found that it predisposes users to the risk of prostate cancer. Though this has not yet been proven. This makes selenium rich foods the best way to increase the level of selenium in the body. Some of the food rich in selenium includes; crimini mushrooms, shrimp, tuna, cod, scallops, chicken, halibut, salmon, shiitake mushrooms, brazil nuts, lamb eggs, and turkey. Brazil nut is particularly very rich in selenium, taking one or two in a day will significantly improve the selenium level and also boost your immune system.
Is selenium important for thyroid function?
Yes, selenium level is very important and low selenium.
References
//chriskresser.com/selenium-the-missing-link-for-treating-hypothyroidism
//www.wellnessresources.com/health/articles/seleniums_vital_role_in_thyroid_hormone_function/
Our Price: - $ 14.99 ...






Our Price: - $ 14.30 ...






Our Price: - $ 19.99 ...






Guarantee:
VitaNet® LLC Offers a 100% Satisfaction Guaranteed!