HEALTH BENEFITS OF MORINGA
---



Date: September 05, 2014 09:30 PM
Author: Darrell Miller (dm@vitanetonline.com)
Subject: HEALTH BENEFITS OF MORINGA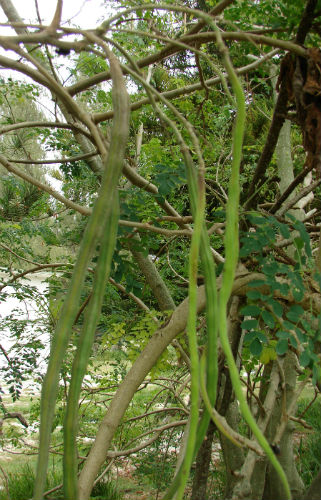 What is Moringa

Moringa is a plant that is grown mostly in the tropics, and it is known for it's many health benefits. Different parts of the plant; bark, leaves and flowers have all been studied and found to be rich in medicinal and health value. Even though it traditionally originated from the Himalayan parts of India, Moringa is now used all over the world.
Health benefits of Moringa:

1. Prevents cancer and other diseases: It is rich in antioxidants that prevent formation and development of cancer cells. Taking a serving of Moringa daily can provide you with about 46 different types of antioxidants and vitamins that your body needs. The antioxidants are also beneficial in keeping your general body health and boost your immunity so that you are not vulnerable to be attacked by other diseases. People with compromised immunity, like HIV patients can effectively use Moringa to control opportunistic diseases.
2. Improves the skin and hair:
The many minerals and nutrients in the Moringa plant makes it a good ingredient for skin care products. People with skin conditions like acne, inflammation, and ring worms can benefit by topically applying Moringa oil from the pods to the skin. It also helps to increase hair growth, eliminate dandruff, and give hair a natural shine. Some cosmetic companies are now relying on Moringa as their main ingredient in making beauty products because consumers say it works well.
3. Detoxifies the body: Moringa can be successfully used to detoxify the body without the risk of losing important nutrients. It also helps in speeding up metabolism and digestion. People who are struggling with weight loss can use it as a way to quick start their weight loss journey instead of using diet pills and other harmful products.
4. Balances blood sugar:
For people suffering from diabetes, consuming Moringa can help you control your insulin levels so that you do not have to entirely depend on injections every time.
5. Boosts energy: Due to the many nutrients Moringa has, it provides the energy needed for daily activities. If you are constantly feeling fatigued and stressed, taking Moringa will put you right back to your feet. People suffering from erectile dysfunction can also benefit from it as it helps in improving circulation of blood, even to the penile region
6. Increases the amount of breast milk:
This is good news for new mothers who want to exclusively breastfeed their babies without worrying about starving their babies due to insufficient milk production. Due to the fact that Moringa is a natural plant, you do not have to worry about the potential harm it could have on your new born baby.
7. Natural antibiotic: Moringa has antibacterial properties that help with controlling bacterial diseases. If you do not want to use conventional antibiotics, which come with a lot of health risks, then you can opt for Moringa.
It is available in many forms, including: Moringa powder, oil, tea, and drinks. You should always ensure that you use it in one of its most natural forms so that you get maximum benefits.
References
//www.moringapowder.com/
//www.naturalnews.com/042435_moringa_oleifera_health_benefits_herbal_medicine.html
//www.africamoringa.co.za/moringa_health_benefits_nutrition.html
Our Price: - $ 21.99 ...






Our Price: - $ 14.98 ...






Our Price: - $ 16.47 ...






Guarantee:
VitaNet® LLC Offers a 100% Satisfaction Guaranteed!