Buy Solaray At Discount Prices Of 43% Off And Up!


NSAIDS


Messages 1-22 from 22 matching the search criteria.
---
What Are The Health Benefits Of Borage Seed Oil?


Date: December 29, 2013 05:21 PM
Author:
Darrell Miller (dm@vitanetonline.com)
Subject: What Are The Health Benefits Of Borage Seed Oil?

What is Borage

The borage also known as starflower plant generates seeds enriched with essential fatty acid known as Gamma-linolenic acid. In ancient times, borage plant was mainly used to prepare salad and soups due to its relaxing effect on people. However, in modern times people are more interested in borage seeds. This is due to its health benefits offered by gamma-linolenci acid (GLA). GLA has anti-inflammatory effects useful to both men and women. Borage oil comprises about 24% of GLA which is the highest known energy for naturally occurring GLA. After consumption, much of the GLA found in borage oil turns into dihomo-gamma-linolenic acid. GLA and DGLA prevent inflammation just like omega-3-fatty acids from fish oil or flaxseed. However, GLA and DGLA are categorized as omega-6-fatty acids.

Benefits of Borage
According to recent studies, Borage oil can be used to treat rheumatoid arthritis. This is an autoimmune ailment which results to joint lining inflammation. Rheumatoid arthritis is a chronic and painful ailment that requires use of non-steroidal anti-inflammatory medications, such as, NSAIDS that can have side effects. Borage oil is used to reduce tenderness and swelling for rheumatoid arthritis patients.

Borage oil is used to soothe and moisturize dry skin and treats inflamed skin diseases. It also tones dry skin, prevents wrinkles and dehydration. Borage oil provides fantastic regenerative and firming properties that help to restore skin elasticity.

Borage oil helps in boosting immune system and is an essential part of the human breast milk. When infants breastfeed they can significantly avoid risk of developing allergies.

Borage oil also treats premenstrual syndrome and cramps, diabetic neurotherapy as well as other inflammatory ailments. The oil is normally taken internally as a capsule or can be applied topically.

Warning of Borage
If you plan to use borage oil for treating any health problem, ensure that you consult your doctor before you begin using your supplement treatment.

Reference:
http://www.ehow.com/about_5086939_borage-seed-oil-benefits.html
(http://vitanetonline.com/forums/Index.cfm?CFApp=1&Message_ID=2942)
---
Serrapeptidase: Natural NSAID



Date: March 27, 2012 03:26 PM
Author:
Darrell Miller (dm@vitanetonline.com)
Subject: Serrapeptidase: Natural NSAID

Serrapeptase, also known as Serratia peptidase is a proteolytic (protein-splitting) bioactive enzyme found in the intestines of the silk worm. This silk-worm enzyme is widely used in Europe and Japan in clinical therapy for relieving pain and inflammation. When the silk worm leaves the cocoon, it regurgitates the serrapeptase in to create a hole in the cocoon for its escape. It was soon discovered that serrapeptase enzyme has a unique property to dissolve dead material consisting protein without even harming the living tissue. This property of dissolving dead tissue can be used in treating many health conditions.
How Serrapeptase work?
Protein is the main component of most of the fibrous materials in the body. Once these fibrous materials out-live their purpose or are over-grown, they start causing serious disease conditions involving fibrosis. Fibrosis is an abnormal thickening and scarring of connective tissue caused by infection, injury, surgery or lack of oxygen. Serrapeptase works as an anti-fibrotic and helps in relieving the conditions in connective tissue scarring and thickening has occurred.
Health Benefits of Serrapeptase:
This proteolytic enzyme is considered an alternative to NSAIDS (Non Steroidal Anti-Inflammatory Drugs) that are used to treat osteoarthritis, rheumatoid arthritis and other inflammatory conditions. Serrapeptase has been used to treat fibromyalgia, colitis, Inflammatory Bowel Diseases, varicose veins, ovarian cysts, ear and throat infections, enlarged prostate and postoperative inflammation. Studies have shown its effective results in prevention and removal of arterial plaque.
Serrapeptase in relieving Pain:
Pain and Inflammation Reduction:
Serrapeptase is a great anti-inflammatory and analgesic agent. It reduces the inflammation and gives relief from the pain. It works by blocking the release of pain inducing amines from the inflamed tissues. Due to its pain relieving and anti-inflammatory properties, serrapeptase is used in treatment as an alternative to NSAIDS. This enzyme gives relief from mild to moderate pain like headache and backaches. Hence it is used all the inflammatory conditions such as colitis, sinusitis, arthritis and many more.
Cardiovascular Health:
Serrapeptidase has an anti-fibrotic and fibrinolytic action that prevents and treats the accumulation of plaque in the arteries. Plaque is the accumulated deposits of cholesterol, fatty substances, cellular waste products, fibrin and calcium. Excessive plaque formation impairs the normal blood flow and cause partial or complete blockage, which also results in arteriosclerosis. Serrapeptidase helps to prevent build-up of plaque in the body. Due to its fibrinolytic action, it also helps in dissolving of proteins and breaking down atherosclerotic plaques. The dissolved deposits are eliminated from the body.
Hence, serrapeptidase prevents coronary artery diseases and improves cardiovascular health.
Relieving Sinusitis:
Due to its anti-inflammatory and mucus dissolving properties, Serrapeptidase is very beneficial for chronic sinusitis sufferers. Serrapeptidase helps in thinning and expelling the thickened mucus secretion present in nasal cavities of sinusitis sufferer.
Promoting Healing:
Serrapeptidase helps in reducing the recovery time in any injuries, wounds or surgery. It promotes healing in post-operative wounds by reducing the inflammation and pain.
Serrapeptidase is available in the form of supplements. If you are taking NSAIDS for any healthy condition, substitute it with serrapeptidase supplement
(http://vitanetonline.com/forums/Index.cfm?CFApp=1&Message_ID=2621)
---
GLUCOSAMINE: Origin and Action of Mechanism



Date: February 06, 2012 01:08 PM
Author:
Darrell Miller (support@vitanet.net)
Subject: GLUCOSAMINE: Origin and Action of Mechanism

Glucosamine is an amino sugar made from glucose and amino acid glutamine. It is a monosaccharide that is found naturally in healthy joints, cartilages, ligaments, muscles and tendons. It helps in the formation and repair of cartilage and other body tissues. Glucosamine is available in the form of dietary supplements, cosmetics and sports drinks. Let us find out about the history of glucosamine and its role in repair and treatment of joint disorders.
HISTORY of GLUCOSAMINE:
Glucosamine was first discovered in 1876 by Dr. Georg Ledderhose. It was prepared by hydrolysis of chitin with Hydrochloric acid. Later on it was developed in sulphate blend. Since then, it has been studied multiple times and in multiple ways to find out its potent health benefits. It has been used clinically in Europe since 1960s. In 1971, researcher K. Karzel glucosamine HCl stimulated the production of glycosaminoglycan layer, which helps in protecting cartilages, ligaments and tendons from normal wear and tear. It became popular in United States in the mid 1990s with the publication of popular bestsellers such as 'The Arthritis Cure' by Jason Theodosakis. Now it has become the most popular selling dietary supplement with sales of $200 million per year.
Glucosamine is naturally found in the body and can be synthetically made from the natural sources of chitin that is found in sea creatures such as shells of shell fish, bones and bone marrow.
How does Glucosamine Works in reducing Joint pain?
Our body's ability to produce glucosamine decreases as we age. Hence after any kind of injury cartilage, spinal discs and joints, the body may not be able to heal optimally. Aging and glucosamine depletion in the body leads to joint degradation. However, glucosamine supplementation can support cartilage and CT-integrity limiting degeneration.
Glucosamine supplements do not work like NSAIDS, which are known to have anti-inflammatory and analgesic effects on the body. The exact mechanism of significant analgesic effect of glucosamine supplements is unknown but according to various studies, glucosamine has no effect on cyclooxygenase system. Studies have shown that glucosamine stimulates synthesis of proteoglycan in a dose dependent manner. It helps in stimulating the production of cartilaginous matrix, hence counteracting the degrading loss of cartilage in case of arthritis or injury.
Several important studies demonstrate the role of glucosamine in stabilizing cell membranes, inhibit lysosomal enzymes and reduce the generation of oxygen free radicals by macrophages. It may inhibit interleukin 1 induced nitric oxide activity that leads to chondriotic cell death. Hence it increases aggrecanase activity that helps in preservation of proteoglycan.
Glucosamine along with Chondroitin sulphate stimulates synthesis of cartilage precursors as well as synovial fluid. They also limit the degradation of existing cartilage in any loss of joint integrity.
This non rapid acting drug has many beneficial effects in reducing the symptoms of osteoarthritis. It is a powerful joint repairing supplement that rebuilds joint cartilage. Glucosamine supplements have been thoroughly evaluated to find out any potential side-effects. However, it has been proved that it does not have any of the side-effects of NSAIDS, surgery or opiods.
(http://vitanetonline.com/forums/Index.cfm?CFApp=1&Message_ID=2555)
---
Fight Inflammation, Gastric Problems, and Arthritis with Boswellia



Date: June 14, 2011 11:49 AM
Author:
Darrell Miller (dm@vitanetonline.com)
Subject: Fight Inflammation, Gastric Problems, and Arthritis with Boswellia

How Does Boswellia Fight Inflammation.
Boswellia fights inflammation through the action of a family of anti-inflammatory terpenes known as boswellic acids. Inflammation is a natural reaction of your immune system to tissue damage and infection, and is often associated with conditions such as arthritis, sports damage to bones and joints and bacterial infections caused by cuts and grazes. There are more serious inflammatory conditions of course, such as asthma, and boswellic acids act in the same way as non-steroidal anti-inflammatory drugs (NSAIDS) without their unwelcome side effects.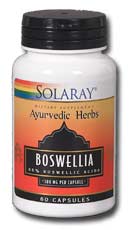 Among the causes of inflammation are inflammatory mediators such as leukotrienes, the biosynthesis of which is blocked by boswellia. Another is the 5-lipoxygenase enzyme, also known as LOX-5, and again, the terpenoid anti-inflammatory boswellic acids block this so that the causes of inflammation in the above conditions are severely restricted. Boswellia extract is a good supplement to take for those suffering any form of arthritis, joint pain or even asthma.
Using Boswellia to treat Arthritis
Boswellia can be used to treat both osteoarthritis and rheumatoid arthritis, although rheumatoid arthritis is not always easy to control. Arthritis is an inflammatory condition, in the case of osteoarthritis the inflammation being a natural response to joint damage and infection of the synovial fluid generally caused by wear and tear on the joint with aging, and also by sports injuries.
Rheumatoid arthritis is a form of immune disease caused by the body attacking its own joints, and while the terpenoid anti-oxidants known as boswellic acids can help to mediate the pain and other symptoms, it can do nothing to cure the condition.
If you are suffering pain through arthritis, and your joins are tender and swollen, a supplement consisting of an extract of boswellia or its terpenes can help to relieve these symptoms and to offer pain relief equivalent to that offered by synthetic NSAIDS such as aspirin and Ibuprofen.
Gastric Problems and Arthritis Pain? Perhaps Boswellia Can Help
Extracts and supplements based on the resins of the boswellia tree are commonly used to treat inflammatory conditions, and reduce the severe pain of rheumatoid and osteoarthritis, ease the discomfort of colitis and also help ease the symptoms of those suffering asthma. Each of these is an inflammatory condition that would otherwise have been treated using NSAIDS, or non-steroidal anti-inflammatory drugs.
NSAIDS have a number of side effects, being particularly unsuitable for those with ulcers or any other gastric problem. The terpenoids contained in boswellia extract an effective alternative to these drugs that many try to avoid taking. Long-term use of boswellia appears a lot safer than long-term use of NSAIDS, since it doesn't promote the severe gastric problems of these synthetic drugs, such as irritation of the stomach lining or even ulcers. If you already have ulcers or other gastric problems then NSAIDS area define no-no for you, and boswellia is the ideal substitute.
Grab some boswellia today and experience relief for your self!
(http://vitanetonline.com/forums/Index.cfm?CFApp=1&Message_ID=2336)
---
Feverfew Herb



Date: October 20, 2009 12:02 PM
Author:
Darrell Miller (dm@vitanetonline.com)
Subject: Feverfew Herb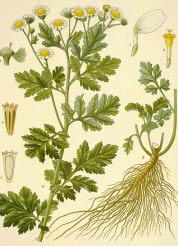 For thousands of years feverfew has been used for the treatment of various ailments. History is full of references to feverfew. Dioscorides, an ancient Greek herbalist, recommended the use of feverfew almost two thousand years ago, as he valued the herb for childbirth, fevers, melancholy, and congestion of the lungs. It was also suggested for arthritis. In 1772, feverfew was suggested to be used to treat painful headaches. Many people believe that feverfew obtained its name from its use as a remedy for bringing down fevers, but this has been determined to be incorrect. Instead, the name came from the traditional Old English name for feverfew, featherfew. Featherfew came from the feather-shaped leaves of the feverfew plant.
Feverfew has been used for a long time as a natural remedy for pain relief, as it is considered an excellent remedy for migraines. This herb was used to treat any kind of pain and helped with chills and fever. Additionally, it helps in relieving colds, dizziness, tinnitus, and inflammation from arthritis. The herb works gradually and with a gentle action that allows the body to heal itself.
The most popular use of feverfew is in the prevention and relief of migraine headaches. In a study, those given the placebo had an increase in frequency and severity of headaches, nausea, and vomiting. On the other hand, those given the feverfew capsules had no increase in frequency or severity of migraines. A randomized, double-blind, placebo-controlled, crossover study was done on seventy-two volunteers. One group received capsule dried feverfew leaves, while the other received a placebo. The group taking feverfew showed less severity of attacks and a reduction in symptoms that were associated with migraines, including vomiting. There was a definite improvement in the group using feverfew and no serious side effects resulted. Because some forms of migraines are believed to be associated with abnormal platelet behavior, feverfew may be beneficial as it has been found to help restrain the release of serotonin from platelets. This prevents a migraine from occurring.
It is thought that feverfew may also be a useful treatment in cases of rheumatoid arthritis. This is because of its ability to inhibit the formation of inflammation-promoting compounds like prostaglandins and leukotriene.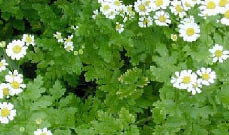 This herb seems to have similar properties to non-steroidal anti-inflammatory agents (NSAIDS), like aspirin. Feverfew may actually be even more effective with a lot fewer potential complications. Some of the studies involving feverfew and migraines have shown that feverfew may also lower blood pressure.
The leaves and flowers of the feverfew plant are used to provide alterative, analgesic, anti-inflammatory, antimicrobial, aromatic, bitter, carminative, emmenagogue, febrifuge, nervine, parasiticide, mild purgative, stimulant, and vasodilator properties. The primary nutrients found in this herb are iron, niacin, manganese, phosphorus, potassium, selenium, silicon, sodium, vitamins A and C, and zinc. Primarily, feverfew is extremely helpful in dealing with chills, colds, fever, headaches, sinus headaches, and inflammation.
Additionally, this herb is very beneficial in treating aches, ague, allergies, anxiety, arthritis, insect bites, poor circulation, dizziness, gastric disorders, nervous headaches, hot flashes, indigestion, and menopausal symptoms, absent menstruation, nervousness, tinnitus, and vertigo. For more information on the many beneficial effects provided by feverfew, please contact a representative from your local health food store.
(http://vitanetonline.com/forums/Index.cfm?CFApp=1&Message_ID=2104)
---
Glucosamine Sulfate



Date: October 02, 2008 09:36 AM
Author:
Darrell Miller (dm@vitanetonline.com)
Subject: Glucosamine Sulfate


It is possible to rebuild joint cartilage with glucosamine sulfate, although how quickly that occurs could depend upon what you take with it. First, though, an understanding of exactly why cartilage deteriorates will be useful in your understanding of how glucosamine sulfate can help towards repairing the damage.
Cartilage has several roles to play in your body, an example of which is to form curved body parts that would otherwise be unsupported, such as the external contours of your ears or a large part of your nose. Without cartilage you ears and nose would flop around a lot, and it is also contained in the spine, to prevent your discs from grinding against each other.
However, the part that we are interested in is as a shock absorber between the bones of your joints. It allows bones to slide over one another without damage, either through friction or shock, and is also nature's shock absorber, helping to support your weight while you are active. Thus, your cartilage protects from impact damage when you are running or jumping down from a height. This type of cartilage, known as articular cartilage, is bathed in a lubricating fluid known as synovial fluid, which introduces its own problems when your cartilage becomes damaged.
This damage can occur in several ways: as the result of a fall, for example, or direct contact with the joint when playing a physical contact sport such as football or soccer. It can also become damaged through wear and tear over a period of time, such with long distance runners or soccer players (again), and is also associated with age. Many years of continual use, especially amongst those with active rather than sedentary occupations, eventually lead to wear and damage.
Problems with the joint structure itself, known as osteoarthritis, can also damage the cartilage, as can being overweight for a lengthy period. You can also experience cartilage damage if you are bedridden or other wise immobile for long periods, because the cartilage needs regular movement to function correctly. This is connected with the blood supply, which will be discussed shortly.
Cartilage is constructed of cells known as chondrocytes that generate a fibrous matrix known as collagen, a mixture of amino acids known as elastin that allows the cartilage to return to its original shape after deformation, and non-collagenous matrix tissue containing proteins, water and proteoglycans that contain sulfated glycosaminoglycan chains. That last mixture is often referred to as 'ground substance.'
One of the problems with cartilage is its lack of a direct blood supply, and it relies on the compression and decompression of the articular cartilage, or on the flexing of elastic cartilage, to create a pumping action that drives blood to the chondrocytes. This is why inactivity can cause cartilage damage, due to a lack of blood supply, and why it is repaired more slowly than other body components.
Once an injury or wear and tear damages a joint, the body's natural defense, the immune system, is activated, and the major part of that involved in cartilage damage is the inflammatory response. The joint becomes inflamed, the quantity of synovial fluid is increased to provide more protection and swells the joint, and enzymes (hyaluronidase) are produced which, although part of the natural defense system, actually degrade the synovial fluid and the cartilage.
This increases the amount of inflammation and the process becomes self-perpetuating, leading to the condition known as degenerative joint disease (DJD) because the body is unable to produce enough glucosamine to generate the proteoglycan needed for repair.
This is where glucosamine sulfate enters the scene. Glucosamine is a precursor for glycosaminoglycans (GAG), which as mentioned as above are components of proteoglycans in the cartilage matrix ground tissue. It has been shown to stimulate the biosynthesis of proteoglycan, and analysis has shown its presence within articular cartilage after administering it orally to patients with cartilage disease. It therefore makes its way to the right place.
Glucosamine is administered in the form of glucosamine sulfate, the highly electrically charged sulfate groups believed to aid in the compression properties of cartilage. It is rapidly absorbed into the bloodstream, although only about a quarter of the oral dose is eventually available to the body, and high concentrations accumulate in the liver, kidneys and in articular cartilage where it is used in the biosynthesis of GAG.
When in solution, glucosamine sulfate separates into ions: sulfate and glucosamine. Glucosamine ions are involved in the synthesis of GAG, that then combine with proteins to form proteoglycans, a component of the non-collagenous matrix of the cartilage. Although glucosamine is the major active component, there is evidence that the sulfate group contributes the stability of the matrix of the connective tissue since the uptake of sulfate ions increases with the amount of glucosamine sulfate used.
Another consideration here is that sulfate is an important part of proteoglycans, and glucosamine sulfate promotes not only the synthesis of glycosaminoglycans, but also of proteoglycans in general. Glucosamine is also active in regenerating the lubricating properties of the synovial fluid, and in hindering the activity of hyaluronidase, the enzyme that breaks down the hyaluronic acid in the synovial fluid.
Some people find that glucosamine, taken either alone or in conjunction with chondroitin sulfate and/or methyl sulfonyl methane (MSM), is more effective than the non-steroidal anti-inflammatory drugs (NSAIDS) used to reduce inflammation (e.g. Aspirin and Ibuprofen) and without the side effects of these substances. MSM contains dietary sulfur, which is necessary for cell structure and healthy cell repair. Methyl sulfone methane is know to be beneficial for painful conditions such as arthritis, and also improves the blood circulation. It might also play a part in helping glucosamine sulfate get to the site of the cartilage damage.
Glucosamine is a large molecule, however, and finds it difficult to make its way to the area around the joint due to the lack of a direct blood supply. It is therefore taken in relatively large doses to ensure that sufficient amounts get to where it is needed. Many people insist that glucosamine sulfate is very effective in reducing, or even eliminating, their pain, and it is finding increasing popularity in the treatment of arthritis and other conditions involving cartilage damage.


(http://vitanetonline.com/forums/Index.cfm?CFApp=1&Message_ID=1907)
---
Cat's Claw



Date: August 06, 2008 11:21 AM
Author:
Darrell Miller (dm@vitanetonline.com)
Subject: Cat's Claw

Traditionally, Cat's Claw has been used to treat arthritis, gastritis, tumors, dysentery, and female hormonal imbalances. Today, the plant has shown the ability to treat viral infections, minimize inflammation, and provide therapeutic action for stomach and bowel disorders including arthritis, Crohn's Disease, ulcers, gastritis, parasites, diverticulitis, hemorrhoids, several types of cancer, irritable bowel syndrome, herpes, allergies, lupus, diabetes, PMS, yeast infections, hypoglycemia, prostatitis, bursitis, and rheumatism. European studies are currently looking at Cat's Claw for its ability to treat AIDS and cancer. Additionally, the herb has been used for Athlete's Foot, Ear infections, back pain, TMJ syndrome, fibromyalgia, canker sores, sinus infections, and asthma.
Peruvians have trusted the anti-inflammatory abilities of Cat's Claw for many generations, as it was traditionally used for any type of rheumatism or arthritic joint condition. Many studies on the plant metabolites found in Cat's Claw have found that it does inhibit inflammatory response for a fact. The plant sterols that are found in Cat's Claw have the ability to reduce artificially induced swelling. After extensive research, scientists have found that the strong anti-inflammatory activity is due to the presence of all the compounds together. These same compounds have an intrinsic anti-inflammatory effect as well.
These findings confirm what herbalists have advocated for many generations: the fact that plants are designed to be used in their whole form in order to be biochemically effective. Pharmaceutical synthetic versions of herbal medication shave so many bad side effects because they have been chemically extricated and isolated, which eliminates the very crucial role of other compounds that are vital to the function of the plant.
Natural botanical remedies, on the other hand, have been designed by nature to work together. Natural anti-inflammatories are extremely important for treating diseases such as allergies and arthritis because they have a lot less side effects than the prescription NSAIDS that are currently being used by thousands of individuals. Back pain, joint pain, inflammation caused by histamine release, and a whole lot of other maladies have resulted in millions of dollars worth of anti-inflammatory drugs such as ibuprofen to be purchased.
Diseases such as AIDS and flesh-eating viruses have received a good amount of press coverage over the last several years. Although a lot of us may not feel immediately threatened by these viruses, we may not be as strong as we could be immunologically. Most of us are battling a never-ending list of ailments such as colds, flu, sore throats, earaches, athlete's foot, yeast infections, chronic fatigue syndrome, herpes, and colitis.
With heart disease, cancer, and diabetes being responsible for thousands of deaths each year, our country as a whole is in poor health. Our immune systems, which are our build-in defense mechanisms, need to be kept in optimal working condition as infectious microorganisms and carcinogens constantly surround us. A healthy immune system has a great ability to fight off disease or at least minimize its stay in our body. By fortifying our defenses with certain herbs, vitamins, and antioxidants, we can greatly promote wellness in our bodies.

--
Buy Cat's Claw at Vitanet ®, LLC


(http://vitanetonline.com/forums/Index.cfm?CFApp=1&Message_ID=1854)
---
Feverfew



Date: August 03, 2008 07:49 AM
Author:
Darrell Miller (dm@vitanetonline.com)
Subject: Feverfew

Feverfew is often used in the treatment of migraines and fever, but it has also long been used as an anti-inflammatory agent. It is thought to be similar to aspirin in the way it reduces inflammation. Aspirin works by blocking the production of prostaglandins, which cause inflammation in the body, among many other functions. Similar to aspiring and other anti-inflammatory drugs, feverfew works to inhibit the production of prostaglandins, which reduces inflammatory reactions that occur in the body. Not only may feverfew help with inflammation in cases of pain, but it also helps in cases of arthritis.
One of the oldest diseases known to man, arthritis involves one or more of the movable joints in the body. Arthritis is a general name for a variety of diseases that are characterized by joint pain and inflammation. Striking both the young and old, it is an extremely debilitating condition with symptoms ranging from mild aching to severe pain and deformity. Inflammation can often be found along with the pain, as well as morning stiffness, swelling, and tenderness being common in most cases. Arthritis has been shown to either appear suddenly, or come on slowly over an extended period of time. Diet has been found to be a primary factor in most cases, although some types of arthritis may be inherited or the result of a viral infection.
Conventional treatment of arthritis has involved the use of NSAIDS to help with inflammation and pain, but they do nothing to heal the problem. They may also inhibit the body's own natural immune function as they temporarily eliminate symptoms. Some evidence has even shown that the use of anti-inflammatory medication for a long time may lead to further joint damage and serious side effects such as gastrointestinal, kidney, and liver problems. Because of this, many people are finding relief with natural healing. Although there are a variety of types of arthritis, the three most common forms are osteoarthritis, in which the joints wear out because of injury or normal wear and tear; rheumatoid arthritis, which is a condition that results from the immune system attacking the body tissue; and gout, which is painful inflammation that results because of excess uric acid in the blood. Rheumatoid arthritis has been found to benefit the most from the use of feverfew. Feverfew may be useful due to its ability to inhibit the formation of inflammation-promoting compounds, with properties similar to NSAIDS but with less potential complications and side effects.
Along with the treatment of arthritis, feverfew has many other possible uses. Included in these uses are: fever, high blood pressure, insect repellent, psoriasis and eczema, menstrual cramps, allergies, digestion, as a sedative to relax and induce sleep, and for its antimicrobial properties to inhibit the growth of staphylococcus aureus and other bacteria.
Because the parthenolide content of feverfew plants vary dramatically depending on the soil and location of cultivation, it is necessary to buy commercial products from reputable companies who have high quality control measures in place. The best preparations are ones using as little heat as possible, since parthenolide is highly unstable when in contact with high heat, such as freeze-drying. Freeze-dried capsules are extremely easy to use and can easily be found in many health food stores.

--
Buy Feverfew at Vitanet ®, LLC


(http://vitanetonline.com/forums/Index.cfm?CFApp=1&Message_ID=1850)
---
Feverfew Leaves



Date: July 31, 2008 02:46 PM
Author:
Darrell Miller (dm@vitanetonline.com)
Subject: Feverfew Leaves

Feverfew is most commonly used in the treatment and prevention of migraine headaches. Migraines are extremely common and can be very difficult to treat. Other methods of relieving pain have been explored because, for many migraine sufferers, conventional treatments have not been successful. Feverfew is one of the most successful forms of alternative treatments that have been found for treating migraines. Many studies have been conducted which have validated the already existing knowledge of many herbalists: feverfew is a great tool for helping to prevent migraines in many cases.
Although feverfew had long been used for treating headaches, its popularity declined with the advent of modern medicine. The herb has resurged into medical interest after the wife of a doctor who worked for the British National Coal Board had been suffering from migraines and was told by a coal miner to trey chewing on two feverfew leaves a day. After trying the herb, the woman noticed improvement, with fewer and less severe migraines. Her husband then urged a migraine specialist in London, Dr. E. Stewart Johnson, to test feverfew, with the results of several studies now showing it to be effective.
Dr. Johnson agreed to try the herb because he had many patients who had been suffering from migraine pain for years and had yet to find a successful treatment. Originally, he tried the herbal remedy on only ten of his patients. The results of this trial were so promising that it led to a study of another 270 of his patients, with seventy percent reporting that they received significant improvement when receiving feverfew for their headache pain.
Following this, a group of researchers in the City of London Migraine Clinic were led by Dr. Johnson to conduct a study, which was reported in the British Medical Journal, investigating seventeen patients who had already been using feverfew for at least three months. All were asked to discontinue use of their original method of treating with feverfew. Eight patients were given a capsule of feverfew, while the other nine were given a placebo.
Those that were given a placebo had an increase in frequency and severity of headaches, nausea, and vomiting, while those that were given feverfew capsules had no increase in frequency or severity of their migraines. This research has led to the belief that feverfew is advantageous in the prevention of migraines. Many other studies have been done to further test the effects of feverfew. It has been concluded that feverfew treatment is effective and there were always definite improvements in the group that used feverfew. Additionally, there were no serious side-effects that appeared to exist.
Feverfew seems to have similar properties as NSAIDS such as aspirin and ibuprofen. Also, the parthenolide that is found in feverfew is the main inhibitor for the formation of compounds that promote inflammation. Parthenolide reduces the secretory activity of blood platelets and white blood cells. This is important because migraines are thought to be associated with abnormal platelet behavior, as they are responsible for the release of serotonin, which constricts blood vessels and leads to migraine pain.
Feverfew is now recognized by the British and Canadian governments as a migraine treatment and is often prescribed by doctors. Many physicians and pharmacists have recent began to take more interest in the use of herbal remedies, especially since patients are beginning to become more interested in natural methods of healing.

--
Buy FeverFew At Vitanet ®, LLC


(http://vitanetonline.com/forums/Index.cfm?CFApp=1&Message_ID=1847)
---
Cetyl Myristoleate



Date: May 08, 2008 03:47 PM
Author:
Darrell Miller (dm@vitanetonline.com)
Subject: Cetyl Myristoleate

Cetyl myristoleate is a fatty acid ester used largely as a dietary supplement to support joint mobility and the immune system. Chemically it is a natural hexadecyl ester of cis-9-tetradecanoic acid, an unsaturated fatty acid commonly known as myristoleic acid.
The acid is found naturally in fish and whale oils, and also in butter and kombo butter from the kombo nut. The ester is of a buttery consistency at normal room temperatures, and turns waxy when cooled, and it has no known uses other than as a health supplement, particularly for the treatment of arthritis and other inflammatory and immune system problems.
The substances appear to have similar therapeutic characteristics to unsaturated essential fatty acids, but with a stronger and more long lasting effect. It also appears to work in three distinctly different ways in that it acts as a joint lubricant, supports the immune system and functions in the same way as essential fatty acids.
Arthritis is a disease that has reached epidemic proportions worldwide, and it is estimated that more than 50 million Americans are affected by it. Until recently it was believed to be a disease of the aged, or associated with physical injury, but is now known to be more complex than that, with many manifestations and causes. Because of this, no single treatment is effective with all forms of arthritis, but cetyl myristoleate is the new kid on the block that is believe to make a significant contribution to the treatment of non-infective forms of the disease.
However, it was not always known, and a search in the textbooks for cetyl myristoleate prior to 1977 would have yielded nothing. Why 1977? It started with Harry W Diehl, a sugar chemist with an interest in the treatment of arthritis. While carrying out research on arthritis in mice, he was working on thin layer chromatographic analysis of a methylene chloride extract of macerated mice. He noticed a separation that was unknown to him, which was subsequently identified as cetyl myristoleate.
He had been unable to induce arthritis in mice, and believed that if he found out how to do that, then he should also be able to establish what made the mice immune to the disease, and so establish a cure. He soon established that it was this cetyl myristoleate circulating in the blood that protected the mice, and then found a way of synthesizing it in the lab by esterifying myristoleic acid.
Since the compound was unknown at that time Diehl patented it in 1977, hence the date. Apart from in mice, it has subsequently been found only in whale oil and in one of the glands of the male beaver, with no other known sources at the time of writing. There have been several studies that have supported the effect of cetyl myristoleate on arthritis, the first human study being in 1995 when 46 out of 48 arthritis patients showed significant improvement in articular mobility and reduction in pain. Others since have demonstrated similar results.
So how does it work? What is the mechanism by which this hitherto unknown substance helps to relieve the symptoms of osteo and rheumatoid arthritis? Being a fatty acid ester, cetyl myristoleate possesses lubricant properties, and one of its properties is to supplement the synovial fluid that lubricates the joints and tendons. This helps to keep the joints moving freely, and reduces their tendency to grind when the connective tissue wears. It also lubricates entire muscle groups, allowing them to slide over each other more freely, and also over bones allowing a smoother movement of the joints.
The second way, in which it operates, by supporting the immune system, is particularly appropriate to the treatment of rheumatoid arthritis which is caused by the immune system attacking the body's own joint and connective tissue. In this respect, cetyl myristoleate has also been found effective in treating other immune system conditions such as multiple sclerosis and lupus erythematosus.
Finally, it also possesses the mediation effect on the inflammatory reaction possessed by other essential fatty acids. This helps to reduce the effect of inflammation that causes much of the swelling and pain of arthritic conditions, although it occurs much faster than with other fatty acids. When taken together, all of these effects have a powerful effect in reducing the unpleasant symptoms of both osteoarthritis and rheumatoid arthritis. Swelling is reduced, mobility is improved and pain is alleviated. Improvements have been reported by sufferers of both types of arthritis, and in fact it is reported that Harry Diehl successfully treated his own arthritis with the substance before any other human tests had been carried out.
Cetyl Myristoleate is now used word-wide in significant quantities, and there have as yet been no confirmed reports of adverse side effects. However, as with many otherwise safe supplements, it is recommended not to be taken by pregnant or lactating women until it has been proved to definitely have no side effects on the fetus or young babies.
Although there is no definitive scientific evidence of the effectiveness of the substance in relieving the symptoms of arthritis, there is an overwhelming body of evidence from those that have used it world wide. The accepted treatment is by non-steroidal anti-inflammatory drugs (NSAIDS), and with over 16,0000 NSAID-related deaths in the USA alone each year, cetyl myristoleate is certainly worth considering as an alternative for arthritis sufferers. Not only that but there is a very significant price differential, with NSAIDS costing 5 – 10 times that of cetyl myristoleate.
Among the other benefits that people using the substance have reported are beneficial effects on psoriasis, hepatitis, high blood pressure, eczema, allergies, headaches and many more. Although many of these might be coincidence or psychosomatic, it cannot just be coincidence that many of them, such as psoriasis and allergies, are related to the immune system.
However, anybody with asthma or a history of severe allergic reactions should consult their physician before using the substance. That aside, there is more than enough popular evidence to indicate that cetyl myristoleate is effective in the treatment of arthritis in all its forms, and also good for your general state of health and wellness.
(http://vitanetonline.com/forums/Index.cfm?CFApp=1&Message_ID=1785)
---
Boost Skin And Joint Health With Natural Supplements



Date: January 19, 2008 10:37 AM
Author:
Darrell Miller (dm@vitanetonline.com)
Subject: Boost Skin And Joint Health With Natural Supplements

A lot of health conscious adults are now attempting to keep a youthful appearance for as long as possible by exercising, taking growth hormone enhances, and using expensive cosmetics. However, studies have proven that the major signs of aging in the skin, joints, and eyes occur due to a progressive collagen and hyaluronic acid degradation in our tissues. Researchers believe that supplementation of these key nutrients can actually reverse sings of aging.
Normal functioning of the skin requires that there be normal physiological substances in and around the skin cells. Of the many substances that are required for normal functioning, collagen is one of the most important. Collagen provides structural support to skin, which helps to maintain skin tone, subtleness and elasticity. All of these give the skin its amazing beauty. Without enough collagen, our body would actually lose any connective properties and its ability to hold together, causing the sagging and wrinkles that are associated with age.
Hyaluronic acid is also a vital component of the skin's structure. HA is a big part of the space between living cells and is also present in both the dermis and epidermis, where it allows skin to retain moisture and acts as a lubricant between the collagen matrix of the skin. Younger looking skin typically has higher levels of HA, but it has been observed that hyaluronic acid content declines as we age, most dramatically after the age of 50. Most people after the age of 40 have already lost a lot of HA and may require supplementation. High concentrations of hyaluronic acid and chondroitin sulfate are able to reach the corium layers of the epidermis and provide cellar level nourishment to the skin. This then reveals a more vibrant and younger looking complexion.
Doctors believe that osteoarthritis affects more than 20 million Americans, with that number reaching 40 million by the year 2020. Some doctors believe we're headed for an epidemic of degenerative joint disease. Osteoarthritis is a degenerative joint condition marked by the erosion of the cartilage at the ends of the bones. Cartilage is the shock absorber of the joint, with regular wear and tear on the joints eventually softening, fraying, and thinning the substance. Other things that can cause cartilage degradation and osteoarthritis have recently been identified by scientists, including: weak quadriceps muscles, eroding cartilage, and changes in bone structure. Certain genes also play a role in predetermining cartilage status, and left untreated and unchecked, this can become extremely debilitating.
Since normal joint function requires healthy cartilage and bones, one of the most important substances required for the normal functioning of joints is collagen. As we age, it has been observed that there is a decrease in the production and concentration of collagen in the joints. The lack of this vital structure leads to joint pain and inflammation. Common treatments today include the prolonged use of painkillers and anti-inflammatory drugs, steroids, NSAIDS and COX-2 inhibitors which temporarily relieve pain and cover up the symptoms while the disease moves further. More often, these treatments worsen the condition instead of helping it due to their harmful side effects. A natural supplement containing Collagen II can not only halt the progression of arthritis but can also improve the condition and provide relief to sufferers.


--
Boost Health at Vitanet&reg, LLC


(http://vitanetonline.com/forums/Index.cfm?CFApp=1&Message_ID=1698)
---
How to Manage Migraines Naturally: Magnesium - Feverfew - Butterbur - Ginger



Date: December 21, 2007 10:41 AM
Author:
Darrell Miller (dm@vitanetonline.com)
Subject: How to Manage Migraines Naturally: Magnesium - Feverfew - Butterbur - Ginger

Before you can understand how to manage migraines naturally, it is necessary to understand exactly what they are and how certain treatments could work. It is not generally known that the word 'migraine' means 'half the head' because it frequently hurts only on the right or the left of the head of sufferer. Some people with migraines do feel pain on both sides at once, although this is not generally the case.
A migraine occurs in stages which are activated by fluctuations in the hormone content of the blood. The 'aura', when you see spots and flashing lights in front of your eyes, is the first stage of a migraine attack, and during this time the blood vessels in your neck and head are contracting. You could also find it difficult to concentrate and your fingers could feel cold. At this point they do not have the headache that starts when the blood vessels begin to dilate.
Rather than the contracted blood vessels slowly returning to normal, your hormones have an excessively strong reaction, and cause them to dilate rapidly and become much wider than they should be leading to a severe headache due to pressure on the nerves. Different hormones can be involves with each attack, and the range of effective natural treatments reflect this fact. During this period, your brain could swell slightly, your muscles can tense up and other things can happen to the chemical and hormonal balance of your body. That is why some herbal treatments work for some but not for others, and different people find different treatments effective for them. What works for you might not work for somebody else if their migraine has a different cause. Basically, though, migraines occur in two phases, one being associated with an excess of hormones and the other with a shortage.
It is not easy to live with a migraine since it can be completely debilitating. Some just have a severe headache, while others are affected for days at a time. The headache can become before and after the onset of the shimmering lights and other optical effects that are generated by the brain. It would certainly be useful if those prone to migraines had one or more of the possible natural remedies to hand since there is rarely time to seek to seek professional medical help once the migraine begins, and through the use of natural remedies a potentially bad attack could be nipped in the bud, and at least its effect on you reduced.
MAGNESIUM
Magnesium is common in green leafy vegetables such as spinach and cabbage, whole grains, nuts and seeds. It is an essential mineral for human biochemistry, and is also needed with calcium for healthy bone development and maintenance.
Magnesium is a muscle relaxant, and relaxes the muscles of the blood vessels helping them to relax their dilatancy that cause the migraine pain. It is also useful to help the immune function, reduces blood pressure (by the same blood vessel relaxing mechanism) and also the rhythm of your heart. Magnesium therefore provides you with many health benefits, and though the western diet is not generally deficient in magnesium, some areas can be and a magnesium-containing supplement will not do you harm.
However, particularly high dose of magnesium can lead to nausea, diarrhea, low blood pressure and many other unpleasant side effects, so do not take more than the RDA (recommended daily allowance) in your supplement. Many studies have confirmed its effectiveness in reducing the symptoms of migraine, but not all studies have been successful. However, the condition is so debilitating to so many people, that it should be tried although not in excess. Make sure, however, that your doctor is informed since it could interfere with other medication you are taking for your migraine.
Riboflavin, vitamin B-2, is also believed to useful in reducing the duration and frequency of migraine attacks, working in much the same way as magnesium. It is known that there are many cases of people who suffer from vitamin B-2 deficiency also suffering from migraines, and a riboflavin supplement is also worth trying if you are a consistent victim of this condition.
FEVERFEW
Feverfew is the best known of the herbal remedies for migraine, and has been used for centuries in the treatment of fevers, headache, migraine and other painful conditions such as arthritis. The active ingredient is parthenolide, an anti-inflammatory that is also an anti-hyperalgesic, and that would explain its effect on reducing the pain. It also blocks lipolysaccharide-induced osteolysis by suppressing the activity of a eukaryotic transcription factor protein known as NF-kappaB that can cause a number of immune response problems, including inflammatory conditions such as arthritis, hence its use to relieve that condition.
Its effect on migraines could be explained by this activity in repressing the inflammatory response to certain stimuli that could be brought about by hormonal activity. Because it must be taken for a few weeks before the actual problem arises in order to be effective against it, feverfew is not effective to treat an existing attack, but to prevent future attacks. Double blind studies have proved its effectiveness in many tests, but not in all. However, if you take feverfew as a regular supplement in you diet, you might never have to try magnesium or vitamin B-2 supplements.
Some people swear by the leaves of feverfew, eating one per day which is easy way to take it. It is important, however, that you do so regularly, since it can take for up to 6 – 8 weeks for you to notice a reduction in your attacks. Don't give up after 5 or 6 weeks, but continue, since the results will be well worth it. If you stop for a week or two you will have to start all over again. You might get a sore mouth and perhaps mouth ulcers to start with, but these will eventually go once your body is used to it.
You are probably best not to take if you are pregnant since it could cause you to abort. Otherwise, however, it has been shown to be effective in many severe cases. Feverfew is bitter, and can be used as a tea with other herbs, such as rosemary, lavender and sage. If you are taking warfarin, aspirin or other blood-thinning drugs, see your doctor first, and the same is true of NSAIDS (non-steroidal anti-inflammatory drugs). If you are taking these for arthritis, the feverfew itself might be more effective!
If you are taking feverfew as a supplement using commercially available dried leaf then the recommended dosage is around 125mg of the dried leaf. It should contain at least 0.2% of parthenolide (0.25mg/daily), although other studies have indicated that a total of 0.7 mg parthenolide a day should be taken (100mg at 0.7%). Parthenolide is unstable so don't take it after its sell by or best by date.
BUTTERBUR
Butterbur is also useful in the treatment of migraines. The active ingredient here is petasin, a sesquiterpene ester that also has anti-inflammatory properties, all though it works in a different manner to feverfew. Here, it inhibits the activities of leukotriene generation in neutrophils and eosinophils, which indicates that it also possesses anti-allergenic properties that could help asthmatics that also suffer from migraines. It does not prevent the release of histamine, but does appear to reduce smooth muscle spasm.
You should never take the raw herb, only the extract, because it contains alkaloids that can harm you. The butterbur extract, however, is a perfectly safe supplement and found effective by many people in the treatment of migraine.
GINGER
If your migraine is at the front of the head, then you should try ginger. Unlike feverfew, ginger works on a migraine as it is occurring, and improvement can be achieved for a bad migraine within half an hour. In fact if, like many people, you can feel a migraine coming on, half a teaspoon of freshly ground ginger can stop the pain before it starts.
Many herbal treatments for migraine include a combination of some of the above remedies, and many people swear by them. However, migraine treatment is very personal, and you should use what works best for you. If you are also taking other medical treatments however, please make sure that you refer to your physician before using any others, and that includes herbal remedies or supplements.


--
Migraine support available at Vitanet, LLC &reg


(http://vitanetonline.com/forums/Index.cfm?CFApp=1&Message_ID=1678)
---
Natural Vitamin and Herbal Alternatives For Joint Health



Date: October 18, 2007 03:58 PM
Author:
Darrell Miller (dm@vitanetonline.com)
Subject: Natural Vitamin and Herbal Alternatives For Joint Health

Joint tissue breaks down and arthritis sets in for a number of reasons, and there are several natural alternatives for joint health that can be use to prevent this and to treat affected joints.
Thyroid problems can slow down the production of adrenal hormones that are responsible for the production of cortisone and cosrtisol. These are anti-inflammatories, that when unavailable or in low supply can result in joint inflammation. If you suffer joint pain in the mornings that tends to improve as the day goes on, then it is likely that is the cause since adrenal activity can improve as the day progresses.
One of the main reasons for joint tissue breakdown is osteoarthritis whereby the cartilage wears down until it fails to provide the necessary protection against impact between the bones in a joint, or against the friction generated when two bones rub together. Injuries to joints can have the same effect, whereby an injury to a hip or knee can appear to clear up and then later the cartilage wears out sooner than expected. This can take several months or many years, depending on the severity and nature of the injury concerned.
Continual wear and tear can also cause joint tissue to break down. Athletes and other sportspersons often suffer twenty years or more after retirement from their sport due to the gradual wearing down of cartilage while they were active. Once they stop, this continues to a lesser extent until the cartilage is eventually worn away sufficiently for it to stop protecting the joint.
Problems with the auto-immune system can lead to rheumatoid arthritis and inflammation of the joints. This weakens them and can eventually completely destroy the tissue. In such cases the tissues in the joint tend to swell and become extremely painful. Gout can also damage joints, especially in the big toe. This is caused through a built up of needle sharp uric acid crystals. Another cause is a deficiency in sodium and potassium in the diet that are needed to help maintain calcium in solution. When these metals are in deficiency due, for example, to an adrenal problem or some other reason, calcium can deposit right in the joints, causing undue pain.
Calcium and vitamin D deficiencies are commonly associated with arthritis sufferers, and protein deficiencies are also believed to be a contributing factor of rheumatoid arthritis, and it is also true that degenerative arthritis can accompany rheumatoid arthritis. This occurs in almost 40% of cases, and diet and nutrition are now being recognized as a major cause of both types. Deficiencies in folic acid or its natural form of folate, vitamin E, zinc and selenium have all been associated with degeneration of joint tissue, so it makes sense that a supplement of these substances can help to avoid these conditions.
Standard medical treatment, however, is for the relief of pain and reduction of inflammation through the prescribing of non-steroidal anti-inflammatory drugs (NSAIDS). Typical NSAIDS are aspirin, ibuprofen and naproxen. Although it relieves pain, paracetamol is not an anti-iflammatory. An alternative to blocking the inflammatory reponse is to help to regenerate the damaged joint tissue.
However, reducing the inflammatory response to tissue damage does not address the underlying problem, but masks it. Not only that, but there are side effects associated with the use of NSAIDS. Excessive doses can create serious gastrointestinal problems, such as bleeding, ulcer perforation and even death is possible in severe cases. Anti-inflammatories cause gastric problems in up to 20% of cases
The newer Cox-2 inhibitors act on the enzyme that causes the inflammation within the joint, and while these can be very effective, they are still masking the underlying problem. Incidentally, the Cox-2 inhibitors should not be used with NSAIDS, and both increase the possibility of a myocardial infarction or heart attack. Also, if you are taking aspirin to reduce the risk of heart problems, you should be careful not to use other NSAIDS since they can interfere with the effects of the aspirin.
More effective in the long run is to treat the conditions with substances that deal with the cause of the problem. Vitamin C, for example, improves the lubrication effect of the synovial fluid in the joints, and vitamin E is a strong antioxidant that can help to repair damaged tissue and improve the circulation within the joints. Joints have very low blood circulation levels, which is a problem when trying to direct drugs to the joint tissues. Vitamin C is also good for improving the integrity of connective tissue. Zinc, manganese and copper are also instrumental in developing strong connective tissue and helping to repair the damage done to the joints.
Horsetail is a commonly used herbal remedy that can be taken as a tea, tincture or in capsules. It is the richest natural herbal source of silicon, which is used by the body to form connective tissue and collagen. Damaged connective tissue is rapidly repaired by horsetail, and its strength and elasticity significantly improved. It is commonly used in the treatment of arthritis and osteoporosis.
Cat's Claw is used for its beneficial effect on the immune system, and frequently used successfully to treat osteoarthritis and rheumatoid arthritis. However, this treatment is used more to help reduce the inflammatory effects of the condition than to effect a long lasting cure. Gotu Kola, also called Indian pennywort, is traditionally used for treating arthritis. The fresh leaves are effective in reducing the inflammation and pain, and help to improve the quality of life of arthritis sufferers. In Australia, it is referred to as 'the arthritis herb' and two leaves a day are said to be effective.
Another popular remedy is MSM (methylsulfonylmethane), although it is claimed to provide pain relief rather than a cure. Amino acids also seem to help, and L-cysteine helps promote collagen and connective tissue. It appears to work best when taken in combination with vitamin E and selenium that are powerful antioxidants. L-arginine has a similar effect in the reconstruction of joint tissue, again helping to repair damaged connective tissues.
There are therefore two approaches to treating both rheumatoid and osteoarthritis, one providing pain relief and reducing inflammation, and the other repairing the damage done to the joint tissues. Vitamins, minerals, trace minerals and herbal remedies are used in both, though it is better to use a combination that provides pain relief and also helps to regenerate strong connective tissues in the joints.
When using combinations of remedies it is important that possible interactions are understood, and you should always seek the advice of your physician when using non-prescription remedies of any kind.


--
Buy Vitamins And Herbs at Vitanet, LLC &reg


(http://vitanetonline.com/forums/Index.cfm?CFApp=1&Message_ID=1597)
---
Turmeric and Alzheimer's Disease



Date: May 10, 2007 12:38 PM
Author:
Darrell Miller (dm@vitanetonline.com)
Subject: Turmeric and Alzheimer's Disease

Turmeric and Alzheimer's Disease
In India, Alzheimer's disease is relatively uncommon. People over the age of 65 living in certain rural areas of India have a less than 1 percent (0.84) chance of developing the disease. In the larger cities and rural areas of India, the risk is just 2.4 percent.
Compare these findings to people over the age of 65 living in the United States. Again, depending on where we are living, our chances of developing Alzheimer's disease range from a little under 5 percent to an astonishing 17 percent.
So what are people who are living in India doing that we aren't doing here in the US to account for these dramatic differences? The answer seems to be curry, that zesty spice and staple of Indian foods. Research has shown that a compound in curry not only prevents changes in the brain that lead to Alzheimer's disease; it actually reverses some of the damage already present.
Q. How can curry prevent these changes in the brain? Isn't that a lot to expect from a spice?
A. Evidently, it's not too much to expect from this spice. Curry comes from the turmeric plant – Curcuma longa is the plant's official name. Curcumin, a plant compound in turmeric, is the source of curry's instantly recognizable bright yellow pigment. When it comes to the scientific research of Curcuma longa, the terms curcumin and turmeric are both used. Both refer to the same thing- tumeric extract.
There have been more than 1300 studies on tumeric and its health benefits for humans. Research has shown tumeric is able to help the body get rid of cancer-causing toxins. Turmeric also blocks estrogen receptors and enzymes that promote cancer. And it's been found to stop the growth of new blood vessels in cancerous tumors – an important factor in keeping cancer from getting larger and spreading throughout the body.
But one of turmeric's most exciting health benefits is its ability to reduce, prevent, and stop inflammation. While inflammation is a normal and needed response to injury or disease, chronic inflammation can cause damage to tissues. And researchers are now finding inflammation plays a huge role in Alzheimer's disease.
Q. I've always heard that Alzheimer's disease was caused by complex growths in the brain called plaques and tangles. How can simple inflammation cause such a devastating disease?
A. You are right. Plaques and tangles are indeed the hallmarks of Alzheimer's disease. But researchers looking at the brain damage caused by Alzheimer's have always noted the presence of inflammation wherever plaques and tangles form. In the past, this inflammation was thought to be simply a consequence of Alzheimer's disease. Now scientists believe the inflammation itself starts a chain reaction ultimately contributing to the development of Alzheimer's disease.
` When cells in the brain are disrupted by inflammation, amyloid, and a protein normally found in the brain, beings to act chaotically. This chaos results in the creation of beta-amyloid, protein that is toxic to cells in the brain. Sticky deposits of beta0amyloid build up and collect around the cells, making dense clumps or plaques. Because the brain can't break the plaques down and get rid of them, they stay right where they are and slowly accumulate.
Tangles result when long protein fibers that act like scaffolding for brain cells begin to twist and tangle. The cell is damaged and eventually dies. But the tangled proteins remain in the brain even after the dead neuron has been cleared away. And inflammation might be the culprit causing the long protein fibers to start tangling.
The consequence of these abnormalities of protein in the brain is more than the cell death they cause. They also act as roadblocks interfering with electrochemical messengers being shot from cell to cell. Therefore, the remaining healthy cells' activity is diminished as well.
Research of identical twins has repeatedly shown that if one twin has Alzheimer's disease, the other has a 60% chance of developing the disease, too. Scientists from the Karolinska Institute in Stockholm, Sweden, looked at information from 20,000 twins collected in the 1960s and found 109 pairs of siblings where only one twin had been diagnosed with Alzheimer's. When the Swedish researchers analyzed data about the twin's health, they found the twin with Alzheimer's disease almost always had chronic gum disease. While bleeding gums are definitely not he cause of Alzheimer's disease, the inflammation that plays a large part of chronic gum disease may signal an inflammatory process stuck in overdrive.
In fact, the inflammatory process might occur years before the onset of Alzheimer's, and be the result of any number of infections people can contract. That's why current research is searching for ways to protect brain cells from inflammation. And why some countries have low rates of Alzheimer's disease, like India.
Q. Why curry? Couldn't other lifestyle difference account for the low rates of Alzheimer's disease in India?
A. That's a good question. When researchers begin studying a disease, like Alzheimer's, they look for trends to help them determine how and why the disease occurs. For example, we all now know the connection between cigarettes smoking and long cancer. But, it wasn't until the 1930's that doctors noticed the trend fro cigarette smokers to have more lung cancer than people who didn't smoke.
So it has been with researchers studying Alzheimer's disease. They know Alzheimer's disease has an important connection to inflammation. They also know turmeric reduces inflammation. And when researchers noticed these trends – that people in India eat high amounts of curry from turmeric and have very little Alzheimer's disease – they began to theorize that turmeric might be able to prevent or even treat the illness. And the research they designed around these trends has unequivocally found turmeric to be on common denominator.
Q. What have the turmeric studies shown so far?
A. Simply amazing findings are coming from curry research. Not only does turmeric slow down cancer growth, it's also been found to correct the cystic fibrosis defect in mice, help prevent the onset of alcoholic liver disease, and may slow down other serious brain diseases like multiple sclerosis.
Researchers from the University of California Los Angeles (UCLA) studying turmeric have found it to be more effective than the drugs currently being investigated for Alzheimer's disease treatment and prevention. The researchers have discovered the actual structure and shape of turmeric allows it to penetrate the blood-brain barrier effectively and bind to beta amyloid that's already built up in the neurons. Turmeric helps maintain healthy brain cellular metabolism, helps the cells repair themselves, and keeps the cells connected to each other. In other words, turmeric helps brain cells stay healthy.
And now the UCLA Alzheimer's Disease Research Center (ADRC) is using turmeric in clinical trials and studying the effect of this powerful spice in patients diagnosed with this devastating disease. Clinical trials are the gold standard of medical research. But it's rare in Alzheimer's disease. And it's even more rare when all-natural herbs and spices like turmeric are used in hopes the positive benefits will be discovered. The head of the UCLA's research team was recently interviewed and stated that setting out to hopefully prove turmeric's ability to prevent and treat Alzheimer's disease was "tremendously exciting."
Q. I recently read that one of the non-steroidal anti-inflammatory drugs (NSAID) was found to prevent Alzheimer's disease. Is this true?
A. Scientists recently studied ibuprofen, one of the NSAIDS investigated for Alzheimer's disease Prevention. Ibuprofen belongs to a family of drugs that includes naproxen, indomethacin, nabumetone, and several others. These drugs are used most often to get rid of headaches, mild arthritis, and other kinds of pain and inflammation.
In the studies, the average dose of ibuprofen was 800mg a day. Patients took the product for two years. While the results suggested that ibuprofen might reduce the risk of developing Alzheimer's, ibuprofen's side effects are too harmful to be a valid lifelong prevent aid treatment. Ibuprofen, like other NSAIDS, can cause gastrointestinal bleeding when used at high dosages over a long period of time. Long term use of ibuprofen can also lead to analgesic nephropathy, a kind of kidney damage caused by NSAIDS.
As we discussed earlier, turmeric appears to block and break up brain plaques that cause the disease and helps reverse some of the damage already present. Ibuprofen does not provide any protection against free radical damage. No anti-inflammatory medicine can do this.
Q. If I eat curry will I be protected against Alzheimer's disease? There aren't many foods or recipes I make that require curry, do I need to eat it every day? And how much do I need?
A. If you enjoy Indian cuisine, by all means, enjoy these delicious foods. You'll benefit your brain and your appetite. But you make a good point, American meals rarely contain curry. That's why supplements that contain extracts are suddenly quite popular. In fact, there are numerous turmeric/curcumin supplements on the market today.
But like all nutritional supplements, some turmeric supplements are superior to others. You need to read their labels to make sure the turmeric extract you are buying will provide the protection you need. Look for high-potency turmeric extract from turmeric (Curcuma longa) rhizome. And make sure the extract is standardized to contain 90% curcuminoids, the active ingredient in turmeric responsible for the positive research findings.
Conclusion
Researchers once thought that preventing for Alzheimer's disease would elude them for decades. In fact, several scientists privately speculated the disease might never be ameliorated. They thought the origin of the disease was too complex and the symptoms of the disease were too profound.
That's why ongoing research on turmeric is so exciting. A safe, natural, and effective way to protect against Alzheimer's disease almost seems too good to be true. But, the nation of India and its low incidence of Alzheimer's disease are proof these are not just fluke findings – making turmeric extract a supplement to remember.


--
Buy Turmeric Extract at Vitanet, LLC.


(http://vitanetonline.com/forums/Index.cfm?CFApp=1&Message_ID=1535)
---
Safe Solutions for Chronic Pain



Date: March 30, 2007 12:09 PM
Author:
Darrell Miller (dm@vitanetonline.com)
Subject: Safe Solutions for Chronic Pain

Safe Solutions for Chronic Pain
One of the biggest challenged in healthcare today is the problem of pain. There are simply too many people living each and every day with ongoing, unremitting chronic pain. And there are far too many healthcare providers who – for a variety of reasons – are failing to adequately address this serious problem.
Recently, 368 doctors who routinely care for patients with chronic pain agreed to take part in a unique study. The doctors were surveyed about the pain medicines hey prescribe, what kind of treatment goals they hope to achieve, and how they felt about their ability to help their patients. They were also presented with four chronic pain vignettes or mock case studies and asked to select the best treatment for each scenario from multiple choice answers.
Sadly, many doctors chose the worst treatment options in the case studies. The medications they reported using in their practices did not reflect current pain treatment standards. They tended to set low treatment goals 0 instead of aiming for a least a 75% reduction of pain for their patients, they settled for 10% to 20% reductions. And many of the doctors admitted they lacked confidence in their ability to relieve their patients' pain and suffering.
Adding to the challenge are the almost daily news announcements about dangerous side effects in certain pain medications. Synthetic prescription COX-2 inhibitors, once hailed as the safest of drugs, have been linked to heart attacks, strokes, blood clots, and intestinal bleeding. The over-the counter (OTC) drugs aspirin and ibuprofen kill over 16,000 people each year. And acetaminophen, the most widely used pain reducer in the United States is the leading cause of drug-induced liver failure.
As a doctor specializing in chronic pain disorders, I know that optimal pain management can be a real challenge. However, I also know:
-You do not have to live in chronic pain.
-Your chronic pain, no matter what the cause, can be reduced, and usually
eliminated.
-Chronic pain can be relived both effectively and safely with powerful all-natural
compounds.
Q. What is chronic pain?
A. Sudden, or acute, pain occurs when pain signals immediately fire in your nervous system alerting you to an injury, like a broken ankle, or an illness, such as appendicitis. Once the injury heals or the illness is cured, the transmission of pain signals stop.
Ongoing – or chronic pain – is much different. Chronic pain persists. Pain signals keep firing in the nervous system for weeks, months, even years. There may have been an initial injury, such as sprained back muscles, or an initial illness, such as a serious infection. There might be an ongoing cause of pain, such as arthritis, cancer, or fibromyalgia. Chronic pain also occurs without any past injury or evidence of body damage.
The most common kinds of chronic pain are headache, low back pain, cancer pain, arthritis pain, and neurogenic pain (pain resulting from damage to nerves or to the nervous system itself). While chronic pain differs in its origin and where it occurs, it is generally your body's way of saying that something urgently needs attention, and will not o away unless its underlying causes are addressed.
These causes can usually be determined if you remember the acronym "SHIN". This stands for Sleep, Hormonal deficiencies, Infections/Inflammation/Impingement, and Nutritional deficiencies. When these are treated, pain often resolves.
Q. Why is it so hard to effectively reduce chronic pain?
A. Unfortunately, many physicians' entire education in pain management consists of "giving nonsteroidal anti-inflammatory drugs or NSAIDS (pronounced en-sayds), COX-2 inhibitors, or acetaminophen and considering narcotics if the patient has cancer.
Some NSAIDS, like aspirin and ibuprofen, are available over-the-counter, while others, like the synthetic COX-2 inhibitors are only available with a doctor's prescription. These mediations are usually inadequate and often toxic when used for chronic pain. And they do not address the problem(s) that the pain is trying to alert you to.
Q. What exactly are COX-2 inhibitors?
A. COX-2 inhibitors do pretty much what their name implies – they inhibit a natural enzyme in our body called the clclooxygenase-2, or COX-2, enzyme. There are two COX enzymes – COX-1 and COX-2 and both complete several actions in our bodies. One very important action that both COX-1 and COX-2 enzymes share is the speeding up of our body's production of prostaglandins. These hormone-like substances are made by the cells of the body and have several important functions.
Some of the most powerful prostaglandins cause inflammation, pain, and fever when we are sick or injured. Prostaglandins also protect the lining of the stomach from the damaging effects of acid. Other prostaglandins make sure our platelets (important blood cells) make blood clots when needed. Still others help our kidneys get rid of unwanted salt and water. And researchers have just recently recognized the importance of still another prostaglandin that protects our heart and blood vessels.
The NSAIDS reduce pain by reducing prostaglandin production by blocking or inhibiting the COX enzymes. In theory – less prostaglandins, less pain and welling seems reasonable. But if you really stop and think about it, it's pretty easy to understand why this method of pain relief might result in significant consequences.
Pain and inflammation are often needed for healing. And just as needed is the protection of our stomach lining, blood clotting ability, assisting kidney function, and keeping our blood vessels healthy. And scientists are beginning to understand if you interfere with one natural response, you may be disrupting the body's ability to prevent extremes and imbalances.
That's why using aspirin and ibuprofen can result in stomach ulcers, kidney problems, and internal bleeding. And that's why using synthetic COX-2 inhibitors can result in high blood pressure, blood clots, heart attacks, and strokes.
Q. Why are we just now learning about the dangers of COX-2 inhibitors and other NSAIDS?
A. That's a good question!
Many people over the age of 65 have chronic pain conditions and are frequent users of OTC and prescription NSAIDS. This age group also experiences heart disease and Alzheimer's disease in greater numbers. So, if a 70 year old woman who's been using Celebrex for the past two years for arthritis in her knees suddenly has a heart attack one morning, it would not be entirely unexpected.
For the past five or six years, researchers have been studying the possibility that NSAIDS may prevent certain cancers, Alzheimer's disease, and other health problems. The ongoing, close scrutiny of large group of people taking these medications by scientists who were conducting these studies has resulted in the discovery of these dangers.
Q. What kind of natural compounds relieve chronic pain?
A. There are many – glucosamine, Omega-3 fatty acids, the B vitamins – the list goes on and on. Instead of disrupting normal bodily responses, these natural compounds work in harmony with our body to eliminate chronic pain. Three very powerful and very effective all natural plant compound pain and inflammation relievers are Sweet Cherry, Boswellia serrata, and White Willow Bark.
For many years there have been anecdotal or personal reports that claimed eating Sweet Cherries, specifically Prunus avium, wipes out back pain, arthritis, and gout. While anecdotal reports generally don't account for much in the world of science, he sheer numbers of testimonials proclaiming the Sweet Cherry's amazing ability to reduce pain made researchers sit up and take notice.
When Sweet Cherries were examined in the lab, it was easy for scientists to understand how this natural fruit is able to relieve pain. It seems Sweet Cherry's bright red color is the key. Like many deeply colored fruits, Sweet Cherries are full of flavonoids called anthocyanins and proanthocyanidins.
These powerful plant compounds scavenge and destroy altered oxygen compounds called free radicals. Many degenerative, chronic diseases have been associated with the tissue damage caused by free radicals, including arthritis, heart disease, peripheral artery disease, and cancer. Cherry fruit extract is a natural anti-inflammatory compound, making it an excellent treatment for arthritis, fibromyalgia, and other chronic pain and inflammation diseases.
A pain relieving plant compound that comes from the bark of a tree, Boswellia serrata has been used by Indian healers for hundreds of years to reduce painful inflammation. When 20th century researchers looked at extracts of Boswellia Gum Resin in the laboratory they discovered the presence of powerful plant compounds, called boswellic acids.
Researchers found Boswellic Acids reduce inflammation in several ways. They open constricted blood vessels, improving blood flow to joints. They balance levels of leukotrienes – specific chemicals in the body that cause inflammation. And Boswellic Acids block two inflammatory chemicals that increase in asthma and inflammation of the colon. In addition to being helpful in treating these 2 illnesses, Boswellia has also been clinically studied and found to be quite effective in osteoarthritis and rheumatoid arthritis without any evidence of ulcers or stomach irritation.
Another bark extract, White Willow Bark is one of the oldest and most effective pain relievers. For over 2,000 years extracts from the bark of the White Willow tree have been used to ease aches and pains and reduce fevers. It is the original source of aspirin, but when used as the entire plant medicine, White Willow Bark is much safer than aspirin and quite effective.
White Willow Bark's active ingredient is salicin and the combination of other compounds in the bark significantly enhances its pain killing power. In two large clinical trials of patients with chronic low back pain. White Willow Bark was found to be not only safer and much more effective than standard prescription therapies, it was also 40 percent more cost effective.
Salicylic acid from White Willow Bark lowers the body's levels of prostaglandins, easing both acute and chronic pain. White Willow Bark reduces the pain and swelling of arthritis, headache, back and neck pain, muscle aches, and menstrual cramps. But, unlike aspirin, it doesn't cause stomach bleeding or other known adverse effects.
Q. Do Sweet Cherry, Boswellic Acids, and White Willow Bark work on many kinds of chronic pain?
A. They do indeed. Because they reduce both pain and inflammation by a broad combination of actions, these natural extracts have been proven to be excellent against arthritis, back pain, and pain from inflammatory intestinal diseases (Crohn's disease and ulcerative colitis), and would be expected to be helpful in most kinds of pain.
Sweet Cherry, Boswellic Acids, and White Willow Bark relieve inflammation without causing stomach irritation, stomach ulcers, high blood pressure, blood clots, heart attacks, or strokes. That's because these natural pain killers don't disrupt the balance of enzymes or interfere with the body's ability to prevent extremes and imbalances.
However, as with any pain therapy, Sweet Cherry, Boswellic Acids, and White Willow Bark work best when they are used as part of a comprehensive treatment plan to relieve the most common underlying causes of chronic pain or SHIN.
In addition, although these excellent natural remedies can often offer quick pain relief, natural remedies for severe chronic pains work best when they are given at maximum allowed doses and given 6 weeks to show their full effectiveness in combination with treating the pain's underlying causes. The best chronic pain relief results when doctors and patients work together to meet the goals of treatment.
Some important last notes: Many causes of chronic pain are serious and life threatening. Everyone who is living with chronic pain must consult their doctor or other healthcare practitioner to determine the reason for their ongoing discomfort. In other words – make sure you know why you are having chronic pain and what's causing the pain you want to relieve.
There are some types of chronic pain that only respond to opioids, or narcotic pain relievers. Morphine sulfate is an excellent pain medication and is used to relieve surgical pain, the pain of heart attacks, and pain from serious injuries. Morphine is also the very best drug for chronic cancer pain and non-malignant chronic pain. While many people fear opioids, these powerful pain killers can dramatically improve quality of life. If you are suffering with chronic cancer pain and you are hesitant to use morphine or another opioid, I urge you to discuss your concerns with your doctor other healthcare provider. No one with cancer should live with untreated or under-treated pain.
Conclusion
Even chronic pain can often be eliminated when SHIN is in combination with powerfully effective natural pain relievers. But, because some people may need to take pain relievers the rest of their lives, the medications they use must be safe as well as effective. The very safest come from natural plant compounds that have been studied for their ability to relieve chronic pain. You can become pain free and Sweet Cherries, Boswellic Acids, and White Willow Bark can help.


--
Let Vitanet Help Relieve Chronic Pain with Natural Supplements


(http://vitanetonline.com/forums/Index.cfm?CFApp=1&Message_ID=1503)
---
Glucosamine Sulfate and Chondroitin Sulfate



Date: March 28, 2007 11:10 AM
Author:
Darrell Miller (dm@vitanetonline.com)
Subject: Glucosamine Sulfate and Chondroitin Sulfate

Glucosamine Sulfate and Chondroitin Sulfate
Osteoarthritis is the most prevalent form of arthritis in the U.S., according to the Arthritis Foundation. One-third of all American adults have X-ray evidence of osteoarthritis of the hand, foot, knee, or hip. Osteoarthritis is responsible for more than 7 million physician visits per year and is second only to cardiovascular disease as the cause of chronic disability in adults. As Baby Boomers age, the number of people suffering from osteoarthritis is expected to rapidly increase in the next 10 years.
While osteoarthritis research ahs led to the development of promising new prescription and over-the-counter medications aimed at reducing pain, none has created the excitement of glucosamine sulfate (GS), which actually addresses the underlying joint destruction.
Q. What is osteoarthritis?
A. Osteoarthritis is a complex, metabolic disorder of the cartilage and bones of certain joints. However, to fully understand how osteoarthritis develops, we need to understand how joints work.
A joint is formed when two or more bones are brought together and held in place by muscles and tendons. Some joints have very little range of movement, such as the joints of the ribs, while others have much more range of movement. Hips, knees, elbows, writs, and thumbs are termed synovial joints, and have the greatest range of movement and mobility of human joints. To allow such mobility, synovial joints have a unique structure.
The bones that form synovial joints are covered with cartilage. Tough fibrous tissue encloses the area between the bone ends and is called the joint capsule. The joint cavity within the capsule is lined with an inner membrane, called synovial membrane. The membrane secretes synovial fluid, a thick, slippery fluid that fills the small space around and between the two bones. This fluid contains many substances that lubricate the joint and ease movement.
The cartilage of synovial joints serves two very important functions. First, it provides a remarkably smooth weight-bearing surface; synovial joints move easily. Secondly, synovial cartilage serves as a shock absorber, providing a soft, flexible foundation. Healthy cartilage absorbs the force of the energy, transmits the load to the bone, and distributes the mechanical stress created by joint movement.
Synovial joints function under almost continual mechanical stress. A joint's ability to withstand or resist this stress is a reflection of its health. When the mechanical stress is too great or the joint's ability to resist this stress is compromised, physical changes occur in the cartilage covering the bones.
Cartilage is a tough, elastic tissue, comprised mostly of water, collagen, and complex proteins called proteoglycans. In osteoarthritis, the cartilage starts to weaken, becomes frayed, and eventually breaks down. This exposes the bones of the joint, which then rub together. A gritty feeling and grinding sound may occur when an osteoarthritic joint is bent and flexed. As osteoarthritis progresses, bits of bone and cartilage often break off and float inside the joint space. The bones may enlarge, causing the joint to lose its normal shape. Tiny bone spurs may grow on the joints' sides and edges. These physical changes in the diseased joint are responsible for progressive damage and continual pain.
People with osteoarthritis most frequently describe their pain as deep and aching. The pain not only is felt in the affected joint but may also be present in the surrounding and supporting muscles. Joint inflammation also may occur, increasing the already considerable discomfort. Joint stiffness is another unfortunate component of osteoarthritis. Exercising the joint most often results in increased pain; however, stiffness tends to follow periods of inactivity. Humid weather often makes all osteoarthritis symptoms worse. As the disease progresses, the pain may occur even when the joint is at rest, creating sleepless nights and miserable days.
Q. What causes osteoarthritis?
A. Osteoarthritis' exact cause remains unknown. Researchers know aging doesn't appear to cause osteoarthritis. Cartilage in people with the disease show many destructive changes not seen in older persons without the disease. However, certain conditions do seem to trigger osteoarthritis or make it worse.
Some families seem to have a lot of osteoarthritis, pointing to a genetic factor. This is most commonly seen in people who have osteoarthritis of the hands. Repeated trauma can contribute to osteoarthritis, too. Athletes, extremely active people, and individuals who have physically demanding jobs often develop the disease. Persons who have certain bone disorders are more prone to osteoarthritis due to the continuous, uneven stress in their hips and knees.
Obesity also is a risk factor for the disease. In overweight women, osteoarthritis of the knee is fairly common. Excess pounds also may have a direct metabolic effect on cartilage beyond the effects of increased joint stress. Obese people also often have m ore dense bones. Research has shown dense bones may provide less shock-absorbing function than thinner bones, allowing more direct trauma to the cartilage.
Q. Can osteoarthritis be prevented?
A. While there is currently no sure way to prevent osteoarthritis or slow its progression, some lifestyle changes may reduce or delay symptoms. The Arthritis Foundation states that maintaining a healthy weight, losing weight if needed, and regular exercise are effective osteoarthritis prevention measures.
Optimal calcium intake in younger years is vital to ensure a healthy aging skeletal system. Vitamins A, C, D, and E have been studied for their role in osteoarthritis prevention. These vitamins also have shown benefit in individuals who have osteoarthritis.
Q. What treatments are available for osteoarthritis?
A. The goal of treatment is to reduce or relieve pain, maintain or improve movement, and minimize any potential permanent disability. Typically, non-steroidal anti-inflammatory drugs or NSAIDS (pronounced "n-sayds") such as aspirin and ibuprofen are used for pain and inflammation relief. These medications are effective in treating only the pain of osteoarthritis.
These medications have many side effects, some of which are serious. NSAID-induced gastrointestinal complications cause more than 100,000 hospitalizations and nearly 16,500 deaths annually in the U.S. Aspirin can cause an extremely annoying and continual ringing in the ears. NSAIDS frequently cause damage to the stomach lining, which can produce uncomfortable heartburn and abdominal pain. Continued NSAID use may lead to the development of stomach ulcers. NSAID-related ulcers can perforate the stomach lining and cause life-threatening bleeding. Most NSAIDS also interfere with blood clotting and may cause kidney damage. When older persons take NSAIDS, dizziness, drowsiness, memory loss, and decreased attention span may occur.
Acetaminophen (Tylenol and similar medications) is similar to aspirin and other NSAIDS in its pain-relief abilities. However, acetaminophen doesn't reduce inflammation. And while acetaminophen doesn't have the same side effects of aspirin and other NSAIDS, if large doses are taken, liver damage can occur.
Newer medications called COX-2 inhibitors provide both pain relief and reduce inflammation without the many side effects of acetaminophen, aspirin, and other NSAIDS. More recent research has indicated that, in certain situations. COX02 inhibitors also can cause stomach lining damage and bleeding. While aspirin, NSAIDS, and COX-2 inhibitors may reduce osteoarthritis pain, they do nothing to stop or slow down cartilage deterioration. In other words, these medications have no effect on the disease itself.
That is why many believe glucosamine sulfate (GS) and chondroitin sulfate (CS) are preferable to pain relievers and anti-inflammatory medications in osteoarthritis treatment: they actually improve synovial joint health. And they do this without potentially life-threatening side effects.
Q. How do GS and CS work?
A. GS improves the health of joints affected by osteoarthritis. This supplement is so effective that even physicians who mostly rely on conventional medications routinely recommend it to their patients with osteoarthritis. In fact, GS is so good at treating osteoarthritis, many physicians use it for their own osteoarthritis joints.
There is even more good news. When glucosamine sulfate is combined with low-molecular weight CS, even greater benefits can be achieved. GS and CS are naturally occurring compounds found in human joints. The right GS/CS combination actually reverses damage in joints affected by osteoarthritis, in turn significantly reducing pain and stiffness.
Glucosamine occurs naturally in the body and is found in synovial fluid. Glucosamine is a basic building block for proteoglycans, is a basic building block for proteoglycans, one of the important compounds of synovial cartilage. It also is required for the formation of lubricants and protective agents for the joints.
In Europe, GS and CS have been used to treat osteoarthritis for more than 10 years. While persons with arthritis felt much better when they took GS and CS, no one really knew how these compounds worked. When European and American researchers first started to study glucosamine, they discovered GS can reduce synovial joint inflammation. This explains why people felt better after taking it.
Q. What has additional study of GS and CS revealed?
A. As the scientific study of GS progressed, researchers determined it can stimulate the growth of cartilage cells, inhibit proteoglycans breakdown, and rebuild cartilage damaged from osteoarthritis. In other words, GS does not simply make persons with osteoarthritis feel better; GS actually makes persons with osteoarthritis get better.
GS is the form of glucosamine used in research. It's the sulfate salt of glucosamine and breaks down into glucosamine and sulfate ions in the body. The sulfate part of GS plays an important role in proteoglycans synthesis.
CS also provides cartilage strength and resilience. CS is an important component of the cartilage proteoglycans of synovial joints. Because CS helps the production of proteoglycans, researchers believe CS works in a similar nature to GS.
Q. Couldn't GS and CS be taken on their own? Is there any benefit in taking them together?
A. Research has discovered GS and CS act synergistically (work well together) in improving joint health. Several studies have investigated this action and it's recommended that GS and CD be taken together. However, there may be times when your healthcare practitioner may recommend using one or the other, but not both GS and CS together. Please follow their recommendations to obtain the best results for your own unique health concerns. Low-molecular weight chondroitin sulfate (CS) is the preferred CS form, and the form that has shown the most promise in studies.
Q. Why is it important to take low-molecular weight CS?
A. When CS was first studied, it was given to six healthy volunteers, six patients with rheumatoid arthritis, and six patients with osteoarthritis. Researchers then measured the levels of CS in all study subjects. They found no evidence of CS in any of the subjects. This single study led many physicians and scientists to believe CS can't be absorbed, and was not an effective natural treatment.
However, several other studies in healthy volunteers have reported CS can be absorbed. The distinct difference for these findings is thought to be associated with the types of CS used in the studies. Some forms are much more absorbable that others. This was demonstrated in a recent study using CS with lower molecular weight. A higher absorption is observed for low-molecular weight CS.
This means CS products with a low molecular weight may be better absorbed, allowing the CS to get into the bloodstream and the synovial fluid of joints where it's needed.
Q. Are there other supplements that can help osteoarthritis?
A. Several vitamins, minerals, enzymes, and natural supplements have benefits for individuals with osteoarthritis. Proteolytic enzymes effectively offer relief of the pain, stiffness, and swelling of osteoarthritis.
Folic acid and vitamin B can reduce the number of tender joints and increase joint mobility. Vitamins C, D, and E not only may prevent osteoarthritis, but inhibit the disease's progression. Niacinamide improves joint function, range of motion, and muscle strength. Clinical studies using the herb Boswellia serrata have yielded good results in osteoarthritis.
Application of ointments on osteoarthritic joints may be helpful in reducing pain and stiffness. Menthol-based preparations can provide soothing relief to painful joints. Capsaicin ointments and gel made for cayenne pepper also are very beneficial. When applied to the skin, capsaicin first stimulates, then blocks, nerve fibers that transmit pain messages. Capsaicin depletes nerve fibers of a neurotransmitter called substance P. This neurotransmitter transmits pain messages and activates inflammation in osteoarthritis. Capsaicin ointment is very effective in relieving osteoarthritis pain in many individuals.
Q. Is there anything else I can do for joint pain and stiffness?
A. When osteoarthritis occurs in the hands, use of a paraffin dip can be very comforting. A licensed health care practitioner can provide information about how to safely use paraffin dips at home.
Exercise is an excellent way to keep joints mobile, decrease pain, and increase body strength, too. Water aerobics also can reduce the pressure and stress on joints.
The Arthritis Foundation strongly suggests making movement an integral part of your life. When you're in less pain and have more energy, more range-of-motion, and a better outlook on life, you'll reduce stress and be a much healthier person despite your osteoarthritis.
One important last thought
When we don't feel well, we sometimes have a tendency to self-diagnose. If you haven't been evaluated by a licensed health care practitioner for your joint pain and stiffness, you need to do so. These symptoms may be caused by other illnesses and may require much different treatment. Only licensed health care practitioner can provide a certain diagnosis of osteoarthritis.
Conclusion
Osteoarthritis may be a part of life for many of us as we age; however, constant pain and stiffness need not be. GS combined with absorbable CS can actually improve damage in joints affected by osteoarthritis and significantly reduce pain and stiffness. And it can be an empowering way to improve your health.
Buy Glucosamine and Chondroitin Sulfate at Vitanet ®, LLC
(http://vitanetonline.com/forums/Index.cfm?CFApp=1&Message_ID=1500)
---
Degenerative joint disease (osteoarthritis)



Date: August 24, 2006 03:55 PM
Author:
Darrell Miller (dm@vitanetonline.com)
Subject: Degenerative joint disease (osteoarthritis)

Degenerative joint disease (osteoarthritis) damages or destroys cartilage and its supportive collagen structure. As many as 40 million Americans, including the majority of people over age fifty, are thought to suffer from some form of this disease. Primary osteoarthritis, the "wear and tear" form, is due to normal use and age-related causes. Secondary osteoarthritis results from repeated joint trauma, inherited predisposition, or previous inflammatory conditions. While non-steroidal anti-inflammatory drugs (NSAIDS) treat symptoms only, a natural, holistic approach strives to improve the environment of the cartilage and joint as a whole by providing protective and restorative nourishment, increased circulation, decreased inflammation and reduced free radical damage.
High levels of Glucosamine and Chondroitin Sulfate
Widely regarded as the first defense in protecting joints, glucosamine and Chondroitin sulfate have been shown to effectively control joint pain and slow down or reverse the progression of cartilage deterioration. The integrity of joint gliding surfaces as well as the health of tendons, ligaments, joint fluids, skin, bones, heart valves and virtually all structural elements in the body is dependent upon the proper synthesis and availability of proteoglycans, integral components of joint cartilage.
Glucosamine provides two components critical to the synthesis of proteoglycans: hyaluronic acid and glycosaminoglycans (GAGs).
Chondroitin sulfate represents an important group of GAGs. It is not a single compound, but rather a class of compounds with different molecular weights that each have specialized functions within the body.
Numerous studies have shown that long-term safety, reduction in pain and protection of cartilage with body chondroitin and glucosamine are comparable or superior to results obtained with NSAIDS.
MSM. (Methylsulfonylmethane) MSM is a rich source of sulfur, a mineral required for GAG synthesis. A preliminary study suggests that MSM may help reduce pain in persons with degenerative arthritis.
Gota Kola. (Centella asiatica) known to support collagen synthesis and stimulate GAG's, Gota Kola has been used for many years in Europe to promote wound healing and blood vessel integrity. It also has been shown to improve circulation in small vessels.
Turmeric. (Curcuma longa) this saffron-colored root offers a wide range of benefits. It naturally inhibits the inflammatory COX-2 enzyme, reduces pain and is a potent antioxidant that protects the liver and other cells. High antioxidant diets may inhibit joint deterioration.
Bromelain. Derived from pineapple cores, Bromelain is most commonly used for healing soft tissue injuries and inflammation. It contains potent selective proteases (protein-digesting enzymes) and other substances which serve to block destruction of GAGs.
Trace Minerals. Micronutrients play many distinct roles in support of healthy joint connective tissue and joint cartilage matrix.
Black Pepper Extract. Bioperine is a highly concentrated extract (95% - 98% piperine) of black pepper. Used as a bioavailability enhancer, it has been shown to increase the absorption of vitamins, minerals and herbs.


--
Buy Discount Vitamins at Vitanet


Solaray Vitamins


(http://vitanetonline.com/forums/Index.cfm?CFApp=1&Message_ID=1356)
---
Omega-3



Date: January 03, 2006 09:00 AM
Author:
Darrell Miller (dm@vitanetonline.com)
Subject: Omega-3

In the mid 70's, a team of European researchers ventured off to Greenland to study the unique lifestyle of native Inuit Eskimos. They couldn't have possibly imagined how signifi cant their findings would be. The Inuits' diet was simple and consisted primarily of fatty fi sh – whale, salmon, sardine, seal, and mackerel. No surprise there. What did surprise researchers was how unexplainably healthy these natives were. Strong hearts. Clear skin. Powerful joints. All this from a diet that contained towering amounts of fat. This fat-fueled lifestyle bewildered researchers. Then the connection was made. These fatty foods were loaded with substances that the body must have in order to remain healthy – omega-3 essential fatty acids. Fast forwarding 30 years, fish oil supplements aren't just popular, they're they're popular nutritional threads that help weave the fabric of human wellness.
Understanding EFA
We refer to essential fatty acids (EFA) as essential for a reason. They are vital to human health despite the body's inability to manufacture its own supply. For this reason, they must be obtained through the diet or supplementation. Fish oil contains two of the most biologically active fatty acids; EPA (eicosapentaenoic acid) and DHA (docosahexanoic acid) with the most common sources being deep-sea, cold-water fish. Thanks to a lifetime of oxidative stress, the body is in a constant state of self-repair. In order to do this, it needs a generous cache of healthy, unsaturated fats capable of constructing cell membranes that are elastic and functional. This makes it easier for the heart to return to a normal resting state. A deficiency in good fat forces the body to use saturated fat in the construction of new cells. As the body's reserve of saturated fat begins to outnumber the unsaturated, the cardiovascular process becomes more and more compromised.
In the fall of 2004, after reviewing years of convincing studies, the FDA approved the use of a qualified claim for omega-3 EFA. It states that "supportive but not conclusive research shows that consumption of EPA and DHA omega-3 fatty acids may reduce the risk of coronary heart disease". When you consider how selective the FDA is in qualifying health claims, this becomes even more impressive. The benefi ts of fi sh oils don't stop at the cardiovascular system, however. A wealth of studies have been conducted examining their role in depression, mood, vision, skin, immune system function, pregnancy, joint health and migraines just to name a few.
EFA for a Healthy Heart
Omega-3 fi sh oil has become synonymous with cardiovascular integrity, and is supported by years of substantiated research. Many of these studies suggest that omega-3 plays a key role in maintaining healthy cholesterol levels, normalizing blood pressure range and supporting a healthy heart beat. It also serves as a natural blood thinner capable of preventing platelet aggregation; a condition where coronary blood fl ow becomes sticky and prone to clotting. Finally, fish oil has been shown to help boost HDL (good) cholesterol while lowering triglycerides within the normal range.
Omega-3 and Healthy Mood
A now famous Harvard study (Stoll et al., 1999) determined that individuals suffering from manic and mood disorders collectively exhibit low levels of EPA and DHA. During this double-blind, placebo-controlled study, nearly 75% of the subjects treated with omega- 3 experienced relief from their symptoms. According to Dr. Stoll, "Our study results indicate that fi sh oil does possess the elements needed to stabilize mood."
Say Goodbye to Inflammation
A growing number of individuals who live with stiff joints, inflammation and occasional aches are turning to omega-3 fi sh oil. Within the body, DHA and EPA compounds are converted into powerful anti-inflammatory agents known as prostaglandins. Many users have reported that supplementation has helped them reduce the frequency at which they consumed NSAIDS (non-steroidal anti-inflammatory drugs).
Choosing a quality formula
When the time comes to choose, nothing is more important than selecting a quality formula that's been tested for safety and purity. NOW takes the guesswork out of searching for omega-3 supplements that are safe and effective. Our comprehensive selection of premium fi sh oil is subject to strict testing, thorough screening and a mandatory purifi cation process. NOW's Quality Control and Quality Assurance departments verify the use of several purifi cation processes that help reduce PCBs, dioxins, toxic heavy metals and other contaminants to non-detectable levels.*

--
Buy Omega 3 at Vitanet &reg


(http://vitanetonline.com/forums/Index.cfm?CFApp=1&Message_ID=1154)
---
- US Center for Disease Control, 2005



Date: December 07, 2005 01:27 PM
Author:
Darrell Miller (dm@vitanetonline.com)
Subject: - US Center for Disease Control, 2005

"Forty-three million Americans report that a doctor told them they have arthritis or other rheumatic conditions. Another 23 million people have chronic joint symptoms but have not been diagnosed with arthritis. Arthritis is the leading cause of disability in the United States, limiting the activities of more than 16 million adults." - US Center for Disease Control, 2005
This is of alarming concern, especially if you're one of the nearly 60 million US adults who live with a joint disorder. Clearly, you don't need to be reminded of what a struggle it can be. Mundane tasks become major, and major tasks become painful reminders of what life was like when your joints were strong and seemingly indestructible. Many sufferers lose hope, while others hopelessly lose out on so many of life's activities.
Over the past ten years, notable advances in the nutritional sciences have paved the path for landmark products such as Glucosamine, SAMe, Chondroitin, MSM, and others. As a result, millions have found relief in these products and continue to use them in their quest towards healthy mobility. Fortunately, the science behind these popular joint support supplements has done nothing but steadily improve. Celadrin® is perhaps the most convincing proof to date. Let's examine.
In short, Celadrin® is novel blend of acetylated fatty acids, esters and other synergistic agents that enhance cell membranes throughout the body, resulting in greater mobility and more normalized joint function. The extremely high user success rate and virtually complete absence of side effects has helped Celadrin® rise to the rank of joint support extraordinaire. Yes, this is a bold statement. However, just one look at the supporting research is enough to convince even the most skeptical critics of what a true breakthrough it is. Celadrin®'s ability to provide fast, cumulative relief continues to be evidenced by extensive clinical research, as well as a steady flow of eye-opening human trials.
Unlike popular non-steroidal anti-inflammatory drugs (NSAIDS) that simply mask joint discomfort, Celadrin® targets the source by enhancing cell membranes and restoring the vital fluids that cushion bones and joints. Ultimately, this is what makes it possible to enjoy a free range of motion without the bone-on-bone grinding that limits so many from their daily activities. Working in much the same manner that other fatty acids do, Celadrin®'s patented blend of esterified fatty acids spark positive changes at the cellular level. As this occurs, cell membranes become more responsive and less prone to articular cartilage deterioration.
"How long do I need to take it?"
Not only does it work well, studies continue to illustrate Celadrin®'s ability to work fast. This can be attributed to how easily absorbed the active ingredients are. In 2005, a University-led, placebo-controlled study examined 42 patients who struggled with knees that were…let's just say less than fully functional. After just 30 minutes, 100% of the subjects treated with a topical form of Celadrin® reported significant improvement in joint mobility and support. Even more impressive, each participant demonstrated continuous and restorative benefits over the course of the entire 30 day study.
"How do I use Celadrin®?"
One of the most appealing elements of Celadrin® is the flexibility that users have when it comes to taking charge of their joint health. It is available in both oral and topical forms, and each is equally effective. Some users have reported greater results by supplementing the oral form while applying the topical lotion directly to the target areas in question. Still, no two people are alike. Accordingly, the severity and nature of each individual concern will vary from person to person. Therefore, it can be wise to determine which application works best for your particular situation.
"What if I don't have joint problems?" For openers, you're very fortunate. If your joints are strong and fluid, Celadrin® is one of the most effortless ways to keep them that way! Cartilage breakdown is gradual, and occurs over a long, delayed, unsuspecting period of time. In many cases, there is very little warning that your knee or shoulder is about to become part of a frightening and growing statistic. Your joints may feel fine today, but you'd be amazed at how fast that can change. Think of Celadrin® as Cartilage Insurance. You may not see an immediate need to support them right now, but if they do give out, you'll sincerely wish you had.
"What should I look for in a Celadrin® product?"
As with every dietary supplement and joint-support product, you should always look for a quality formula from a trusted, well-established manufacturer with a history of producing quality products. NOW® Celadrin® products are scientifically formulated, tested for safety and potency and guaranteed to be of superior quality. Each full serving contains 1.5 g (1500 mg) of Celadrin® along with 300 mg of MSM for additional support. NOW® Celadrin® Liposome Lotion contains 7.5 % Celadrin® along with 1.25% USP Pharmaceutical grade natural Menthol. Both are now available at fine independent health food retailers nationwide.* credits: Jayson Kroner [mailto:jayson.kroner@nowfoods.com]
(http://vitanetonline.com/forums/Index.cfm?CFApp=1&Message_ID=986)
---
Vitali-Tea - Tea fits a healthy lifestyle to a T...



Date: June 13, 2005 09:45 AM
Author:
Darrell Miller (dm@vitanetonline.com)
Subject: Vitali-Tea - Tea fits a healthy lifestyle to a T...

Vitali-Tea by Leah Brinks Energy Times, October 9, 2003
If the research is even only half right, tea fits a healthy lifestyle to a T. Whenever scientists look at a teapot's contents, they find striking health benefits: Heart protection. Reduced cancer risk. Better skin.
All of these are apparently in the bag when you choose to drink tea. Tea green, tea black: Which to choose? Actually, both types come from the same plant, Camellia sinensis. Green tea is steamed and dried; black tea is fermented, which allows its darker color to develop. Some lesser-known types include white tea, which is actually green tea that undergoes the most minimal of handling. (Another rare white tea, white cantaloupe, is rich in antioxidants.) Oolong is a tea that falls between green and black in processing and flavor.
One increasingly popular tea color, red, is not tea at all, but an herbal brew called rooibos (technically, herbal teas are known as tisanes). This South African plant yields a citrus-flavored beverage high in vitamin C. Other herbs known for yielding flavorful infusions include chamomile, used to promote sound sleep; peppermint, a digestion easer; and rose hips, which, like rooibos, combines healthy vitamin C levels with a delightfully zesty taste.
Toxin Blocker
The evidence for tea's health benefits has practically boiled over. For instance, researchers at the University of Rochester have found that green tea substances inhibit the action of a molecule irritated by tobacco smoke, a toxin central to tobacco's cancer-causing danger. This action, say the scientists, may be the reasons that smokers who drink tea suffer less cancer (Chem Res Tox 7/21/03).
The Rochester researchers found that tea helps protect a cellular molecule called the aryl hydrocarbon (AH) receptor. Ordinarily, AH is frequently disturbed by toxic substances that cause cancer and other illnesses. Tobacco smoke (as well as the pollutant dioxin) interacts with AH to initiate cancer and other problems.
But at least two chemicals in green tea-epigallocatechingallate (EGCG) and epigallocatechin (EGC)-interfere with AH's harmful activity. These substances, flavonoids similar to healthful chemicals found in grapes, wine and cruciferous vegetables like broccoli, have been shown to lower cancer risk.
"It's likely that the compounds in green tea act through many different pathways," says Thomas Gasiewicz, professor and chair of Environmental Medicine and director of Rochester's Environmental Health Science Center.
In the Rochester study, Dr. Gasiewicz and his colleagues found that EGCG and EGC close down the AH receptor in cancerous animal cells and most likely produce the same benefit in human cells.
Still to be made clear is how tea is metabolized when the body digests tea, but the Rochester scientists are still peering through their microscopes and teapots to find out.
Tea Protection
Scientists at the Linus Pauling Institute at Oregon State University have found that drinking green or white tea can significantly lower your risk of colon cancer as well the prescription drug sulindac, which has been shown effective for people at high tumor risk (Carcinogenesis 3/03).
"Tea is one of the most widely consumed beverages in the world, and recent upswings in the sales of green tea in the United States can be attributed to reports of potential health benefits against cancer and other chronic diseases," says Gayle Orner, an OSU research associate. "Teas exert significant protective effects in experimental animal models of skin, lung, esophageal, gastric, hepatic, small intestinal, pancreatic, colon, bladder and mammary cancer."
While many people today take aspirin and similar drugs that have been shown to lower cancer risk, this study shows that drinking tea and taking low doses of these drugs, called NSAIDS, can reduce the risk even further. (High doses of NSAIDS, while protective against colon cancer, can cause internal bleeding.)
"These are pretty exciting results," Orner says. "What's especially significant is that as far as we can tell consumption of tea has none of the side effects of NSAIDS, which can be severe, including bleeding, ulcers and even death."
In this research on animals, use of tea dropped the risk of cancer by about two-thirds. According to the lab results, drinking about three large cups of tea a day should provide significant cancer protection. Based on research in Japan that looked at how green tea lowers the risk of stomach cancer, the Linus Pauling scientists urge plenty of tea drinking: "The more the better."
Tea Surprise
Studies show that nations of tea drinkers have less trouble with their hearts than residents of places where tea is hardly ever brewed. And now research is starting to zero in on the substances in tea that benefit heart health.
A study of 240 Chinese men and women who have high cholesterol has found that chemicals in tea can significantly drop harmful cholesterol (Arch Int Med 6/23/03).
"Personally, I was very surprised," says David J. Maron, MD, professor at the Vanderbilt University Medical Center, lead author of the study. "I expected, if anything, a very slight cholesterol-lowering effect. But what we saw was a 16% reduction in low density lipoprotein (LDL) cholesterol."
LDL cholesterol is known as "bad" cholesterol because it can increase your risk of heart disease.
The researchers in this study gave people extracts of green and black tea enhanced with theaflavin, an antioxidant also found in green tea.
In the future, if past results are any indication, tea's rich supply of beneficial chemicals will continue to pleasantly surprise researchers with even more benefits.


--
Vitanet &reg


Solaray - Ultimate Nutrition - Actipet Pet supplements - Action Labs - Sunny Greens - Thompson nutritional - Natural Sport - Veg Life Vegan Line - Premier One - NaturalMax - Kal
(http://vitanetonline.com/forums/Index.cfm?CFApp=1&Message_ID=317)
---
The Joints Are Jumping



Date: June 11, 2005 04:56 PM
Author:
Darrell Miller (dm@vitanetonline.com)
Subject: The Joints Are Jumping

The Joints Are Jumping by Rachel Alexander Energy Times, October 8, 2003
It usually starts with a twinge in your back or an ache in your knees: Knee stiffness, back pain and joint inflammation can signal the beginning of arthritis.
According to the US Food and Drug Administration, arthritis affects over 42 million Americans-that's 1 in every 3 adults-and costs the economy nearly $65 billion annually. But as common as arthritis is, it doesn't have to extract a high cost from your joints.
Who's At Risk?
Arthritis literally means an "inflammation of the joints" and can affect anyone-from small children to 80-year-olds. Some groups are more prone to certain types of arthritis; for instance, those over 40 are at greater risk for developing osteoarthritis, a degenerative condition of the joints.
According to Johns Hopkins Medical Institute, more than 50% of all individuals over the age of 40 have x-ray signs of osteoarthritis in weight-bearing joints (such as those in the knees and hips), and nearly half of those over 65 have measurable symptoms of arthritis. Osteoarthritis is often caused by overuse, age, excess weight or genetics, or by a combination of these factors.
Rheumatoid arthritis, on the other hand, is a disease of the immune system that affects the joints, which can make it harder to diagnose because early symptoms-fatigue, weakness, loss of appetite and low-grade fever-can mimic other chronic conditions.
Stiffness and pain may or may not accompany the initial symptoms of rheumatoid arthritis. However, joints eventually become inflamed and swollen. Although less common that osteoarthritis, rheumatoid arthritis affects more than 2 million Americans.
Covering Up the Signs
Treating arthritis can involve the use of both conventional and non-conventional therapies.
"In osteoarthritis specifically, conventional medicine has just been focused on covering up the symptoms," says Jason Theodosakis, MD, author of The Arthritis Cure (St. Martin's Press). "In the history of medicine, this approach has been considered primitive."
But Dr. Theodosakis points out that treatment often depends on the type of arthritis involved: "Rheumatoid arthritis patients should be taking prescription drugs that are known to prevent the disease from progressing. [Use] alternative medicine as an adjunct..."
Conventional therapies often involve the use of non-steroidal anti-inflammatory (NSAID) medicines, such as ibuprofen and naproxen. The chief drawback of NSAIDS is the toll these treatments extort from the gastrointestinal system.
In fact, a 2002 study conducted by researchers at the University of South Florida, Tampa, found that more than 15% of patients developed digestive problems after a five-week course of ibuprofen. In addition, ibuprofen may increase blood pressure.
Newer prescription NSAIDS called COX-2 inhibitors, which work by suppressing the body's inflammatory response, also carry risks of side effects ranging from diarrhea and fluid retention to liver damage and kidney problems. In addition, people with asthma or chronic allergies (including to aspirin) should not take these medicines.
Corticosteroids-another treatment option that has been used to lessen inflammation-can cause side effects such as increased appetite, mood changes and even immune system breakdown.
Natural Answers
A growing body of evidence shows that nutrients such as glucosamine and MSM, coupled with lifestyle changes, can help decrease or eliminate some of the aches and pains of arthritis. Glucosamine is a natural chemical that helps build joints. When the cartilage in joints deteriorates due to age or other factors, studies indicate that glucosamine provides the necessary building blocks for rebuilding and repairing this tissue.
In one investigation (Archives of Internal Medicine 2002; 162:2113-23), scientists discovered that glucosamine slowed the progression of osteoarthritis and improved symptoms for over 200 patients. Another study, conducted by researchers in the Netherlands, demonstrated that a combination of glucosamine and chondroitin holds promise for conditions such as spinal disc degeneration.
To date, several studies have confirmed glucosamine's ability to help the symptoms of arthritis, and the National Institutes of Health is currently supporting research to further study the benefits of glucosamine.
Other Joint Aids
MSM is often an adjunct therapy as it does not work directly on joints, but provides the raw materials, in this case sulfur, to help rebuild cartilage in the joint matrix. Studies indicate that sulfur has a protective effect and may interact with magnesium, an essential bone nutrient.
Traditionally, the herb horsetail (Equisetum arvense) has been used to supply silica, a mineral component of nails, bones and joints. Its support of these structures can help in the fight against arthritis.
As the body ages, it may lose much of its silica reserves. Resupplying much of this mineral may help support joints. In addition, experts believe, silica can help the body use calcium more effectively and support bone health.
Since rheumatoid arthritis is a systemic affliction, you should work with a trained health professional in treating it. Complementary care practitioners often use antioxidant nutrients, such as vitamins C and E, to reduce free radical damage, along with pantothenic acid (vitamin B5) to lessen morning stiffness.
A Joint Project
According to Dr. Theodosakis, exercise is the key to dealing with arthritis: "[Start with] an individualized exercise program that strengthens the joints without causing more damage...and an eating program to control your weight if you are currently overweight." To limit the effects of arthritis, you should quit smoking, since smoking generates free radicals that can harm the tissues which make up joints. In addition, a strict vegan diet may help alleviate some of the pains of rheumatoid arthritis.
Dr. Theodosakis also recommends looking for hidden causes of symptoms, such as food allergies, that may contribute to arthritis.
Heat helps ease arthritis pain and encourages both blood flow and tissue repair. A plain, old-fashioned hot water bottle works quite well. Or you can use one of the newer heat-generating wraps, which are thin enough to be worn under clothing and don't have to be constantly reheated.
You can't always avoid arthritis, especially as you get older. But you don't have to let it get the better of you.


--
Vitanet &reg


Solaray - Ultimate Nutrition - Actipet Pet supplements - Action Labs - Sunny Greens - Thompson nutritional - Natural Sport - Veg Life Vegan Line - Premier One - NaturalMax - Kal
(http://vitanetonline.com/forums/Index.cfm?CFApp=1&Message_ID=292)
---
Fighting Arthritis Naturally



Date: June 10, 2005 02:16 PM
Author:
Darrell Miller (dm@vitanetonline.com)
Subject: Fighting Arthritis Naturally

Fighting Arthritis Naturally
by Donna Lee Nardo Energy Times, January 8, 2002
The annoying pain of arthritis grows ever more annoying: one of every six Americans, 43 million people, suffer arthritis, the leading cause of disability in the US. No pharmaceutical can reliably cure arthritis or slow its progression without possibly causing side effects. But you can help heal your hurting joints with nutrients and other natural substances.
Every move you make hinges on healthy joints. The hinge joints in your fingers, knees and elbows swing back and forth. Ball and socket joints in our hips and shoulders twist and turn our arms and legs. But when arthritis attacks, joint function narrows, causing pain, stiffness, swelling and inflammation. While scientists search for the root cause of arthritis, they recognize that aging, injuries, allergies, a genetic tendency toward arthritis and being overweight all contribute to your risk. Researcher have identified more than 100 types of arthritis, including osteoarthritis (OA), rheumatoid arthritis (RA), gout, lupus, scleroderma, vasculitis, myositis, infectious arthritis, degenerative joint disease and spondylitis. OA and RA represent two of the most common arthritis forms. OA generally attacks the finger joints and larger joints like the hips and knees. Cartilage lining the joint deteriorates, often as a by-product of aging, but this deterioration can happen at any age. Sprains, fractures and repetitive injuries can increase your chances of osteoarthritis. Rheumatoid arthritis occurs when joints become inflamed and your immune system apparently releases antibodies in response to allergens. This type of arthritis can destroy and immobilize joints. Traditionally, doctors have treated arthritis with acetaminophen, aspirin and other drugs called non-steroidal anti-inflammatory drugs (NSAIDS). However, NSAIDS often offer only short-term relief. They can cause bleeding problems and ulcers. And while they may slow inflammation and pain, they also do nothing to repair damaged joints. A 1995 Journal of Rheumatology article also warned that prolonged NSAID use actually furthers deterioration of the joints (Oct/95; 22 (10):1941-6).
Glucosamine at Work
Scientists believe that injuries and aging deplete the body's supply of glucosamine, a natural substance that forms, maintains and repairs joint cartilage. Glucosamine supplements are thought to replenish the supply and are prescribed for arthritis therapy in many countries. Several studies indicate that glucosamine tackles pain and inflammation as effectively as NSAIDS without the side effects. It also helps rebuild arthritic joints. Research supporting glucosamine's benefits abounds in Europe and Asia. One study suggests that glucosamine sulfate supplements relieve pain as well as the NSAID ibuprofen (Osteoarthritis and Cartilage 1994; 2 (1):61-9). A recent Belgian study testing the effectiveness of glucosamine on patients with OA of the knee captured the attention of the American medical profession. Results suggest that glucosamine promotes physical changes in joints that halt the progression of OA (Lancet 2001, Jan 27; 357 (9252):251-56). After analyzing data from scores of clinical trials, the National Institutes of Health (NIH) saw enough promise in glucosamine to launch its own multi-year study.
Healing Spice
Scientists have been testing the orange-yellow herb turmeric and have found that it may ease arthritis discomfort. Long a staple in the medical practices of Asia, turmeric has anti-inflammatory and antioxidant properties that reduce swelling and pain associated with arthritis. Researchers think this spice, used in such Indian cuisine as curry, may work more effectively than cortisone and other drugs that reduce inflammation. Ellen Kamhi, PhD, RN, and co-author of Arthritis: An Alternative Medicine Definitive Guide, considers turmeric an important therapy for arthritis. "Turmeric is quite effective, and it's much safer than conventional drug anti-inflammatories, with far fewer possible adverse effects," says Dr. Kamhi, clinical instructor at the State University of New York-Stony Brook Medical School. One study on people with RA demonstrated that the natural benefits of turmeric equaled those provided by a popular prescription drug known to cause side effects (Indian J Med Res 1980; 71:632-4). Another trial, published in the Journal of Ethnopharmacology, found that turmeric possesses unique anti-inflammatory properties (1993; 38:113-119). A trial published in 1994 also found that turmeric acts as an antioxidant to help protect joints (J Pharm Pharmacol; 46:1013-16).
Aging Joints
As we age, our bodies require more antioxidants to fight off damage caused by destructive molecules known as free radicals. Researchers believe that antioxidant nutrients can afford arthritis protection. A 10-year study evaluating the effect of vitamins C and E on the joints concluded that both nutrients protect against cartilage deterioration (Arthritis & Rheumatism 1996, April; 39 (4):648-56). According to Dr. Kamhi, "Arthritis is a lifestyle disease (and) no one remedy, either natural or pharmaceutical, will heal or reverse the arthritic process. Organic foods, exercise, stress reduction, and supplements can lead to a marked decrease in all arthritis symptoms with minimal side effects and enhanced overall health and wellness." While arthritis often makes sufferers limit their activity, experts agree that a sedentary lifestyle only exacerbates problem joints and that exercise maintains your range of motion. The type of activity recommended for each particular form of arthritis differs: for osteoarthritis, specific exercises like stretching and moving arthritic joints can help if more strenuous exercise forms are not possible. Rheumatoid sufferers need to use extra caution to prevent inflammatory flare-ups by balancing gentle exercise with rest. In any case, keep moving: performing household chores or spending time on your hobbies will profit painful joints.
Weight Control
In many cases of arthritis, maintaining an appropriate weight is critical. Surplus weight places extra stress on joints and accelerates cartilage deterioration. And don't be discouraged if your mainstream doctor pooh-poohs complementary arthritis control. "Any practitioner who categorically dismisses the use of all-natural therapies," advises Dr. Kamhi, "is not keeping up with reading current medical literature."


--
VitaNet &reg
VitaNet &reg Staff


(http://vitanetonline.com/forums/Index.cfm?CFApp=1&Message_ID=265)