Miztique Manufacture Listing.

In March 2003, Nutraceutical and The Great Tea Wizard™ introduced Miztique™ Teas - Endowed by Nature and Finished with Magic.
The Miztique™ brand matches the highest quality tea leaves from around the globe with the most aromatic and exciting flavors to ensure your health satisfaction. The Great Tea Wizard™ has combined the magical healing powers of teas and herbs to cast a spell on your taste buds. Arouse your senses and support your health with ten proprietary blends from the Miztique™ brand: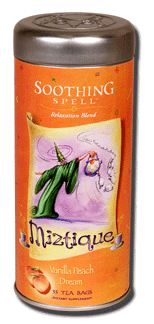 Energy Brew™ Get Up & Fly Blend™
Lemon Maté flavor
Soothing Spell™ Relaxation Blend
Vanilla Peach Dream flavor
Digestive Magic™ Stomach Blend
Soothing Mint flavor
Chai Spirit™ Green Chai Tea
Vanilla Cinnamon Swirl flavor
Wizard Green™ Organic Green Tea
Lemon Shimmer flavor
Decaf Wizard Green™ Decaffeinated Green Tea
Lemon Sparkle flavor
Dragon Detox™ Cleansing Blend
Hibiscus New Moon flavor
Winter Potion™ Wellness Blend
Touch of Lemon flavor
Secret Fortune™ Antioxidant Blend
Charming Orange flavor
Red Rooibos Moon™ Rooibos Red Tea
Marion Blackberry & Raspberry flavor
Power Chill™ Black Iced Tea
Smooth Citrus flavor
Sun Spell Splash™ Herbal Iced Tea
Peach Cranberry Chill flavor
All Miztique™ teas are packaged in natural fiber, round tea bags inside a distinctive silver tin with collectible lids. Enjoy The Magic™ of Tea!
Miztique Product List
New articles