Premier one Manufacture Listing.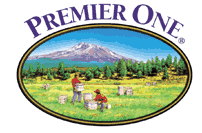 The Premier One® brand was founded in July 1984 in Omaha,

Nebraska as one of the first product lines devoted entirely to natural, nutritional supplements derived from bee products. The Premier One brand uses various delivery forms, each chosen for its particular benefits, including capsules, chewable wafers, granules, energy bars, tinctures and products in a honey base.








Aside from Royal Jelly in Honey, some of Premier One's other popular products include Raw Energy, an energy product that includes royal jelly, bee pollen and a variety of herbs, and Beefense, a popular product which includes bee propolis and echinacea. Premier One's brand packaging includes a distinctive logo of a bee harvesting scene in a mountain setting, with gold highlights on the label.
Premier one Product List
New articles