*MSRP:

$13.19

Our Price:

$9.90

Description:
Features:

Contains 79% Ethyl Alcohol
Plus Colloidol silver
UPC:
# HSCC01
Our Hand Sanitizer is a great way to reduce harmful bacteriaon the skin that can cause disease. It is Cucumber Melon scented and alsocontains Colloidal Silver and Ionic Trace Minerals which, can help supporthealthier skin. Just like our other TMskincare products, our HandSanitizer is made with clean and natural ingredients to help keep your familyclean, safe, and healthy. You can rest assured that our Hand Sanitizer is madewith the same quality standards you've grow to expect from Trace Minerals foralmost 50 years.
Advanced Formula Contains 70% Ethyl Alcohol
Includes Colloidal Silver for Smooth, Glowing Skin
Sea Minerals Leave the Hands Feeling Soft and Moisturized
Refreshing Cucumber Melon Scent
MADE IN THE USA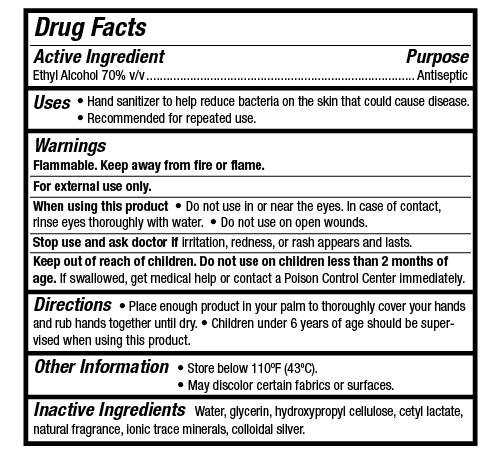 Ingredients: Water, glycerin, hydroxypropyl cellulose, cetyl lactate, natural fragrance, ionic trace minerals, colloidal silver.
Suggested Use: Place enough product in your palm to thoroughly cover your hands and rub hands together until dry. Children under 6 years of age should be supervised when using this product.
Cleaning your hands regularly is important to keep bacteria and viruses from invading the body, always make sure you clean your hands and surfaces like cell phones regularly to eliminate the posibility of bacterial or virus infection. Trace Minerals Research, has a formula that can help protect you from these invaders. Buy some today and protect your self!