*MSRP:

$29.99

Our Price:

$23.99

Description:
UPC: 0878941005602
# TIV01
Hydration I.V., a great-tasting, raspberry lemonade flavored electrolyte drink mix that has been carefully formulated with20 times the hydrating power of an average 16-ounce bottle of spring water because of its full spectrum of electrolytes, which helps hydrate the bodyfaster. In addition, when compared to a sports drink, Hydration I.V. has 3 times the electrolytes, one-third the sugar and carbs, half the calories, and five essential vitamins for energy and recovery.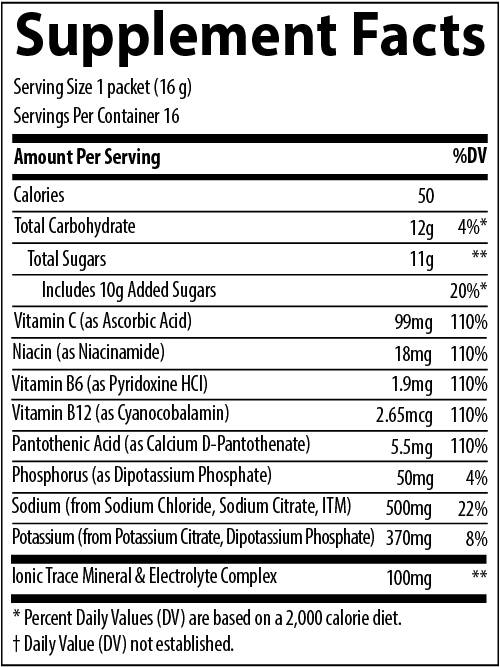 Ingredients: Pure cane sugar, Non-GMO dextrose, Non-GMO citric acid, natural flavors, steviol glycosides, rice bran extract, silicon dioxide.
Allergen Info: NO KNOWN ALLERGENS. GLUTEN FREE.
Suggested Use: Open packet, add contents to 16 oz of water and mix well. Take as needed to support hydration, depending on physical activity. Store in a cool, dry place. Some caking may occur, but does not affect the quality of the product.
16 servings per pouch.
Hydration I.V. vs. Sports Drink:
Nearly 1/3 the sugar and carbs
½ the calories
More than 3x the electrolytes
5 essential vitamins
Carefully formulated to hydrate you faster†