UPC:
# CMUF01
Colloidal Minerals is formulated with bioavailable, plant-derived colloidal minerals. These water-soluble minerals are collected from prehistoric plant deposits found in Utah. Each serving of Colloidal Minerals helps replenish the body with trace amounts of a full spectrum of naturally-occurring macro- and trace minerals so it can function properly.† These colloidal minerals were formed thousands of years ago when they were absorbed into the plants and vegetation of that era that helped to nourish the life that was able to thrive on this planet.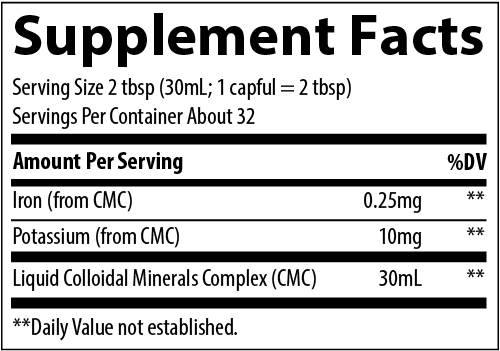 Ingredients: Purified water, fulvic acid, citric acid, potassium sorbate and potassium benzoate (for freshness).
Allergen Info: NO KNOWN ALLERGENS. GLUTEN FREE.
Caution: Consult a physician before use, especially if pregnant/nursing, taking medication, or if you have a medical condition.
Suggested Use
SHAKE WELL BEFORE USE. Take 2 tablespoons (1 fl. oz.) daily in juice or water. REFRIGERATE AFTER OPENING.
32 servings per container.
Naturally-Occurring
Full-Spectrum
Plant Derived
Water Soluble
Fulvic Acid contains trace amounts of a full spectrum of naturally-occurring minerals and trace minerals to support the body's basic mineral foundation.† Minerals help support everything from growth and development to strong bones and a healthy heartbeat.†