*MSRP:

$47.49

Our Price:

$37.99

Description:
UPC: 878941000669
# GCMC01
Glucosamine, Chondroitin and MSM with ConcenTrace® is a dietary supplement providing full spectrum, body-balanced trace minerals from ConcenTrace® in combination with Glucosamine, Chondroitin and MSM to give complete nutritional support for bone and joint health.† We've added 1500 mg of Glucosamine, 800 mg of Chondroitin, and 1000 mg of MSM to each daily serving to help you achieve more mobility and activity for a better quality of life.† You may expect a wide spectrum of nutritional benefits.†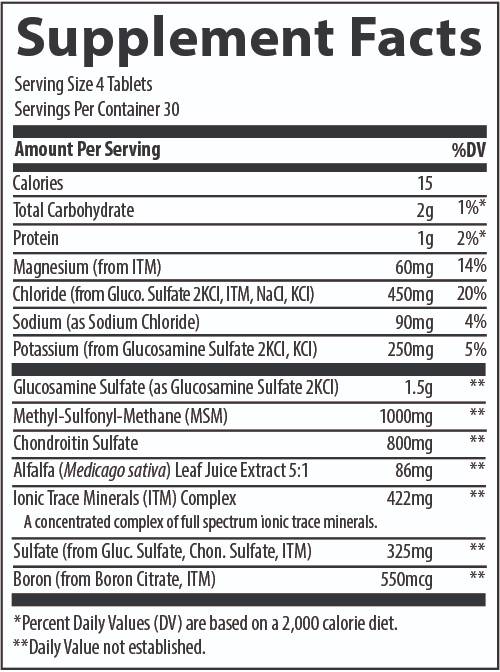 INGREDIENTS: Microcrystalline cellulose, stearic acid, hypromellose, magnesium stearate, silica, Carbowax™.
ALLERGEN INFO: CONTAINS CRUSTACEAN SHELLFISH (SHRIMP). GLUTEN FREE.
SUGGESTED USE: Take 2-4 tablets daily with food or at mealtime for best results. Take 4 tablets for optimum benefits, 2 tablets for daily maintenance.
30 servings per bottle.