*MSRP:

$39.95

Our Price:

$27.98

Description:
UPC: 819193020876
# HU0081
Product Is Available!
Featuring EVNol™, Full Spectrum Vitamin E Complex containing all 8 natural forms of Vitamin E, Natural Vitamin-E.
Most vitamin E supplements contain only one single form of vitamin E - i.e.: alpha-tocopherol. Research has progressed to a stage where Scientists have identified different forms of Vitamin E (other than alpha-tocopherol) such as gamma-tocopherol and delta-tocopherol.
In fact, in nature there are eight (8) different forms of Vitamin E. There are actually four (4) forms of tocopherols and four (4) forms of tocotrienols. Most importantly, tocotrienols have unique and additional health properties with a much more potent antioxidant effect than the more "common" forms of tocopherols.
Because of this new development in vitamin E research, we now have a new ALL NATURAL product called TOCOSPAN - the full spectrum Vitamin E with 8 different forms of Vitamin E. Four forms of tocopherols (gamma, delta, beta, and d-alpha tocopherol – including d-alpha tocopherol acid succinate) and four forms of tocotrienols, (d-alpha, d-beta, d-gamma and d-delta tocotrienol).
IMPORTANT: Studies have shown that gamma tocopherol is the predominant form of Vitamin E in the food chain, yet alpha-tocopherol shows higher blood levels in humans. Furthermore, the benefits of Vitamin E have been largely attributed and observed in Vitamin E rich diets as opposed to alpha-tocopherol supplements. The inclusion of gamma tocopherol in Tocospan - along with the other minor tocopherols and the addition of Vitamin E's potent antioxidant cousins - the tocotrienols - makes Tocospan the Vitamin E of choice. Additionally, Vitamin E Succinate has shown some very specific and highly protective therapeutic properties not exhibited by the other forms of Vitamin E.
NOTE: Tocospan is a Gluten and Lactose-Free Product.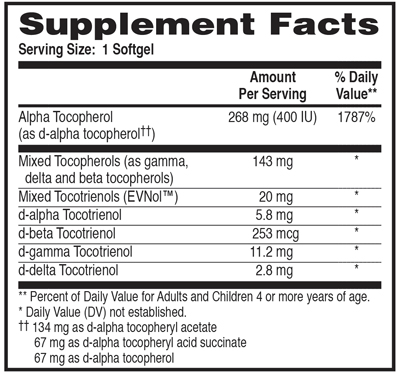 Other Ingredients: Kosher beef gelatin, medium chain triglycerides, vegetable glycerin, soy lecithin, high PC soy lecithin, purified water, soybean oil and ascorbyl palmitate. Contains soy