Mega-Folinic Bio-Active Form of Folic Acid - 60 Tabs - 800mcg
by
SOURCE NATURALS
*MSRP:

$9.25

Our Price:

$6.58

Description:
UPC: 021078020271
# SN2027
Folinic acid is more rapidly transformed to 5,10-methylene-THF
(L-Methyl folate) than folic acid where "the net effect on
tissues of providing folinic acid (Mega Folinic) orally is
essentially the same as feeding the coenzyme 5-MTHF."
(Metafolin)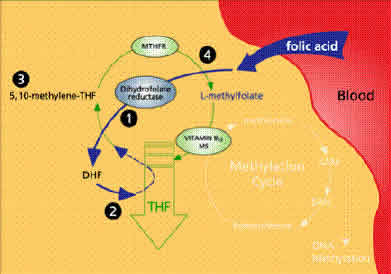 Mega-Folinic Bio-Active Form of Folic Acid • Through the
folate cycle, Mega-Folinic helps to produce key methyl groups
needed for numerous metabolic functions. • Supports DNA
synthesis and homocysteine regulation. • Supports positive
mood and healthy brain and neurological development. •
Important for red blood cell formation, liver detoxification,
and joint health. * A highly bioavailable source of folic
acid. About 20% of the population has difficulty converting
folic acid to its active form, l-methylfolate. * More rapidly
converted into l-methylfolate, which can cross the blood-brain
barrier. * Adequate folic acid may reduce a woman's risk of
having a child with a brain or spinal cord birth defect, making
it an important supplement for women who are or intend to become
pregnant. * One of b-vitamins shown to benefit the
cardiovascular system by preventing build-up of the amino acid,
homocysteine. * Supports Neurological development and healthy
cell division. * Through its role in the methylation cycle,
supports SAME production, which in turn promotes healthy joints,
a positive mood, DNA synthesis, and liver detoxification. 1
capsule contains: Folate (as calcium folinate)
800mcg Suggested Use: 1 tablet daily.