Hops Can Cleanse The Body And More
---



Date: September 20, 2009 08:47 PM
Author: Darrell Miller (dm@vitanetonline.com)
Subject: Hops And Good health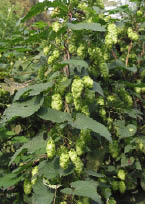 Hops are the female flower cones, which are also known as strobiles, of the hop plant. The hop plant is part of the Cannabaceae family, which also includes hemp. Primarily, hops are used as a flavoring and stability agent in beer. The first documented use in beer is from the eleventh century. Today, hops are used extensively in brewing because of their many benefits. Among these are balancing the sweetness of the hops with bitterness. However, hops are also used for various purposes in other beverages and herbal medicine.
Nicholas Culpeper, a seventeenth-century herbalist, suggested the use of hops to open obstructions of the liver and spleen, cleanse the blood, loosen the belly, cleanse the veins, and promote urination. Hops were used as food by the Romans. Gerard, a famous herbalist, recommended using the buds in salads. Native American tribes also found hops to be of value. The Mohicans used it as a sedative and also for toothaches, while the Menominee tribes used hops as a cure-all. The lupulin that is found in hops is described as both a sedative and hypnotic drug. It was recognized in the U.S. Pharmacopoeia from 1831 to 1916. Most often, hops are probably used in the production of beer.
Hops are best known for their sedative action. Also, they are used for their antibiotic properties. These properties are beneficial for sore throats, bronchitis, infections, high fevers, delirium, toothaches, earaches, and pain. Although hops are strong, they seem to be safe to use. Their main uses are to alleviate nervous tension and promote a restful sleep. They have been used to naturally relieve insomnia. For inflammation, boils, tumors, and swelling, a poultice of hops is recommended. Hops have been used as a stimulant to the glands and muscles of the stomach. They have also been used as a relaxant on the gastric nerves. Hops have a relaxing influence on the liver and gall duct and a laxative effect on the bowels.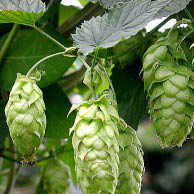 Many studies indicate that hops have sedative properties. This herb is known to be fast-acting, soothing, and calming to the nervous system. Hops are often nervine herbs that aid in promoting sleep. Certain elements of the plant have been shown to possess hypnotic effects. Hops are also used for their antispasmodic effects. Additionally, hops contain antibacterial properties, which validates some of their historical uses.
The flower of the hops plant is used to provide alterative, anodyne, antibacterial, antibiotic, antineoplastic, carminative, cholagogue, galactagogue, nervine, sedative, stomachic, and vulnerary properties. The primary nutrients found in this herb are chlorine, copper, fluorine, iodine, iron, lead, magnesium, manganese, sodium, vitamin B-complex, and zinc. Primarily, this herb is extremely beneficial in treating appetite loss, bronchitis, delirium, gastric disorders, headaches, hyperactivity, and indigestion, insomnia, absent lactation, nervousness, pain, and excessive sexual desire.
Additionally, this herb is very helpful in dealing with alcoholism, anxiety, blood impurities, coughs, intestinal cramps, dizziness, earaches, fevers, gas, jaundice, kidney stones, liver disorders, menstrual symptoms, menopausal symptoms, neuralgia, restlessness, rheumatism, skin disorders, sleeplessness, toothache, ulcers, venereal diseases, water retention, whooping cough, and worms. For more information on the many beneficial effects provided by hops, please feel free to contact a representative from your local health food store with questions.
Guarantee:
VitaNet® LLC Offers a 100% Satisfaction Guaranteed!