Curve Appetite, Boost Energy, And Alertness With Guarana
---



Date: October 26, 2009 12:34 PM
Author: Darrell Miller (dm@vitanetonline.com)
Subject: Guarana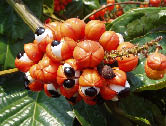 Guarana is a climbing plant that is part of the maple family, Sapindaceae. Native to the Amazon basin, this plant can especially be found in Brazil. Guarana has large leaves and clusters of flowers and is best known for its fruit. The fruit of this plant is about the size of a coffee berry. As a dietary supplement, guarana is an effective energy booster, containing about twice the caffeine found in coffee beans. Similar to other plants producing caffeine, the high concentration of caffeine is a defensive toxin that repels pathogens from the berry and its seeds. The fruit of the guarana plant ranges in color from brown to red and contains black seeds that are partially covered by white arils. The contrast in color when the fruit has been opened is similar to that of eyeballs.
Guarana plays a key role in Tupi and Guarani Brazilian culture. A myth of one of the tribe's claims that guarana's domestication began with a diet killing a beloved village child. To console the villagers, a god plucked the left eye from the child and planted it in the forest, which resulted in the wild variety of guarana. Then, the other eye of the child was plucked by the god and planted in the village, giving rise to the domesticated guarana. The guaranais would make tea by shelling and washing the seeds and pounding them into a fine powder. Then, this powder was kneaded into a dough and shaped into cylinders. This product could then be grated and immersed into hot water along with sugar. In the seventeenth century, guarana was introduced into western cavitations and commercialized by 1958.
Guarana was used by some Native American tribes as an energy source when traveling for long periods of time and distances. A South American legend explains the use of guarana by the Incas, hundreds of years before the Europeans colonized. Guarana was an extremely important part of the social life of the Amazon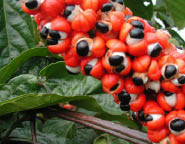 Indians, as they used this herb for energy, as an aphrodisiac, and to treat conditions such as malaria and dysentery. Some Japanese soldiers chewed guarana during World War II to increase stamina and alertness.
This herb is most known for its caffeine content. It is a stimulant on the nervous system. One of the richest sources of caffeine, guarana contains between three and five percent by dry weight. Because of this, it should be used with caution, as caffeine can be harmful and addictive. Guarana causes stimulation to the heart and increased blood flow.
Guarana is often used to lose weight, as the caffeine content is thought to work as an appetite suppressant. This herb may be found in combination with other herbs in weight-loss formulas. It should again be noted that this herb should be used with caution.
The seeds of the guarana plant are used to provide anorectic, astringent, febrifuge, narcotic, nervine, nutritive, and stimulant properties. Primarily, guarana is extremely beneficial in dealing with lack of alertness, lack of energy, lack of stamina, and weight conditions. For more information on the many beneficial effects provided by this herb, please feel free to contact a representative from your local health food store with questions.
Guarantee:
VitaNet® LLC Offers a 100% Satisfaction Guaranteed!