Improve Lactation With Fennel Seeds
---



Date: November 12, 2009 04:47 PM
Author: Darrell Miller (dm@vitanetonline.com)
Subject: Fennel Seeds


Fennel is a plant species that is part of the genus Foeniculum. A member of the family Apiaceae, this plant is a hardy, perennial, umbelliferous herb. The plant has yellow flowers and feathery leaves. It is generally found growing on the shores of the Mediterranean, but it has become widely naturalized elsewhere. Now, the plant can be found growing wild in many parts of the world, especially on dry soils near the sea-coast and on river-banks. The plant is highly aromatic and flavorful. It is actually one of the primary ingredients of absinthe. Some species of fennel possess a swollen, bulb-like stem base, which is used as a vegetable. Fennel is used as food plant by some moth and bird species.
The fennel plant is native to the southern areas of Europe and Asia Minor. The herb is now cultivated in the United States and Great Britain. It was used anciently in many civilizations. Used in ancient Egypt, this herb aids in digestion and flatulence. In Italy, fennel was used to bring surgical patients out of anesthesia. Fennel was recommended by Hippocrates and Dioscorides to increase milk production in nursing mothers. The ancient Greeks used this herb for weight reduction, while the seventeenth-century herbalist Nicholas Culpeper also recommended this herb for losing weight.
Fennel is extremely helpful in weight reduction, as it suppresses the appetite. This herb aids in stabilizing the nervous system and can be used as a sedative for small children. Fennel can be used to expel phlegm from the throat, eliminate toxins from the body, and purify the blood. This herb is known for its ability to fortify the immune system and be good for the eyes. Additionally, fennel aids in digestion, improves night vision, relieves gas, expels worms, improves the quality of milk in nursing mothers, and cleans the bladder and liver. This herb has been used to stimulate menstruation and can help too soothe the smooth muscles of the digestive tract, as it aids in digestion and related problems.
Research on rats has found that the fennel seeds have estrogenic effects on the genital organs. The herb has been found to promote the production of milk in nursing mothers. Fennel is good for digestion, colic, and other stomach complaints. This herb contains essential oils that have a composition similar to catnip and peppermint.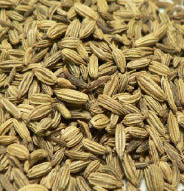 The seeds of the fennel plant are used to provide anorectic, antacid, anti-inflaamtory, antimicrobial, antispasmodic, carminative, diuretic, estrogenic, expectorant, galactagogue, sedative, and stimulant properties. The primary nutrients found in this herb are calcium, magnesium, niacin, potassium, sodium, sulfur, vitamins A, C, B1, and B2. Primarily, fennel is extremely beneficial in dealing with abdominal cramps, colic, gas, gastric disorders, indigestion, intestinal problems, and weight-related conditions.
Additionally, this herb can be very helpful in treating excessive appetite, asthma, constipation, convulsions, coughs, uterine cramps, gout, kidney ailments, absence of lactation, liver disorders, lung disorders, and nervous disorders. For more information on the many beneficial effects provided by this herb, please feel free to contact a representative from your local health food store.
Our Price: - $ 9.49 ...






Guarantee:
VitaNet® LLC Offers a 100% Satisfaction Guaranteed!