---



Date: April 08, 2010 04:31 PM
Author: Darrell Miller (dm@vitanetonline.com)
Subject: Agave Nectar

Comments by Craig Gerbore, CEO of Madhava:
Reading through the attack articles and blogs that have surfaced recently one could think that using agave is bad for one's health. These claims are utterly false and misleading. They are extreme views drawn from extreme examples and applied way out of context. They are propagandizing and clearly designed to frighten, not educate. All of the fears and concerns associated with the overconsumption of sugars and calories in general have been unfairly cast on agave.
What is a "healthy" sweetener? One that you use moderately and sensibly.
Health concerns related to fructose and caloric sweeteners are all dependant on the overconsumption of them. All foods have calories and it is the overall consumption of calories that lead to obesity and related issues, not any one food source.
Agave's caloric value is comparable to the other sweeteners in the category. Due to its greater sweetness though, less agave is used compared to the others, so agave actually can reduce caloric consumption per serving. This is due to a higher fructose content. The higher content does not mean higher consumption though, due to the smaller portion used. But, it is not the single serving that matters, it is the number of servings which lead to the overconsumption issues which may result in health concerns.

As a reference point, 9-10 teaspoon servings of agave would be the approximate caloric equivalent of one 16 oz soft drink. With this perspective, is agave really being overconsumed as a choice of sweetener for home use?
Every single health issue which the attackers have tried to associate with agave is really the result of a caloric overconsumption issue. There are no documented issues with normal, moderate consumption of agave or sweeteners in general as part of our everyday diet. For reasons unknown, some have attempted to isolate agave from the real world and real world conditions with the goal of inhibiting agave's use. They play on people's fears, reference false information and fail to address health issues in any meaningful way.
The purpose of this article is to debunk the controversial misinformation surrounding agave. All information debunking the myths and misinformation is based on current science and facts. It is our goal to provide you with useful information so that you can make your personal nutritional choices in a well-informed, science-based manner.
The Agave Controversy: Exposing the fraudulent article by Rami Nagel
By Dr. Susan Kleiner, PhD, RD, FACN, CNS, FISSN
And Craig Gerbore, CEO Madhava
The controversy about agave syrup was manufactured by the publication of a single article on the internet, which has been reproduced and adapted for virtually every other article produced on the internet and other media venues. That article, written by Rami Nagel and published on Naturalnews.com, was highly biased and full of inaccuracies, half-truths and misinformation about agave. Since the Naturalnews.com article has been the sole source of nearly all other popular articles in public media, we want to set the record straight with science-based, reliable information to offer a more balanced resource to those interested in learning more about agave syrup.
Who is the author, Rami Nagel?
According to the description on the Naturalnews.com website, Rami Nagel is a "citizen journalist". This means that Mr. Nagel is self-employed, and not employed as an in-house journalist by the website. He wrote and published the article without any editorial or content oversight, and the editor of the website, Mike Adams, makes it clear that the article was not checked for incorrect or inaccurate information or facts. The introduction to the article, written by Mr. Adams, states that readers had written to comment that Mr. Nagel's resources were biased with conflicts of interest due to their financial interests in competing sweeteners, such as brown rice syrup. So even the website editor himself states that the article is not fact-checked, and it is biased and unbalanced.
Who is Russ Bianchi?
The sole resource interviewed for the article is Russ Bianchi, identified by the author as Managing Director and CEO of Adept Solutions, Inc. Mr. Bianchi has clear conflict of interest ties to the sweetener industry. We have documentation of the fact that Mr Bianchi had plans to market a product named Replace. It was to be touted as a low calorie alternative sweetener composed of natural and artificial ingredients! Mr Bianchi was prevented from marketing this sweetener as the result of a lawsuit against him by the owner of the formula.
Mr Bianchi is quoted by Nagel extensively and exclusively. Many, if not all, of his statements are blatantly false or misrepresentations of fact. He is clearly propagandizing against agave nectar.
Was anyone else interviewed for this article?
Yes. Craig Gerbore, president and owner of Madhava Agave Syrup, was extensively interviewed by the author but no parts of that interview were included in the article.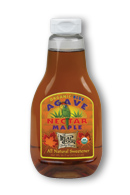 It is important to note that neither Mr Nagel or Mr Bianchi have not made themselves available for questions on their statements since the articles appearance. They remain out of sight and have entirely avoided the controversy their statements created.
What is agave nectar?
The opening line of this paragraph in the article by Mr. Nagel states:
"The principal constituent of the agave is starch, such as what is found in corn or rice."
This is absolutely false. There is no starch in agave. The source of carbohydrate in agave syrup is inulin, a polysaccharide made up primarily of strings of fructose units. Starch is a polysaccharide made up of strings of glucose molecules. They are significantly different, and this difference is why agave syrup is naturally sweet.
The very basis of the argument presented by Mr. Nagel is false.
The Process
The agave plant is a succulent, similar to a cactus. The agave sweetener comes from both the Salmiana agave plant and the agave Tequilana (Blue Agave) which are both organically farmed in Mexico and certified organic by USDA approved certifiers. As the salmiana plant grows it produces a stalk called the "quiote" and when this is removed, a natural liquid called "aquamiel". The liquid is collected from the plant, while Blue agave pinons are harvested and shredded to remove the similar juice. Either can be naturally processed thermally or by enzymes into agave nectar.
The juice of the plant is not naturally sweet. The string of connected fructose units that makes up the major proportion of inulin does not have a sweet taste, but when the fructose units are separated (the process is called hydrolysis) by the addition of an enzyme, similar to digestion, or thermally for most blue agave, the syrup becomes quite sweet. That is the entire processing chain for agave nectar. There are no additives, other ingredients or chemicals in Madhava agave nectar. It is absolutely pure and organic and GMO free.
? Mr. Nagel claims that agave syrup is a "refined corn fructose" similar to high fructose corn syrup. This is absolutely false. There is no relationship between agave syrup and high fructose corn syrup in any way, including the source of the product, or the manufacturing process.
? Mr. Nagel refers to a "confidential FDA letter" from Mr. Martin Stutsman, claiming that agave is fraudulently labeled. We contacted Mr. Stutsman at the United States Food and Drug Administration, and his response made it clear that there was never a "confidential FDA letter". He did publish a public letter referenced in an FDA document as "FDA letter from Martin Stutsman to Dr. Eric
Wilhelmsen (Wilhelmsen Consulting), May 8, 2000", regarding evaporated cane juice, a topic wholly unrelated to agave syrup.
? He continued in his response to us that the paragraph in Mr. Nagel's article inaccurately reflected the substance of his comments in the document.
This link will take you to the original document in which the letter was referenced (reference #2):
//www.fda.gov/Food/GuidanceComplianceRegulatoryInformation/GuidanceDocuments/FoodLabelingNutrition/ucm181491.htm
In fact, Mr. Nagel fabricated the entire story of the letter. Mr. Stutsman is a lawyer, not a doctor. The quotes were completely taken out of context from the document, and the quotes never referred to agave syrup at any time. Nagel goes on to further misrepresent Mr. Stutsman's intent in the published document by weaving in other inaccurate information that is thoroughly unrelated to the original document. Mr Bianchi's subsequent statements on labeling issues are false and without merit.
Mr. Nagel is clearly caught red-handed. He has misrepresented the words of a government official, lied about the facts, and twisted the information to achieve his own agenda. This strategy is repeated throughout the article.
? Mr. Nagel continues his deceptive writing by referring to a quote by the late Dr. Varro Tyler in his book, The Honest Herbal. The first line of the paragraph is a direct quote from the book. Nothing else in that paragraph remotely resembles anything else found in Dr. Tyler's book. Mr. Nagel is trying to claim that agave syrup contains large quantities of saponins, and that they can be harmful to health. Here is the debunking of that paragraph:
1. Dr. Tyler does not include the variety of agave plant used for agave syrup.
2. The entire discussion is about the use of the sword-shaped leaves and the stem. Agave syrup is produced from the natural liquid in the plant. The saponins are isolated from the leaves of the plant.
3. There is no documented evidence to suggest agave syrup contains worrisome levels of saponins and the entire rest of the discussion about health dangers is fabricated and false.
Sugars
People are going to continue to consume sweet food and drink. There are only three categories of choice to sweeten food. Those are artificial sweeteners, stevia, or caloric sweeteners from natural sources, sugars.
Most people will not choose artificial. Many will not choose stevia. That only leaves the category of sugars. In this group, agave is a good choice due to its organic quality, ease of
use, neutral flavor, low glycemic index and the fact that less is used to equal the sweetness of the others in the category.
The sweeteners in this category are composed of three primary sugars used to sweeten foods: glucose, fructose and sucrose. These sugars belong to a class of compounds known as carbohydrates. "Saccharide" is a term that denotes sugar, or substances derived from sugar. Monosaccharides are simple or single sugars; disaccharides are derived from two joined monosaccharides and when they are hydrolyzed, or separated, they yield two molecules of simple sugar. Strings of more than two sugar molecules are called polysaccharides. This category includes compounds such as starches, cellulose and inulin.
Glucose and fructose are monosaccharides. Glucose and fructose are found abundantly in nature in fruits and plants. Sucrose is the disaccharide formed by the joining of glucose and fructose, also known as table sugar. When comparing their relative sweetness, glucose is the least sweet tasting, sucrose is next, and fructose is the sweetest of the three sugars, measured as 1.4 times sweeter than table sugar. Because it is so sweet, people typically use less fructose when sweetening foods compared to sucrose.
? In the article by Mr. Nagel he states , "fructose is not what is found in fruit. Commonly, fructose is compared with its opposite and truly naturally occurring sweetener, known as 'levulose' (made by nature)..."
Another fabrication. In fact, levulose is just another name for fructose. There are various nomenclatures used in the scientific naming of compounds. Fructose and levulose are exactly the same thing; the names are interchangeable. It is no different than if you called your father, "dad", and your sibling called your father, "father". He would still be the exact same person. Fructose and levulose are different names for the exact same thing: a sugar found in nature.
Mr. Bianchi also is quoted to say that the body does not recognize the fructose in agave. This is another false piece of propaganda which demonstrates just how far he is reaching. If this were true, it would have no impact on us. He immediately contradicts himself with the claims of detrimental effects caused by the overconsumption of fructose.
Using Sugars
Sugars can be compared to each other in their ability to raise blood sugar levels by using the Glycemic Index. The scale is set from zero to 100, where low numbers do not have much impact on blood sugar levels, and high numbers raise blood sugar levels quickly. Fructose is very low on the scale. Because agave syrup is high in fructose, it has a rating of 32 or lower. Honey, which has a higher proportion of glucose to fructose, has a Glycemic Index of 58. Sucrose has a Glycemic Index of 68, and glucose, serving as the index standard, is 100.
All sugars, whether fructose, glucose, sucrose or others, contribute 4 calories per gram to our total diet. 1 teaspoon of sugar = 4 grams = 16 calories
In addition to calories, sugars sweeten our foods offering a desirable taste and adding enjoyment and pleasure to our dining. During cooking and baking, sugars allow for browning and the unique consistencies of syrups, candies, frostings and frozen desserts. The varieties of sugars, such as crystallized table sugar, brown sugar, raw sugar, molasses, honey and agave nectar, among others, contribute different properties and flavors to foods.
When you add your own sugar to foods you are in control of how much sugar you use. Most people would never add as much sugar as do the food manufacturers. Moderate amounts of sugar can certainly be enjoyed as part of a healthy diet for an active individual. Natural sugars are easily metabolized and utilized by the body, offering a very efficient source of fuel for physical and mental activity.
Of course, sugars should be used in moderation in the diet. This can control calories and help create a diet that is dense in nutrients.
Impact of sugar on health and disease
? The remainder of Mr. Nagel's article works to link agave syrup with the increased incidence of obesity, diabetes, metabolic disease, and the general rise of morbidity and mortality in the population. This is an overconsumption issue involving far more than the occasional use of agave. Here are the facts:
• Rats that are fed a high fructose diet become obese and will develop the chronic diseases associated with obesity: insulin resistance, diabetes and metabolic disease.
• No one should eat a diet that reflects this type of experimental diet.
• Too much sugar in the diet, whether from fructose, glucose or sucrose, can be unhealthy. Diets high in sugar promote tooth decay and periodontal disease; create an overabundance of calories and a deficit of nutrients. This scenario typically leads to weight gain and the development of chronic disease.
• Active individuals can include a moderate amount of added sugar in their diet without negative health consequences. When calorie intake is balanced with physical activity, sugar serves as an efficient source of fuel for muscles, the brain and the central nervous system.
• According to the World Health Organization (2003), individuals can healthfully include 10% of their daily calories from added sugars. This translates into 200 calories for a 2000 calorie diet, or 12½ teaspoons of added sugar daily. Clearly, one can safely add a couple of teaspoons of sweetener to a cup of tea or coffee, or have a little sweetened food without worrying about their risk of developing disease.
• Agave syrup, which is sweeter than other sugars and low on the Glycemic Index scale, is a good choice to include as one of the added sugars in your diet because you will use less sugar (and therefore fewer calories) and minimally raise blood sugar levels.
Just a teaspoon of agave: the healthy use of sweeteners in your diet
We all want to live healthier and longer lives. Diet and nutrition plays a key role, impacting our health and our ability to perform physically and mentally now and into the future. Food offers us not only sustenance, but also pleasure and enjoyment. Food is present in so many parts of our lives: at celebrations, business events, family events, religious and spiritual occasions, sports outings, the focus of our family meals, intimate dinners, and sometimes just the excuse to socialize.
Sweet foods make us feel good. Sugar allows for the elevation of serotonin in our brains, the "feel good" neurotransmitter that elevates mood, helps us focus, and in the evening, helps us relax and sleep.
Sugar is a source of energy for our muscles, brain and central nervous system. Without sugar our bodies will not function at peak capacity.
Too much sugar, however, is not good. In small amounts sugar energizes us, but in large doses, repeated throughout the day, day in and day out, sugar puts stress on the body. The extra calories can lead to weight gain and obesity, which in time can lead to chronic disease. In the short term, high sugar intakes can lead to a nutritionally deficient diet and a sense of being on an emotional roller coaster.
So be selective about your use of sugars and use them in moderation in your diet. Just like all foods, a variety will enhance the nutritional content of your diet and the flavor and tastes that you can enjoy. Since sugars come in different forms and have different flavors, they can be used most effectively in specific foods and beverages. For instance, agave syrup is liquid and less viscous than honey, making it easy to mix into cold liquids like iced tea and coffee, and is great to add to cold unsweetened cereals for a little sweet taste. Agave's mild flavor allows chefs and bakers to sweeten foods lightly, without overpowering the taste of the dish.
Pay attention to how much sugar is added to your diet every day. Read labels so that you know when sugar is added to manufactured foods. Keep the consumption of added sugars in your diet to no more than 10% of your total daily calorie intake so that you have plenty of room for nutrient dense foods like fruits, vegetables, grains, dairy, protein-rich foods, nuts, seeds and healthy oils.
Remember that nutrition is a science based on facts. We are making great advances in our understanding of the science of foods and nutrition. Beware of people with hidden agendas using fear tactics to influence your choices. Don't take their opinion at face value. What are their credentials? What conflicts of interest do they have? If they do not disclose conflicts, then assume that they are manipulating the truth.
Most of all enjoy food. Think about what you need to eat to promote whole health. Don't overindulge, but don't deprive yourself of the bounty of wonderful tastes, either. Use celebrations as occasions to enjoy your favorite foods and try new ones. A teaspoon or two of sugar easily fits into the diet of an active, healthy person. Agave syrup offers an organic low-glycemic choice for those looking for that option.
Resources for this article:
Charley H. Food Science, 2nd Edition. John Wiley & Sons, New York, NY, 1982.
Figlewicz DP et al. Effect of moderate intake of sweeteners on metabolic health in the rat. Physiology and Behavior 98:618-624, 2009
Johnson RK et al. Dietary sugars intake and cardiovascular health: A scientific statement from the American Heart Association. Circulation: Journal of the American Heart Association, 2009
Tyler VE. The Honest Herbal, Third Edition. Pharmaceutical Products Press, New York, NY, 1993.
Our Price: - $ 11.27 ...






Our Price: - $ 9.30 ...






Guarantee:
VitaNet® LLC Offers a 100% Satisfaction Guaranteed!