Does Acidophilus Interfere With Antibiotics?
---



Date: October 19, 2011 03:43 PM
Author: Darrell Miller (dm@vitanetonline.com)
Subject: Does Acidophilus Interfere With Antibiotics?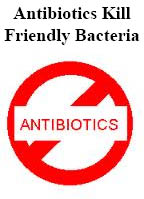 Acidophilus
As a term, acidophilus is used for describing various bacteria which aids in the process of human digestion. These different types of bacteria namely are: L. acidophilus, L Casei, L Bulgaricus just to name a few. Lactobacilus acidophilus is a single part of these mixtures however when it is mixed with other good bacteria it is commonly referred to as acidophilus. These good bacteria also known as a probiotics (bacteria that is used for beneficial purposes for the human health) has been touted to have many health benefits. In fact some of these health benefits have been known for thousands of years. Acidophilus is naturally found all throughout the body and is most likely made its way into our food hundreds if not thousands of years ago. It has the ability to ferment in which eventually humans figured they could and should artificially duplicate and alas we did. One of the main functions of acidophilus is to eat up sugar when placed in a rich sugar environment and they convert it to various substances like lactic acid. This is how it is able to preserve food. It is able to lower down the pH of the food it is used in so that the flora is not as friendly to other bacteria. Yogurt is the most well-known example of food that uses acidophilus and that is where it gets that sour taste.
Antibiotics
Antibiotics simply mean if literally translated from its greek origins "against bacteria life forms" which is why it is commonly considered as an anti-bacterial substance. They are basically drugs that are used for the treatment for different types of infections which are caused by bacteria, the type of bacteria that are pathogens and not the probiotic ones. When our immune system fails in attacking and killing the bacteria that is attacking our body which does not happen often, we in turn will get ill and this is when we will need the help of antibiotics because that is its main function. The first ever antibiotic was penicillin, it was so amazing for a lot people that it was called the wonder drug when it first came in the mid 20th century. It was able to give hope to people that have infections that previously where life threatening but with the existence of penicillin they were alleviated of the symptoms in just a few days.
Acidophilus and Antibiotics
By now after reading what is above you will be able to conclude that Acidophilus can't interfere with the work of Antibiotics. That is true because if anything the antibiotic will destroy the acidophilus because that is what an antibiotic does. It kills bacteria and unfortunately is not able to determine which are good and which are bad bacteria? So it will kill all bacteria that it comes into contact with. The recommendation is actually the other way around, avoid probiotic supplementation when you are taking antibiotics as well or if not make sure it is as far apart as possible to when you take antibiotics during the course of the day.
This is why it is important to take acidophilus while on antibiotics. Never take both at the same time. Allow 4 – 6 hours between application of antibiotics when taking acidophilus.
If you are on antibiotics, then grab yourself some probiotic acidophilus today!
Guarantee:
VitaNet® LLC Offers a 100% Satisfaction Guaranteed!