---



Date: October 22, 2013 10:47 PM
Author: Darrell Miller (dm@vitanetonline.com)
Subject: Facts about Astaxanthin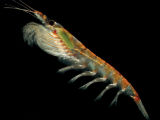 Astaxanthin is said to be a carotenoid which belongs to larger class of phytochemicals which is known as terpenes. It is built up of five carbon precursors. It is a metabolite of canthaxanthin and zeazanthin which contains both ketone and hydroxyl fuctional groups. Astaxanthin is a lipid-soluble pigment and is colorful. The color of it is due to the extended chain of conjugated double bonds which is also responsible for the astaxanthin's antioxidant function. It is found in feathers of some birds, yeast, trout, shrimp, crustaceans, crayfish, krill, salmon and micro algae. The red color of cooked shellfish and red color of salmon is due to the presence of astaxanthin.
How Astaxanthin Helps the Eyes?
When astaxanthin is combined with omega-3 fatty acids and Vitamin E then it helps the eyes to recover the watery condition and it lubricates it too. It helps the eyes to absorb Vitamin E by which it then nurtures and feeds the choroid and optical nerve which is behind the retina. This is the place where the blood vessel enters in to and leaves and this is the place where communication between retina and brain are established. The macula is protected by astaxanthin by its antioxidant activity and it also helps in eliminating the free radicals. It helps in reducing the risk of cataracts and AMD. It also helps in preventing the eyestrain and it also decreases its effects. The inflammation in the muscles of the eyes is decreased by it and it also improves the blood flow of the eyes.
Health Benefits of Astaxanthin
It is considered as a strongest natural antioxidant which crosses the brain-blood barrier and protects the nervous system and brain, works in every part of skin, organs and body, crosses the retinal-blood barrier and thus protect the eyes and it reaches inside and out of every part of the cell. It also helps in repairing the injured tissue.



References:
//en.wikipedia.org/wiki/Astaxanthin
//ezinearticles.com/?Eye-Vitamins---Your-Eyes-Looking-Far-and-Near&id=3800566
//ezinearticles.com/?The-Benefits-of-Astaxanthin---Natures-Strongest-Antioxidant&id=4721603
Our Price: - $ 11.49 ...






Our Price: - $ 15.37 ...






Guarantee:
VitaNet® LLC Offers a 100% Satisfaction Guaranteed!