Rainbow light Manufacture Listing.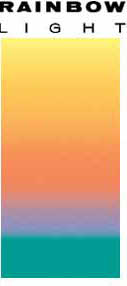 Rainbow Light was founded in 1981 at a time when the trend was to offer mega-potencies of isolated nutrients. Rainbow Light, however, came to market with a very different vision. Our goal was to provide supplements as close to food as possible, for the best possible absorption and digestion. Our first product was Hawaiian Spirulina, one of the world's most wholesome and nutritious foods. That product became a base for all our future products, as we introduced an innovative formulating approach to the dietary supplement industry — nourishing the body whole with advanced nutrition in a base of whole foods and healing herbs from around the world. As we launched a new category of supplement products, our sales grew almost exclusively by word of mouth, a powerful testimony to the incredible difference our products have made in the health and well-being of thousands of people.

Rainbow Light has never been about fads, or super-high potencies, or other quick money-making schemes. We don't use questionable ingredients like synthetic hormones, and we stay away from potentially unsafe herbs like ephedra. We do value solid nutritional science and the innate wisdom of nature. Simply put, we've always been about better health. And to us, better health means offering holistically balanced supplements made using only safe, high-quality nutrients, foods and herbs.
Rainbow light Product List
New articles