UPC: 076280013146
# 1314
Product Is Available!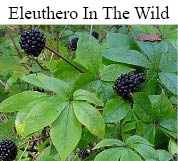 The health benefits of Eleuthero Ginseng
Eleuthero Ginseng, also referred to as Eleuthero, Siberian Ginseng or Eleutherococcus senticosus, is a small, woody shrub, which belongs to the Araliaceae family. This shrub was discovered in Siberia and it has been used in both Chinese medicine and Russian folk medicine. This shrub is commonly grown in China, Japan, Siberia and Korea.
The history of Eleuthero
This herb has been used in the traditional Chinese medicine for more than 2,000 years to balance the vital energy and heal respiratory infections among other infections. The use of this herb was not widely spread until the-middle-of the 20th century. Various Soviet Union athletes used this herb to enhance their performance. After the Chernobyl-nuclear-reactor disaster, the Ukrainian and Russian citizens received this herb to help counter the radiation poisoning effects. This herb is still being used in various Asian countries and it is becoming more and more popular in various Western countries.
The benefits of Eleuthero Ginseng
1. Anti-cancer and antioxidant benefits
The roots of this shrub have strong antioxidants properties which can act against the DPPH free radicals. This shrub is also active against various cancer cell-lines.
2. Anti-inflammatory effects
The roots of this plant have been used as adaptogen and tonic for the qi in the traditional Korean medicine. Studies done have shown that Eleuthero might have some effects of the neuro-protection by inhibiting microglial activation and inflammation in brain Ischemia.
3. Anti-fatigue benefits
This shrub has really help improve the mental performance of various individuals with mild and stress-induced fatigue. A study on psychological medicine showed that Eleuthero can really help individuals with moderate fatigue.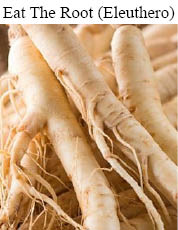 4. Improve your immune system
Various studies done have showed that this herb can help enhance your ability to process the interferon, the chemical responsible for boosting your immune system activity. Research has shown that this shrub can help boost your immunity system, especially when doing some intense training. Various athletes have used this shrub to increase their endurance and stamina to help them improve from their workout within a very short time.
Other benefits
i) This herb can also regulate your cortisol levels, the hormone responsible for helping you deal with stress.
ii) This shrub can help reduce your cholesterol and blood sugar levels.
Eleuthero
Description:
Used for thousands of years by people in the Siberian Taiga, Eleuthero is highly valued as an adaptogen.

Product #:
1314
Size:
100ct 425mg
Directions:
Use only as directed. Take one capsule up to three times daily with a meal or glass of water. Store in a cool, dry place.

Serving Size:
1  ea    100 Servings per container

| | | |
| --- | --- | --- |
| Ingredients: | Amount per serving: | % Daily Value: + |
| Eleuthero (Eleutherococcus senticosus) (root)  | 425 mg  | ~  |

Key to Ingredients:
     ~ = Daily Value not established.
     + = Percent Daily Value is based on a 2,000 calorie diet.
     ? = Values differ depending on age
     ? = Values differ depending on age
Other Ingredients:
Gelatin Capsule and Magnesium Stearate.