*MSRP:

$20.39

Our Price:

$15.30

Description:
UPC: 878941000348
# CAM01
Complete Calcium & Magnesium 1:1 contains only the finest quality ingredients. A unique blend of calcium citrate, calcium malate, and a specially precipitated calcium carbonate was selected for maximum absorption.† We combined magnesium, nutritional enhancers including vitamins C & D, boron, potassium, grapefruit, horsetail, and ConcenTrace®, a complex of over 72 ionic trace minerals and elements to supercharge all of the nutrients to help support the overall absorption and effectiveness of this vegetarian dietary supplement.†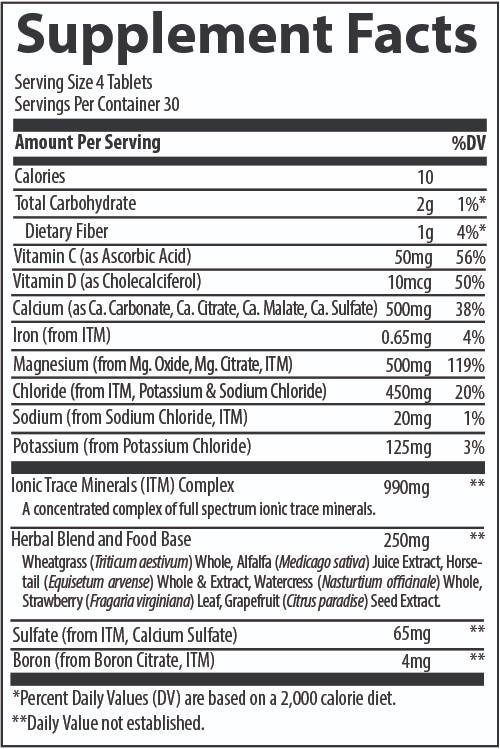 INGREDIENTS: Stearic acid, microcrystalline cellulose, croscarmellose sodium, magnesium stearate, and silicon dioxide.
ALLERGEN INFO: NO KNOWN ALLERGENS. GLUTEN FREE.
SUGGESTED USE
Take 4 tablets daily divided with meals.
30 servings per bottle.
Did you know that taking minerals with a balance of other minerals and trace minerals can help prevent mineral toxicities, improve proper assimilation, prevent deficiencies and positively balance the chain reactions involving minerals, which affects all areas of the body and nutrition?
Did you know that many minerals need additional stomach acid in order to be properly digested?
Did you know that many minerals are enhanced by certain vitamins in their function in the body?
Apparently, neither did our competition.
Trace Minerals Research developed most advanced mineral supplements ever introduced to the market. Mineral formulas from Trace Minerals Research combine the highest quality minerals with full spectrum minerals and trace minerals from ConcenTrace®, essential nutrients, vitamins and herbs chosen specifically to aid in the assimilation, function and safety of each mineral supplement. Read our labels and compare our minerals to any other mineral supplements on the market. Complete minerals from Trace Minerals Research make sense and they're even more impressive once you've tried them.