*MSRP:

$49.29

Our Price:

$36.98

Description:
UPC: 878941000973
# SMS01
Sea Minerals with Silver is formulated with proprietary blends to provide you with a full spectrum of nutrients for your healthy lifestyle. It contains an Herb and Sea Vegetable Blend, Aloe Vera Blend, and a full spectrum of Ionic Trace Minerals. This combination of ingredients provides trace amounts of many naturally-occurring nutrients to help promote optimum health and wellness.†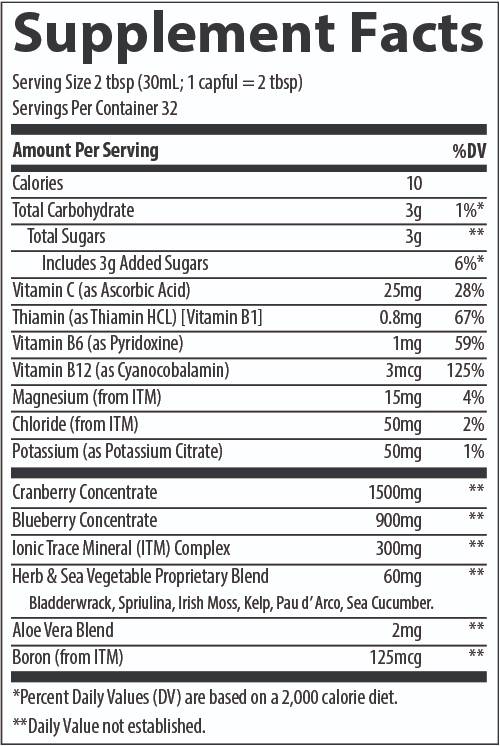 INGREDIENTS: Purified water, natural flavors blend, citric acid, steviol glycosides, colloidal silver, potassium benzoate & potassium sorbate (for freshness).
ALLERGEN INFO: NO KNOWN ALLERGENS. GLUTEN FREE.
SUGGESTED USE
SHAKE VIGOROUSLY. Take 2 tbsp (1 capful) daily with food. Rinse cap after each use. REFRIGERATE AFTER OPENING.
32 servings per container.
Sea Vegetables
Sea Minerals
Colloidal Silver
Vitamins
Amino Acids
Enzymes
Sea Minerals with Silver is a proprietary blend of sea vegetables like Pao De Arco, Kelp, Spirulina, Irish Moss, Bladderwrack and more. It is blended with mineral combinations found in ConcenTrace® trace mineral complex, Colloidal Silver, a Special Sea Mineral complex, Natural Aloe Vera as well as Cranberry and Blueberry juices.
Sea Minerals with Silver is formulated with 3 proprietary blends to provide a full spectrum of nutrients to your healthy lifestyle:
ConcenTrace® is a concentrated sea mineral complex which contain over 72 naturally occurring ionic trace minerals to help maintain a healthy pH balance in the body and can help in a wide range of health benefits.†
The Herb & Sea Vegetable Blend contains bladderwrack, spirulina, irish moss, kelp, and pau d' arco, which contain antioxidant properties and helps to maintain healthy digestive function.†
We also added a special Aloe Vera blend, sea cucumber, colloidal silver, and cranberry and blueberry concentrates, which may provide many health benefits.†
These special blends provide the following naturally occurring ingredients:
Trace Minerals: Bromide, Calcium, Fluoride, Silicon, Nitrogen, Selenium, Phosphorus, Iodine, Chromium, Iron, Manganese, Titanium, Rubidium, Cobalt, Copper, Antimony, Molybdenum, Strontium, Zinc, Nickel, Tungsten, Scandium, Tin, Lanthanum, Yttrium, Barium, Silver, Uranium, Gallium, Carbonate, Zirconium, Vanadium, Beryllium, Tellurium, Bismuth, Hafnium, Terbium, Europium, Gadolinium, Samarium, Cerium, Cesium, Gold, Dysprosium, Holmium, Lutetium, Thulium, Erbium, Ytterbium, Neodymium, Praseodymium, Niobium, Tantalum, Thorium, Thallium, Rhenium, plus the other elements found in sea water.
Plus: Macro minerals, enzymes, co-enzymes, amino acids, all naturally occurring in trace amounts.
Most importantly Sea Minerals with Silver is backed by our "Feel the Difference or Your Money Back Guarantee." Compare labels and see why Sea Minerals with Silver provides you more for your money.