Ginseng Can Both Stimulate The Body And Calm (cool) the Body
---



Date: October 05, 2009 11:35 AM
Author: Darrell Miller (dm@vitanetonline.com)
Subject: Ginseng, Its Good For The Body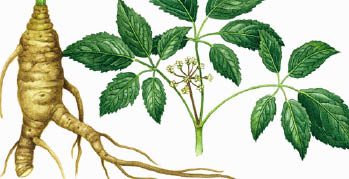 Ginseng, one of the oldest and most beneficial herbs in the world, is probably the most popular herb used in traditional medicine. It was rated the highest and most potent of herbs in Shen-Nung''s Pharmacopoeia in AD 206-220. People in northern China began using ginseng thousands of years ago. Early herbalists recognized the shape of ginseng as resembling a human figure, feeling this was a sign that the root was important for healing the entire body. Often, ginseng is referred to as the "man root" and is often the subject of many legends and fold history. The Chinese revered the ginseng root so highly that they even fought wars over the land used for growing this herb.
There are many different types of the ginseng plant that are grown throughout the world and used for traditional medicine. All of the most common species of plants known as ginseng have similar reactions in the body. Ginseng has often been referred to as an adaptogen herb, helping to normalize and adjust the body. This herb also restores and regulates natural immune response. Ginseng helps produce adjustments as needed in the body without side effects or harm. This herb has been used to help normalize blood pressure. This adaptogen helps to modify the effects of the environmental and internal stresses from various sources like chemical pollutants, radiation, some poisons, weather, temperature changes, poor diet and exercise, and emotional stress. Used for many ailments, ginseng is thought of as a universal cure-all, promoting longevity in general.
A great variety of studies have been done in many countries to determine the effectiveness of ginseng. In some instances, incomplete results have occurred. However, there have been enough credible studies done to now determine that high-quality ginseng plants do contain active constituents that are very beneficial to the body. Research has even shown that the roots are effective against bronchitis and heart disease.
There has been a lot of interest in the alleged aphrodisiac effects of ginseng. Often marketed as a sexual stimulant, the results of most studies have been inconclusive. Ginseng does increase the sperm count. For thousands of years, ginseng has been used to strengthen the male reproductive system. It is highly recommended alone or in combinations for both male and female health.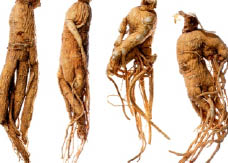 Ginseng contains at least thirteen known triterpenoid saponins, which are referred to as ginsenosides. These are thought to be the most important active constituents. Many other minor components have been isolated as well. The age, location, species, and curing method of each plant effects the composition. Some of the plants tend toward stimulating and warming effects, while others have relaxing and cooling effects.
The root of the ginseng plant is used to provide adaptogen, alterative, aphrodisiac, stimulant, and stomachic properties. Primarily, ginseng is extremely beneficial in dealing with age spots, appetite loss, asthma, high blood pressure, and depression, lack of endurance, fatigue, fevers, hemorrhage, hormone imbalance, sexual stimulation, and stress.
Additionally, this herb is very helpful in treating aging, anemia, bleeding, blood diseases, bronchitis, and cancer, lack of concentration, gastric disorders, indigestion, inflammation, impotence, insomnia, liver disorders, and lung disorders. For more information on the many beneficial effects provided by ginseng, please contact a representative from your local health food store.
Our Price: - $ 23.40 ...






Guarantee:
VitaNet® LLC Offers a 100% Satisfaction Guaranteed!