Sooth The Body And Boost Health With Flaxseed
---



Date: October 23, 2009 11:10 AM
Author: Darrell Miller (dm@vitanetonline.com)
Subject: Flaxseed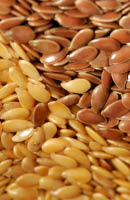 Since the beginning of civilization, flax has been around. The early Swiss used the fibers for weaving, while Egyptians decorated their tombs with carvings of the flax plant and wrapped mummies in linen due to the high esteem they had for this plant. The fibers of the flax plant were a main source of clothing in biblical times, with even Christ being believed to have been buried in linen. The use of flaxseed oil was recommended by Hippocrates for inflammations of the mucous membranes. Charlemagne required his subjects to eat the seeds to remain healthy during the early eighth century in France.
Flaxseed has many medicinal properties, as the oil has been used as a remedy for colds, coughs, sore throats, mucus, congestion, lung conditions, and as an expectorant. The herb is soothing to the mucous membranes and has been used to treat asthmatic conditions.
Additionally, this herb is a mild, natural laxative, providing roughage to aid the body when constipation is a problem. It is also healing on the stomach and intestines. Flaxseed oil can be very beneficial for gastritis, ulcers, and heartburn, while the tea can be used to help detoxify the liver and purify the blood. This herb is also believed to aid in reducing the clotting tendency of blood, potentially lowering the risk of heart attacks and reducing cholesterol levels in blood. It is also used for reducing inflammation and for urinary tract irritations. Crushed flaxseed, made into a poultice, is often used to treat sprains or bruises.
Unrefined, cold-pressed flax oil is considered to be the richest vegetable source of omega-3 and 6 oils, which are essential fatty acids. These oils are useful for balancing the hormones in the body and helping in the weight-loss process. Essential fatty acids help to improve the function of the glands, which in turn helps weight loss. Those individuals on low or no-fat diets often experience symptoms of fatigue and no weight loss which is partly due to the absence of essential fatty acids in the diet. A small amount of essential fatty acids actually helps one to lose weight.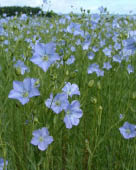 This herb also contains lignans, which are a type of fiber that has anti-estrogenic activity. A study done at the National Cancer Institute followed vegetarian women. The study indicated a correlation between a high amount of lignans in the blood and a lower risk for breast cancer. It has also been discovered that people living in countries where flaxseed is consumed in high amounts have a lower risk for developing both breast and colon cancer. It should be noted that stabilized flaxseed has a higher content of lignans than any other food.
Flaxseed can also be helpful in preventing heart disease and lowering cholesterol. One study found that ground flaxseed, when added to the diet, can reduce the incidence of heart disease.
The seeds of the flaxseed plant are used to provide anti-neoplastic, demulcent, emollient, expectorant, mucilant, mild purgative, and vulnerary properties. Primarily, flaxseed is extremely beneficial in dealing with arthritis, cardiovascular health, high cholesterol, constipation, immune disorders, multiple sclerosis, and skin disorders.
Additionally, this herb is very helpful in treating bronchitis, cancer, colds, gallstones, weak heart, jaundice, liver, lung disorders, muscular rheumatism, and tumors. For more information on the many beneficial effects provided by flaxseed, please contact a representative from your local health food store.
Guarantee:
VitaNet® LLC Offers a 100% Satisfaction Guaranteed!