Promote Healthy Sinus With Horseradish
---



Date: October 28, 2009 11:39 AM
Author: Darrell Miller (dm@vitanetonline.com)
Subject: Horse Radish

The horseradish plant is a perennial plant that is part of the Brassicaceae family, which includes mustard, wasabi, broccoli, and cabbages. Native to southeastern Europe and western Asia, the plant is popular around the world today. The horseradish plant grows up to five feet tall and is mainly cultivated for its large, white, tapered root. The intact horseradish root has hardly any aroma. However, when cut or grated, enzymes from the damaged plant cells break down to produce allylisothiocyanate, which often irritates the sinuses and eyes. Once grated, if the plant is not mixed with vinegar or used immediately, the root darkens and loses its pungency. It quickly becomes unpleasantly bitter when exposed to air and heat.
Horseradish has been cultivated since ancient times. The Delphic Oracle in Greek mythology told Apollo that horse radish was worth its weight in gold. Horseradish was known in Egypt by 1500 BC and has been used by Jews from Eastern Europe traditionally in Passover. The plant is discussed by Cato in his treatises on agriculture. It is thought that horseradish is the plant known as Wild Radish by the Greeks. Both the root and leaves of the horseradish plant were used as a medicine during the Middle Ages, with the root used as a condiment on meats in Germany, Scandinavia, and Britain. This herb was taken to North American during Colonial times. It is not certain as to where the name horseradish come from. Some believe that it derives by misinterpretation of the German Merettich as mare radish. Others think the name comes from the coarseness of the root. The common thought in Europe is that it refers to the old method of processing the root called hoofing, in which horses were used to stamp the root tender before grating it.
For at least two thousand years, horseradish has been cultivated. It was brought to America by early settlers and used to treat conditions such as pain from sciatic, colic, and intestinal worms. Horseradish provides antibiotic action that is recommended for respiratory and urinary infections. The volatile oil in horseradish has the ability to work as a nasal and bronchial dilator. Internally, it has been used to clear nasal passages, alleviate sinus problems, help with digestion, work as a diuretic, aid with edema and rheumatism, and cleanse various body systems. Also, horseradish has been used to stimulate digestion, metabolism, and kidney function.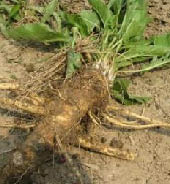 This herb helps promote stomach secretions to aid in digestion. Horseradish can be used as a compress for neuralgia, stiffness, and pain in the back of the neck. Additionally, this herb can be used as a parasiticide.
The root of the horseradish plant can be used to provide antibiotic, antineoplastic, antiseptic, bitter, caminative, diaphoretic, digestive, diuretic, expectorant, hepatic, parasiticide, mild purgative, rubefacient, sialagogue, stimulant, and stomachic properties. The primary nutrients found in this herb are calcium, iron, phosphorus, sodium, and vitamins A, B-complex, and P. Primarily, horseradish is extremely beneficial in dealing with loss of appetite, circulation, coughs, edema, excessive mucus, sinus problems, internal and skin tumors, and worms.
Additionally, this herb is very helpful in treating arthritis, asthma, bronchitis, congestion, gout, jaundice, kidney problems, irritated membranes, neuralgia, palsy, rheumatism, skin conditions, water retention, and wounds. For more information on the many beneficial effects provided by horseradish, please feel free to contact a representative from your local health food store with questions.