Improve Your Health with Pennyroyal Herb
---



Date: October 29, 2009 12:56 PM
Author: Darrell Miller (dm@vitanetonline.com)
Subject: Pennyroyal Herb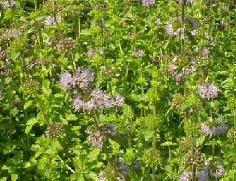 The pennyroyal herb is a member of the mint genus. It is an essential oil that is extracted and used in aromatherapy. Crushed pennyroyal leaves and foliage give off a very strong spearmint fragrance. Traditionally, pennyroyal is used as culinary herb, folk medicine, and abortifacient. This herb was commonly used by the Greeks and Romans as a cooking herb. The Greeks often flavored their wine with pennyroyal. Additionally, a large number of the recipes in the Roman cookbook of Apicius use pennyroyal along with herbs such as lovage, oregano, and coriander. Although it was still commonly used for cooking in the Middle Ages, it slowly fell out of use as a culinary herb. Today, it is seldom used. However, the essential oil of pennyroyal is extremely high in pulegone, which is toxic volatile organic compound, and is therefore poisonous to the liver and can stimulate uterine activity.
Pennyroyal was brought by European settlers to the New World. There, they found that Native Americans were using the American variety of pennyroyal for repelling insects, skin irritations, and many of the same illnesses that they were using their own variety for. Additionally, this herb was used to soothe the stomach and relieve cold symptoms. The pennyroyal that is found in America has similar properties to the herb that is found in Europe. However, the European variety is thought to be much more potent.
This herb possesses a volatile oil that works to remove gas from the stomach. It can be consumed as a tea of used as a footbath. If it is taken a few days before menstruation is due, it can help increase a suppressed flow. The pennyroyal tea is beneficial in relieving cold symptoms and also promoting perspiration. This herb has a strong, minty odor. It is used externally to repel insects like fleas, flies, and mosquitoes.
The oil of the pennyroyal plant is extremely concentrated and is often linked to toxic results. The oil is often associated with abortions and convulsions that result in death. It is believed that the oil irritates the uterus, which causes uterine contractions. The action is not predictable and is potentially dangerous. It is recommended that the oil be used only externally as a natural insect repellant. This herb is suggested for use as a decongestant for coughs and colds. Tea that is made from the pennyroyal herb is not associated with toxicity.
In fact, it helps to relax the digestive tract and soothe the stomach.
In short, the entire pennyroyal plant is used to provide alterative, antispasmodic, antivenomous, aromatic, carminative, decongestant, diaphoretic, diuretic, emmenagogue, nervine, oxytocic, parasiticide, sedative, stimulant, and stomachic properties. Primarily, pennyroyal is extremely beneficial in treating bronchitis, childbirth pain, colds, colic, uterine cramps, fevers, gas, lung infections, and absent menstruation. Additionally, this herb is very helpful in dealing with convulsions, coughs, abdominal cramps, delirium, earache, flu, gout, headaches, leprosy, measles, migraines, mucus, nausea, phlegm, pleurisy, pneumonia, smallpox, sunstroke, toothaches, tuberculosis, ulcers, uterine problems, and vertigo.
In order to obtain the best results when supplementing with this, or any herb, it is important to consult your health care provider before beginning any regimen. For more information on the many beneficial effects provided by pennyroyal, please feel free to consult a representative from your local health food store with questions.


--
Buy Herbs at Vitanet ®, LLC


Our Price: - $ 6.19 ...






Our Price: - $ 10.33 ...






Our Price: - $ 7.70 ...






Guarantee:
VitaNet® LLC Offers a 100% Satisfaction Guaranteed!